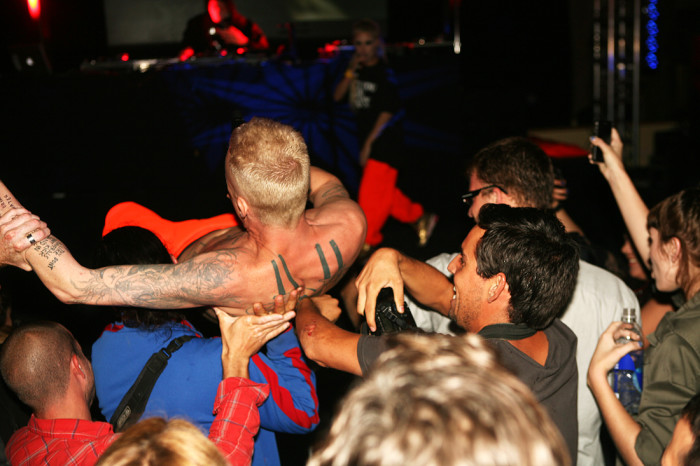 It's that time of the year again. Every six months, New York Fashion Week takes the city by storm, throwing every hip New Yorker into a frenzy. Forget about the whole fashion element of the equation. Fashion Week = non-stop partying. Once you've attended after-party after after-party, Marc Jacobs' striped designs will begin looking like stars anyway. Six days into Fashion Week, I'm definitely seeing stars.
I showed up to the office this morning after partying the night away at the Rodarte after-party held at Acme, one of NYC's of-the-moment restaurants. I went from Rodarte's blowout to an after-after-party at a clandestine Chinatown garage, and then straight to the FR headquarters, thinking that once I tossed my hair into a bun and wiped the smudges of eyeliner off my face, I could get away with it. Evidently, I was wrong. By the look our editor shot me as I stumbled in, my cover had been blown.
So without further ado, here's the lowdown on this season's Fashion Week after-party debauchery, so far… (Fashion Week ends on Friday, Sept. 14)
Thursday, September 6
Supreme X Three 6 Mafia (with a side of strippers)
Before Fashion Week even commenced, the festivities had started at Westway, a popular West Village nightclub. Au courant streetwear label Supreme hosted a Fashion's Night Out party with hip-hop group Three 6 Mafia. An unlikely choice, yes, but Juicy J and the gang managed to hold it down as Aziz Ansari and Pharrell Williams knocked back whiskey. Oh, and a bunch of strippers made an appearance halfway through the show. The crowd ate it up.
Friday, September 9
Opening of Chez André
Last week, we introduced you to André Saraiva's newest club, Chez André, a pop-up at The Standard Hotel East Village. On Friday night, the place opened its doors to NYC's downtown crowd. We had heard that food was going to be involved somehow, but this was not the case. Food was nowhere in sight, and this was probably a good thing, as we can't imagine that Saraiva can boil an egg. Oh well, pass the vodka.
Saturday, September 8
Carine Roitfeld and Friends Toast the Lauch of CR FASHION BOOK at The Frick Collection & Alexander Wang After-Party
Carine Roitfeld, former editor-in-chief of French Vogue, unveiled her newest project, a fashion magazine called CR Fashion Book, at a gala in the Frick Museum Saturday evening. The bash was probably the most coveted "ticket" during the entire week. Lucky for me, I managed to make the list, and spent the night with Carine and her friends. As I walked out in a hurry to make Alexander Wang's afterparty all the way downtown, I accidentally stepped on Bar Refaeli's foot. Oops, sorry Bar.
Over at the Emigrant Bank Building across from City Hall in Manhattan, Alex Wang and Co. celebrated their Spring 2013 collection. Wang showed up disguised as a bank robber, and staff wore masks that they eventually ditched when the place got packed and things got steamy. DJs spun old-school hip-hop before South African duo Die Antwoord rocked the house. They concluded their act with a loud "FUCK YOU NEW YOOOOOOORK CITY," a sentiment that I share as I struggle to keep my eyes open while typing this. Fuck you New York for doing this to me, it's all your fault. Oh, and Busta Rhymes also made an appearance at the bank, rocking the place till the wee hours. Jared Leto seemed especially thrilled when Busta burst onto the stage.
Sunday, September 9
Opening Ceremony 10th Anniversary & Purple Magazine 20th Anniversary
When God said Sunday was a day of rest, he didn't mean Sundays during Fashion Week. Opening Ceremony and Purple Magazine both had birthdays to celebrate — 10 and 20, respectively — so there was no slowing down. At Webster Hall, Lil' Kim took the stage to bid OC a happy 10th and perform a couple songs, as M.I.A and A$AP Rocky watched over. On the west side of town, Olivier Zahm celebrated Purple Magazine's anniversary at the Standard Hotel with buddies André Saraiva and André Balazs. Zahm was rocking his signature aviators plus a bow tie, a look he also pulled off pretty well at the CR Fashion Week launch the night before. New trend, perhaps?
Monday, September 10
W Magazine & Jaeger-LeCoultre Celebrate Generation X
On Monday, I headed over to an 1890's mansion on Fifth Avenue to celebrate W Magazine's Generation X. A generation which, as Stefano Tonchi, W's editor-in-chief put it, are "people that we think have great sense of style." The event was sponsored by watchmaker Jaeger-LeCoultre. Actors and designers mingled over dinner and drinks, while I spent the night drooling over and then helping to devour a dessert installation by pastry chef Clarice Lam of The Chocolate Room in Brooklyn. The sugar high kept me going, but the crash was bad. I couldn't make it to Marc Jacobs' afterparty. There's always next season.
Tuesday, September 11
Rodarte After-Party
Sister designers Kate and Laura Mulleavy have taken the fashion industry by storm since the 2005 inception of their line Rodarte. The sisters celebrated another successful season at Acme over black bass and Foxy Browns, a cocktail made of tequila, brown sugar, ginger and lime. Like last year, Acme nurtured the famished models and overworked designers who probably had not eaten in weeks. The party spilled over into a hidden garage in Chinatown. After that, I headed straight to the office.
If I can manage to stay awake tonight, I will be at the Last Magazine party. As always, I'll report back with the scoop, and everything else that goes down after the lights go out. That condition known as sleep will have to wait another three days, when Fashion Week wraps.