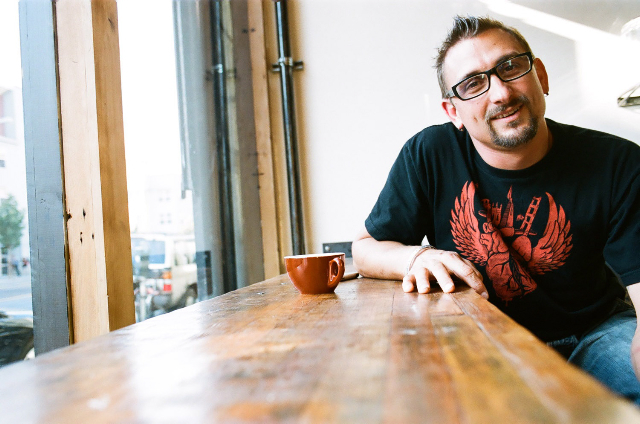 With New York Fashion Week upon us, we have style on the brain and decided to reach out to some of our favorite, and best-dressed, chef friends — to hear about their favorite designers and why it's never OK to wear chili pepper pants in the kitchen. Next up, Chris Cosentino of San Francisco restaurant Incanto and various pork-related endeavors.
Who are your style inspiratios?
I am a mix of old skateboarder and a outdoor guy, so I am not sure where that puts me. But I must say that I like John Vavartos. His beautiful marriage of music and clothing is perfect.
What are some of your favorite brands and designers?
Fjällräven for their great waxed jackets. Upper Playground is a local [San Francisco] t-shirt designer who does all local artists. Ben Sherman makes great dress shirts. Beta Brands is a local SF company that makes fun cordo-rounds — they are corduroys that go around your legs. Tsubo shoes are unique in style and very comfortable. Ted Baker for suits for sure.
You're really known for your dark-framed glasses. What are your favorite eyewear designers?
I wear Smith Optics for both sunglasses and prescription. I have been wearing them for years, from the time I was a little kid learning to ski. I wore their goggles, so as I grew they grew and I grew up with Smith in my life. It just feels right.
Clothing item you would never wear?
Skinny jeans and the regurgitated fashions from the '80s. I was dumb enough to wear that shit once and am not doing it again.
Your last big splurge item was…
I just got a pair of Wolverine 1000 Miles boots in brown. I also have been buying a lot of high-end denim. I just got a pair of Samurai jeans from Japan they are amazing, with natural indigo dye and amazing feel of a true woven denim.
Do you collect anything fashion-related?
I am a bit of a sneaker and shoe whore. I don't know why, likely because I heard at a young age that you are judged by your shoes. I also have a collection of food t-shirts that is a bit out of control.
Do you have any designer friends/regulars in the restaurant?
Not that I know of, and if you are coming please tell me so we can talk about a trade.
Do you read fashion magazines?
No, I don't look at many fashion magazines. I mostly read food and travel magazines and I feel that I need to dictate my own style without the help of a magazine telling me what is cool.
What do you wear during service?
I wear jeans, a seersucker dishwasher shirt and a custom striped apron that I helped design with a local SF-based chef coat company named Cayson Designs.
Do you wear a fragrance?
No. Never. I am a cook and it interferes with the food. Well, yes, I do and it's called kitchen — the smell of pork fat, rosemary and garlic, which is great when I am in the restaurant. But when I get home my wife feels otherwise.
Would you ever wear Crocs?
Seriously? No never. I am designing a stylish kitchen shoe with Mozo that is all about fashion and function so that I can avoid Crocs.
---
More FR Style Inventory: