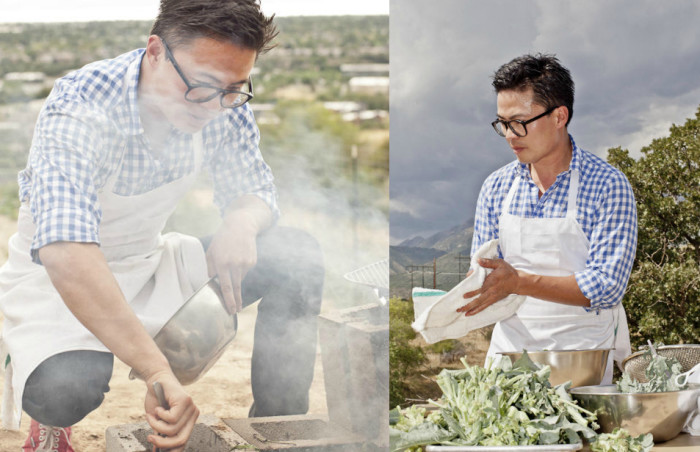 Utah-based chef Viet Pham has lived a sort of made-for-the-Food Network American Dream, beginning at the Malaysian refugee camp he was born in all the way to winning the highly coveted Food & Wine Best New Chef Award in 2011. Along the way he lived in a cramped townhouse with three other Vietnamese immigrant families, learned to make ramen noodle soup at age five, moved to San Francisco, attended culinary school, hated culinary school, worked in software, hated software and in the end got his "ass thoroughly kicked" by big bad French chef Laurent Gras on his way to opening a restaurant in Provo, Utah. This American Dreamin', as it turns out, can be pretty complicated.
In the summer of 2009 Pham opened Forage with business partner Bowman Brown. Like the namesake suggests, the cuisine is based around seasonal ingredients — a polished New American approach that has got the critics, and Foodie Mormons (band name alert!), talking. And as I found out during our conversation, Viet Pham is hardly ready to wake up.
Why did you move to Provo, Utah to open a restaurant?
I moved out here on a whim. I didn't know anything about Utah aside from the Mormon Church and the Olympics that were here in 2002. I was working for a software company in Palo Alto and I really wanted to leave the industry because early on I knew what my passion was cooking,
You're not a Mormon though, are you?
Thank God, I am not [laughs]. I am not Mormon, and I could get into religion and politics and Mitt Romney, but I won't get into that at the moment [laughs].
Another time, another place! But in terms of the culinary world, Mormons can't drink alcohol. And that's a big part of the culinary world.
It is. Get this – the restaurant and lounge I moved out to work at was non-alcoholic, but it had a bar serving up mocktails. One of my jobs was coming up with different cocktails. One of the first guys I hired as a sous-chef is now my business partner, co-chef and co-owner, Bowman Brown.
He clearly was a good hire.
He had gone to culinary school and was working at like Denny's here, which was kind of strange. Immediately, there was a connection because of our similar backgrounds, and we ended up working really well together. The guy that I moved out here to help open the restaurant is very bottom-line driven, and was not really about the food and experience. We bumped heads a lot…
Of course you did. You're a culinary guy and he's making you create mocktails!
Yeah, man [laughs]. We were serving Shirley Temples with big old poofs of cotton candy attached to the glasses. Ultimately, Bowman and I got fired. [The owner] was a bottom-line-driven guy and the restaurant was not doing well. The beauty of the story is that two days before we were fired, we actually found the place that we are at on Craigslist. We wanted to have a house — there are a lot of restaurants that I admire, like The French Laundry. We wanted to have a greenhouse in back and grow herbs and vegetables throughout the year. The day we got fired, we went back to my apartment and I wasn't ready to go home because I had changed my entire life to move out here. It would have seemed like I had given up if I went back.
Let's talk about your television. You're on it, doing a show called Extreme Chef. I'm not familiar with the show…
You know, a lot of people aren't [laughs].
What is so extreme about it?
It's extreme being that you are taken out of your comfort zone, taken out of your kitchen. You don't have any of your knives or utensils that you normally have in your kitchen, and you are given ingredients that most of the time we have never seen or worked with. We are working in extreme conditions – anywhere form the dessert to the jungle to the water. It's kind of like Top Chef-meets-Survivor. There are seven contestants and the competition is for $50,000. At the same time, it's not only about cooking but also about strategy – alliances and friendships that you build so that people won't vote you out or pit you against somebody in a challenge that could potentially send you home.
Are you good at this game?
What I've realized that I am extremely good at is working under pressure. With all the things that they threw at me on Extreme Chef, I was able to tie every single ingredient back to a certain point in my life.
You were born in Malaysia, but your parents are Vietnamese?
I was born in a refugee camp in Malaysia. My parents fled Vietnam during the war. About 1.5 million people fled by boat and roughly 750,000 survived because boats capsized, and people drowned and got sick. My parents made it, though, and ended up in an archipelago of Malaysia and I was born on an island. My parents built a shelter out of wood that they foraged for in the mountains and traded their personal valuables for other materials. We ended up in the United States when I was about five months old. I lived in Illinois until I was eight years old, and then we moved out to California in the late '80s.
Are your earliest food memories of Vietnamese cuisine that your parents cooked?
Yeah. One of my first memories was living in a townhouse with three other families. Food was a big part. There were so many people in the house that for any meal, the whole family would get together and help out. One of my oldest memories is a dish called bánh xèo, which is a Vietnamese crepe, with tapioca flour and a bit of coconut milk. You make a pancake and my mom would add sautéed bean sprouts, shrimp, pork and various kinds of herbs. We would eat it with a little bit of fish sauce.
Did you grow up cooking?
My dad worked night shifts, and my mom worked during the day, so my parents taught us early on about taking care of themselves. As early as me being in kindergarten and my brother being in preschool, they taught us how to make ramen noodles at home. All you had to do was boil water and pour it into a bowl with the noodles. Early on, from them until around 5th grade, we would cook that all the time to eat. We started adding hot dogs and other things to it, and slowly but surely, we would get creative with our cooking – we made a stir-fry and a wet noodle soup.
My parents moved us out to California to pursue a career in the catering business – they originally bought a catering truck and started catering to a lot of the dot-com companies in the Bay Area. They did very well and ended up with a fleet of trucks. Seeing the amount of work that my parents did, my parents would always tell us growing up, "Do you see how hard we work? We want to make sure you guys go to school – we will take care of everything so you don't have to have a job." That way in the future, we wouldn't have to have a job and do what they did.
So how did you end up in culinary school?
I was in my second year in college and I was studying business management. I was writing an essay of some sort and came across an ad on the Internet for the California Culinary Academy – and keep in mind that I have always loved to cook – I called up my parents and said, "You know what? I think I'm going to go to culinary school!" I drove up to San Francisco, checked out the school, talked to counselors and for some strange reason, my parents didn't even stop me. It was as if they knew it was my fate and it was for me!
Culinary school turned out to be a joke and a lot of the teachers and students weren't serious. I would say I spent around half of the school year at the beach, surfing and shopping. I would hang out in San Francisco instead of going to school.
But then you started working for Laurent Gras, which was certainly not a joke…
I met with my counselor and he mentioned that the chef who was just named Food & Wine Magazine's Best New Chef in 2001 was just down the street and looking for interns. I went and sat down with Laurent [Gras], and he said, "I just want you to know that everything you have learned in culinary school means absolutely nothing to me. You will learn more here in three months than you will during your entire time at culinary school." And it was true. I started the internship and got my ass kicked every single day. A lot of culinary students start off very entitled and expecting a certain amount of money and then they get chopped. One of my first duties was peeling lemons, blanching the peels three times, removing the pith julienning them and then brunoising them. I thought I had knife skills at culinary school, but this took it to a whole new level.
Was it frustrating at times?
I remember one of the sous chefs told me that my julienne and brunoising work was absolute shit and to do it again. There were so many times that I was there and felt like giving up. I was treated so badly and trying so hard that I would almost break down and cry. At that point, you don't really have a choice – you are at your absolute bottom – you can either give up and go back and do something else or you need to strive. I knew I wanted to try. I would walk to work and tell myself, "Today, I'm not going to get in trouble and I'm going to get this right." Slowly, I started getting better and doing really well, and eventually I was offered a job.
Do you and Laurent have a good relationship now?
We do. When I got my [Food and Wine] Best New Chef last year, I called Laurent. As a cook, I owe around 90% of everything I know to Laurent. He was my mentor and will be forever. So I called him up because you are allowed to have one guest at the ceremony, so I asked him and he said yes. It was the first time in the history of Food & Wine that a mentor and a mentee were both Best New Chefs.
---
Read more FR Interviews: