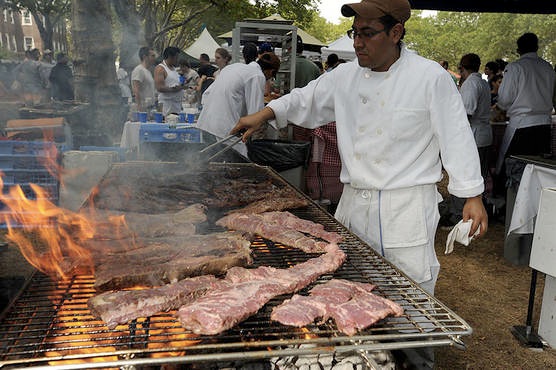 The annual Meatopia is upon us, going down September 8 at Randall's Island in New York City (5-9 p.m.) It's an annual tradition that we in the food writing/meat eating game look forward to — chefs from around the country coverage to celebrate primals and offal, barbecue and braising. But this year, the event's ringleader Josh Ozersky has upped the game. Over 40 chefs are making the trip to the expansive park at Randall's Island.
Here's a little roll call of who's making the trip: Aaron Franklin, Nick Pihakis, Adam Perry Lang, Naomi Pomeroy, Joey Campanaro, Noah Bernamoff, Jonathan Sawyer and some Navy Fucking Seals.
Tickets are still available. And here's the deal about the ticket. $140 is a nice chunk of change to throw down for a four-hour event. That said, Ozersky does not stand for unrealistically long lines and poorly executed events. He's one proud guy and we can attest that Meatopias in the past have been well worth the money. And check out the megamix at the top. There's a theme song too.