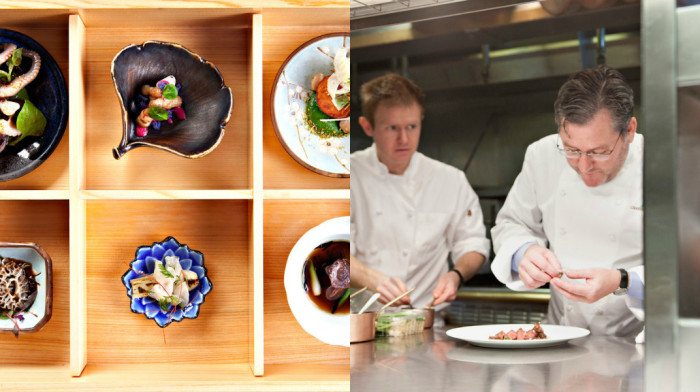 Though Chicago was known for good food prior to Charlie Trotter, it was definitely more of a meat and potatoes town — great steaks and chops, hot dogs and deep-dish pizza. Fine dining existed, but only at places like Le Français, serving classic French cuisine. No one, quite literally, was doing anything new.
Charlie Trotter changed all of that.
His brand of New American cuisine (making vegetables as important a component to the dish as meat or fish; using very little butter and oil in order to highlight the natural oils and textures of the products; taking a lesson from the Japanese that presentation and appearance are almost as important as taste) not only put Chicago on the culinary map, but undoubtedly upped the game for fine dining across the country. The gauntlet was thrown down, and for almost all of the restaurant's 25 years, Charlie Trotter's remained one the top-dining destinations in the world.
Victory lap
When Trotter announced on New Year's Eve that his restaurant would close in August 2012, after its 25th anniversary, reservations once again became hard to get, as people rushed to dine one last time or, in my case, try it before it was too late.
One last hurrah
A few weeks ago, it was announced that Trotter was going to "let his hair down" and throw a party for his final service. And he would be bringing some friends along, including alumni Graham Elliot, Bill Kim, Mindy Segal, Anne Burrell and Koren Grieveson. Music would be provided by DJ Madrid of Chicago's White Label, while master sommeliers Larry Stone and Ryan Stetins would be pouring sangria and "jungle juice" all night. Clearly, this would be no typical night at the restaurant!
As a Chicago food geek, I was thrilled to be asked to cover this historic event. I arrived at 4:30 p.m. and was greeted warmly by Rochelle Trotter when she gave me the okay to explore the entire restaurant during the set-up. She also offered me a drink. I asked for water. She brought it. She also insisted I have a glass of wine. I didn't argue.
Each chef station was set up in a different room of the restaurant: on the first floor, Food Network star Anne Burrell was in the main dining room; Bill Kim and Koren Grieveson had the studio kitchen (where Trotter's popular PBS show Kitchen Sessions was filmed). In the small garden, Trotter's own staff was setting up a barbecue. The guys from Virtue Cider were also preparing a station. (Their Red Streak heirloom apple cider is terrific.) Turns out Greg Hall, who left Goose Island to make cider, has known Charlie for years. They used to live in the same building. In the early days, Greg would show up at restaurant anniversaries with growlers of beer for the guests. While talking to Greg, Bill Kim raced by with a massive cleaver, muttering with a smile, "This is so crazy! I haven't been here in seven years!" And in the restaurant kitchen, acclaimed pastry chef and owner of Hot Chocolate, Mindy Segal, was setting up the dessert station.
In the two additional upstairs dining rooms Graham Elliot was setting up in one, and Trotter's very first employee, Reginald Watkins, was in the other. Watkins got his start as a dishwasher. He learned to cook and worked his way up to sous chef, staying with the restaurant until last year. Also working the station was Sari Zernich-Worsham who, as well as being in the kitchen for many years, worked with Trotter on most of his books and the TV show. (She now works for Art Smith's company.)
The last staff meeting
At about a quarter to 5 p.m., a plaid Bermuda shorts–wearing Trotter came in with his equally casual-looking friend and mentor, legendary chef (and Food Republic contributor) Norman Van Aken. Trotter requested a chef's jacket and called for his entire staff (and guest chefs) to come together for the final staff meeting in the main dining room.
As a fly on the wall in the back of the room, I felt like I witnessed something very special here:
Trotter starts by joking that he's actually changed his mind and he's going to keep the restaurant open after all. No one believes him. He thanks everyone for the work they've done with him and says about his reputation, "I have certain ideas about things and I'm not the easiest guy to get along with." Everyone laughs, but no one disagrees.
He then starts calling up some alumni. Watkins, who flew in from New Orleans to be here for the last days of the restaurant quipped, "I really learned to appreciate working for you once I stopped working for you." He then talked about how much he learned from his days with Charlie and related how at a new job, he was told by his boss, "Reggie, you know Charlie Trotter wouldn't have put up with this.." Watkins immediately pointed and yelled at his boss, "YOU'RE NOT CHEF TROTTER!" Not surprisingly, he was sent home for the day.
Michelle Gayer, who runs the Salty Tart bakery in Minneapolis, and was the first woman in Charlie's kitchen, tells her mentor, "I am who I am today because of you." (When she heard about the final night, she contacted the chef and asked to be a part of it. Many of his ex-staff did the same thing.) People here have a lot of love and a tremendous amount of respect for this man.
The rest of the 20-minute meeting is spent encouraging staff to be leaders in whatever they decide to do, and to always strive for the next level. "Whatever you do, you've got to own it." He then calls out sommelier Ryan Stetins, "Ryan, if you aren't a Master Sommelier someplace great within six months, I will kill you."
The staff is told that it's going to be a fun night, but kind of a crazy one, and reminds them that they are working. "We're admitting 300 people, not the 200 we had originally planned. It'll be a little crowded."
It is then casually mentioned that Tetsuya Wakuda had flown in from Sydney that morning to attend. There is some real excitement over the news. (Impressively, Wakuda arrived from Australia Thursday and was flying back to Sydney on Saturday.)
Charlie Trotter then begins singing the classic Hot Chocolate jam "You Sexy Thing (I Believe in Miracles)" to his wife. Meeting adjourned.
The staff has about 30 minutes to make the final preparations. The atmosphere is harried, to say the least.
"Charlie Trotter put Chicago on the fucking map! Now let's get back inside and continue this party."
How it went down: A timeline (sort of)
At 6 p.m., the doors open. As guests entered the bar area, Led Zeppelin's "In the Evening" was blasting, while everyone grabbed their first drinks of the night. In the studio kitchen area, DJ Madrid was spinning vinyl. This is a very different Trotter experience. People are unofficially referring to the evening as "Casual Charlie's."
At 6:10 p.m., I overhear people discussing the Jungle Juice, which is being served out of a lined trash can. Most seem scared to try it. While I agree it's too early on in the evening I decide that, as a writer, it is my obligation to report on the controversial juice. Not yet, though.
6:25 p.m.: The place is now beginning to hop. As people stream into the bar area, ZZ Top's "La Grange" greets them. Loudly. I head to the studio area where I meet a fellow guest, Dan, who strongly recommends the goat curry, naan and carrot slaw being served by Trotter's staff in the garden. (I take his advice. It's exquisite. One of the best curries I've had.) I make my way upstairs to the back dining room, where Sari Zernich-Worsham is manning Watkins' station. They're serving a spicy gumbo topped with lobster and crab and corn-fried catfish and oyster, served atop black beans. Both dishes are great, but the gumbo is really a standout dish. I thought the flavor of the lobster and crab might get lost in a gumbo. I needn't have worried.
6:45 p.m.: In the second upstairs dining room Elliot is offering a shot glass of corn bisque that contains, among other wonderful things, crushed corn nuts (which I recognized instantly) and chipotle jam. The other offering was a reverse Caesar salad, consisting of a giant, stuffed crouton topped with dressed romaine lettuce and a single white anchovy.
At 7:15 p.m., I talk to a woman who has been coming here since the late 1980s. "We had no kids, no mortgage, and it was the '80s! This was our neighborhood restaurant." Must've been nice. She also told me something that I have not been able to verify but, apparently, in these early days, the restaurant would host "Buck and a Quarter Mondays" once a month. It was an invite-only affair, for the best customers, friends and other chefs. It would be a massive meal accompanied by fabulous wines. All for a buck and a quarter.
At 7:50 p.m., I head back downstairs to the studio kitchen to see what Bill Kim is serving. He's got a chilled piece of salmon topped with a lemongrass sauce, served over a spicy red quinoa salad. He's also serving a slice of Wagyu beef with red curry atop a green papaya salad. Both dishes are superb. (I should note here that Bill Kim opened his hotly anticipated new restaurant, Belly Q, less than two weeks ago. He's spending his Friday night here. Again, I'm reminded of the respect and appreciation people feel for Trotter.)
At this point, Stetins is walking around the room pouring Larry Stone's sangria out of a 5-gallon water jug. I overhear him tell another guest, "He used a bunch of open magnums and other unfinished bottles from last night. It's definitely the most expensive sangria ever made." I hold out my glass. It's unquestionably the best sangria I've ever had. I guess it should be.
8 p.m.: "Tequila" by The Champs is playing. Though I'm not a huge fan of this jam, the mix has been incredibly enjoyable — the evening started with some mellow house but quickly headed into '60s French pop, then jazz and golden-era hip-hop.
9 p.m.: The last hour has gotten away from me. I was chatting to the very nice cider people and then, somehow, ended up in a 45-minute conversation with a drunk restaurateur who is trying to open up his own polo club. Thankfully, the sangria is still awesome.
9:15 p.m.: Holy moly! They're pouring Sancerre and Chablis in the back room upstairs! I ask the server what's going to happen to the storied wine cellars. "We ask ourselves that question all of the time! Only Chef knows. He might sell it; he might keep it…"
It has become too crowded and too crazy to continue to find places to sit down and write, so at this point, I just enjoy the rest of the night. Anne Burrell's corn cake topped with goat cheese, chorizo and a fried quail egg is awesome. Koren Greiveson's crispy prosciutto–topped toast with ricotta is also great. Mindy Segal's desserts are beautiful and delicious. (The almond toffee is a particular highlight.) I meet some eccentric millionaires, old friends of Charlie's (one of whom just doesn't know where to eat now that his friend's restaurant is closed), and lots of current and ex employees. I realize it is a celebration, but no one here seems to have anything but the kindest words for their boss, friend and mentor. You can take that for it's worth.
At around 11 p.m., everyone — staff and guest alike — go outside to wait for Charlie. Lots of applause. A few speeches are given. Rochelle wraps it up with an apt and unarguable, "Charlie Trotter put Chicago on the fuckin' map! Now let's get back inside and continue this party."
---