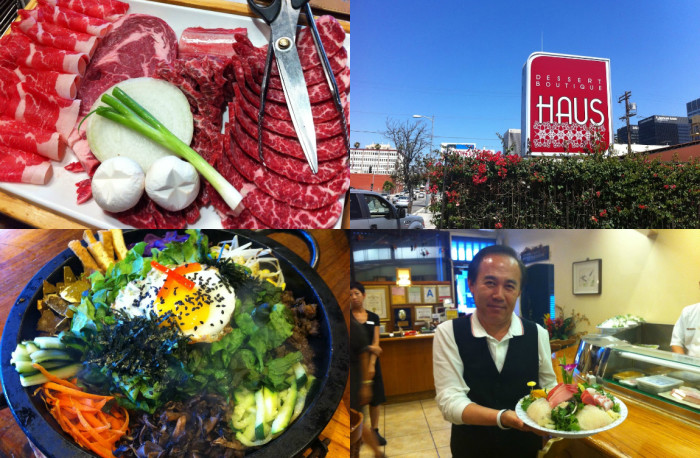 It's five o'clock on a Friday afternoon and if I eat another bite of anything, I'm pretty sure I'll go into cardiac arrest. I'm at a Korean sushi restaurant in a strip mall that advertises itself – with no irony whatsoever – as "LA's Best Restaurant." I'm surrounded by the highest ranking members of the Korean American Food & Restaurant Association and we're discussing the finer points of attracting non-Korean visitors to Koreatown. How in the world did this happen?
My aversion to most Asian foods is well-documented among my friends and family. I'd say it stems from some not-so-pleasant Chinese food experiences as a little kid, but I'll never know without going into massive amounts of psychoanalysis. Over a month ago, I set out to change my hang-up with a crawl through Thai Town here in LA and it was remarkably successful. I can honestly say I enjoy Thai food now.
That's mostly due to the fact that I had superstar chef Jet Tila guiding the way. Since Los Angeles has such an enormous Koreatown, I decided Korean food would be the next cuisine to investigate. So I set up a crawl. Or, more accurately, I initiated a crawl that ended up being a promotional tour of Koreatown.
First of all, I don't like the name Koreatown. I don't like any ethnic area that adopts a moniker that reduces a neighborhood to a "town." Calling it Koreatown makes it seem like part of a theme park. Doesn't "It's a Small World" take you through Koreatown? It minimizes what it really is: an ethnic community that provides a glimpse into a culture that you wouldn't normally get to participate in. Little Seoul? That works a little better. At least that has more dignity to it. It's also the best name for a Korean R&B band.
Despite my misgivings about the name, I set off for Koreatown. Joining me on this illustrious journey were friends from my very blandly named Lunch Club, a publicist friend who helped me set up the crawl, another friend who works nearby, and the infamous Jet Tila and his sous chef, Scott Okazaki. Not the motliest of crews, but motley nonetheless. We all met at our first stop: Moodaepo 2, an all-you-can-eat Korean BBQ joint that sets itself apart with high-quality ingredients, a super flashy sound and light system, and what may be the world's first shovel that doubles as a Korean grill grate.
Brian Chong is the owner of Moodaepo 2 and the leader of our crawl. He was described to me ahead of time as the unofficial mayor of Koreatown and I'm inclined to believe it. He's also very definitely a businessman and saw the opportunity of showing a food writer around as a chance to flaunt his empire. As such, the first three scheduled stops were all owned by Brian. Not exactly what I was hoping for in my quest to embrace Korean food, but I'm flexible and there was a shovel holding a ton of food. Who am I to complain?
We spent an hour and a half at Moodaepo 2. It was awesome. The sign out front said "Come hungry. We are here to serve you quality food." It didn't lie. I felt like I was in some sort of meat sanitarium where the only way to cure what ails you is forcing pounds upon pounds of meat into your mouth. Needless to say, I'm cured. "We have like 31 flavors of meats," Brian tells me. Then I find out he used to own strip clubs. That (partially) explains the light-and-sound show and the disco balls.
I tried to take copious notes about the restaurant, but with my hands perpetually covered in a combination of meat drippings and gochujang (Korean chili paste), it became increasingly difficult. I know that we started with brisket, the best seller, according to Brian. We then continued on to short ribs, ribeye, pork belly, chicken and a whole host of other meats both in their natural and marinated states. The meat kept coming, the grills were constantly full, and I couldn't get Brian to tell me what the secret was in any of his secret marinades – apparently every marinade he uses is secret, which was frustrating because he used that fact to sidestep pretty much every question I asked. The best I could pull out of him was that the marinades involved pears and apples somehow. And then came the shovel.
I promise I'm not overselling this. Brian says he's the first in the world to do this and I don't doubt him. It's a short shovel with "MOODAEPO" emblazoned on the neck and the pan of the shovel holds a variety of mystery meats, greens and a red sauce. The shovel goes directly on the grill. Everyone is immediately transfixed as the shovel ingredients start to cook. When it's ready to go, the sauce is bubbling and daring everyone to dive in. I find out that the harrowing red sauce is a beef broth spiked with gochujang. Jet starts passing out bowls full of shovel stew and all is right in the world.
In addition to the butcher's shop worth of meats that we've consumed, there are also eight different banchan (small appetizers) on the table and platters of various lettuces. Brian's obsessed with providing his customers the best possible experience, so the greens are a nice touch to use for lettuce wraps. You don't find that at other KBBQ places. Nor do you find the club atmosphere. Moodaepo 2 is unique – and it's just the first stop.
Stop number two is Haus, a "dessert boutique" a mile away. Since the first stop lasted so long and filled everybody up, we ended up losing half the group. Now it's just five of us and this place is not what I'm looking for. It's definitely Korean, as evidenced by its entirely Korean staff and clientele, but the menu is… I actually have no way to describe the menu. "It's tapas!" Brian says, although there are no traditional Spanish tapas here. Small plates, yes. Tapas, no. There's an enomatic wine system up front. Multi-hued macarons are in the display case. Baja chicken breast tostada salad is the first thing on the menu. The design could best be described as Modern Cute Explosion. What is this place?
We're served kimchi and spam fried rice, mentaiko spaghetti, and purple sweet potato lattes. The only thing that qualifies as traditional Korean is the ddukbokki, a variety of dumpling-like rice cakes, fried chicken bits, onions, and cabbage in a thin, ketchup-based sauce. Since I'm so stuffed from the previous stop, I can barely take more than a bite of any of these dishes. I can, however, venture to the bathroom and I'm glad I did because it happens to have THE GREATEST TOILET OF ALL TIME. I could write for days about this toilet, but I'll just say that it had a heated seat and a fully customizable bidet feature. There's a good chance I'm going to move into this bathroom. I've updated all wishlists in my life to include this toilet. I may be going overboard here, but I think if everyone had access to a toilet like this, there would be no more war in the world.
Two more crawlers bite the dust after Haus. The next stop is supposed to be Iota, Brian's third KTown establishment, but with time and stomach space in short supply, we venture to Beverly Soon Tofu instead. This restaurant is the real deal. Jonathan Gold, the high priest of ethnic eats in Los Angeles, has included it in his "99 Things to Eat in LA Before You Die." Open for 26 years, the thing to get is soon tofu, which translates to "pure and soft," according to Monica, the owner. We go to town on some wonderful Korean food: seafood soon tofu, whole broiled squid, and a dolsot bibimbap (stone plate rice bowl) that looks like it can feed a family of 16. It's all incredibly good. This is what I've been looking for.
Brian starts talking about what separates Koreans from their Asian brethren. "You have to understand that Korean people are very giving!" he says as he points to the banchan. "Look what we give for free!" It's true. The Korean version of a stale bread basket is much more exciting than what you get at most American restaurants. I surmise that you could make a meal out of banchan if you wanted to. I doubt that would make Brian or any other Korean restaurant owner happy.
At this point, I just want to go home. My publicist friend and I are essentially KTown prisoners and we try to squirm our way out of the final stop but Brian says that there's no way. He indicates that his throat will be cut if we don't go. He uses the universal gesture. I can't allow my host to be murdered on my behalf. We march on.
The final stop is Arado. It's the Korean sushi restaurant I mentioned at the beginning and they're definitely trying to impress me. Huge plates of tuna tataki with gold leaf and massive rainbow rolls overflowing with fish are set before us. I can't do it. I try a piece of everything, but that's the most I can muster. As much as they try to convince me that it's Korean, I just can't buy in. It's Japanese. The sign out front even says it's a Japanese restaurant.
I'm on a quest for authentic Korean food and I've struck out on 50% of the stops. When the owner, Yong Ho Kim, gives me his dual-sided card and reveals that he's the chairman of the Korean American Food and Restaurant Association (KAFRA), I finally realize what's going on. This whole thing hasn't been a Koreatown crawl. It's a press trip. I've been duped. The good news is, I've been duped with good food and gracious hosts – all of whom are proud members of the KAFRA. The whole thing seems a little Kafra-esque, if you ask me (please forgive me for that joke).
We get into a discussion of how to attract more people like me to Koreatown. It's a very good question and applies to every ethnic "town" in every big city. The answer usually comes down to the same thing: make it approachable. How does that happen? I have no idea. The best thought I have is the one I keep to myself.
You know what's really going to get people like me to come to Koreatown? Beer. Really cheap beer. And, hopefully for Brian, a shovel full of Korean barbeque.
Moodaepo II
3014 W. 7th St.
Los Angeles, CA 90005
213-381-9990
Haus Dessert Boutique
3826 W. 6th St.
Los Angeles, CA 90020
213-388-5311
Beverly Soon Tofu
2717 W. Olympic Blvd., #108
Los Angeles, CA 90006
213-380-1113
Arado
4001 Wilshire Blvd.
Los Angeles, CA 90010
213-387-1199