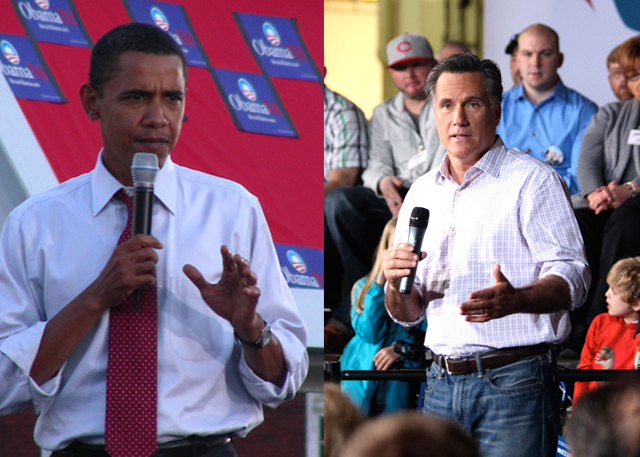 With both the presidential election and the renewal of the farm bill looming, there's no better time to look into the food policies of President Barack Obama and the presumptive GOP nominee Mitt Romney. In a presidential term where pizza was declared a vegetable, the food pyramid was 86'd and turned into MyPlate, and a website was created solely to document food in the Obama administration, it's safe to say that food policy has played a major role in the last four years. But where exactly does Gov. Romney stand on food-related issues? Not even he seems to know for sure.
Below, we compare the two politicians' stances in the past and present, and take account of the men and women who are advising the Presidential candidates on food policy to see how things might look come January 2013.
President Barack Obama
His Team:
Tom Vilsack (Secretary of Agriculture, former Governor of Iowa)
Appointed in 2009, Ag. Secretary Vilsack has prioritized childhood obesity, strengthening rural economies and renewable energy as hot-button issues.
Kathleen A. Merrigan (Deputy Secretary of Agriculture)
As Deputy Secretary of Agriculture, Merrigan has instituted the "Know Your Farmer, Know Your Food" campaign to boost rural economies and focus on regional food systems.
Sam Kass (White House Assistant Chef and Senior Policy Advisor for Healthy Food Initiatives)
In his role as a food policy advisor, Kass has advised the First Lady on her campaign against childhood obesity (Let's Move!) and assisted her in creating a substantial vegetable garden at the White House.
Michelle Obama (The First Lady)
Michelle Obama has taken on childhood obesity as her main political platform, promoting increased physical activity, healthy eating and improved food access through her Let's Move! campaign.
Policy
The Good:
Under President Obama, the USDA approved a new nutrition guide known as MyPlate that, despite criticism for its simple design, has enjoyed far more success than its confusing predecessor, "My Pyramid."
Michelle Obama's Let's Move! campaign has brought issues like healthy eating, food deserts and childhood obesity to the forefront of the nation's dialogue.
The USDA's revised nutrition standards for school lunches (passed in January 2012) requires more vegetables and fruits, a whole grain requirement and milk that is 1% fat or less.
President Obama has endorsed the Senate's version of the farm bill that would eliminate many costly subsidies to farmers and increase spending for healthy food initiatives.
The Bad:
As part of the updated school lunch nutrition standards, "pizza" officially became a vegetable, much to the outrage of health advocates. In truth, it is 1/8 cup of tomato paste that counts as a vegetable, not pizza, but the paste's starring role in everyone's favorite junk food led to a media firestorm.
Under president Obama, food stamp use has increased 46% since 2008, leading Newt Gingrich to famously label Obama the "food stamp president."
A proposal to reduce the amount of sugar, salt and fat marketed to kids was struck down by Congress without intervention from the White House.
In January 2012, the USDA announced it would be closing 259 domestic offices.
Gov. Mitt Romney
His Team:
In March 2012, Romney announced his agriculture advisory committee, which as the San Francisco Gate points out, is aligned more with California farmers than Midwesterners. Among the committee members are Mike Johanns, former Secretary of Agriculture under President George W. Bush; A.G. Kawamura, former Secretary of the California Department of Food and Agriculture; and Chris Policinski, President and CEO of Land O'Lakes.
A.G. Kawamura said of the appointment, "The advisory committee looks forward to providing counsel in this area in the coming months and to welcoming a new era of agricultural policy under a new president."
Romney's changing stance on agriculture policy:
---
For more on President Obama and Governor Romney's views on agriculture issues, see the Iowa Corn Growers' Association's report cards based on a survey given to the politicians in November 2011. Both Obama and Romney received a "B" grade.