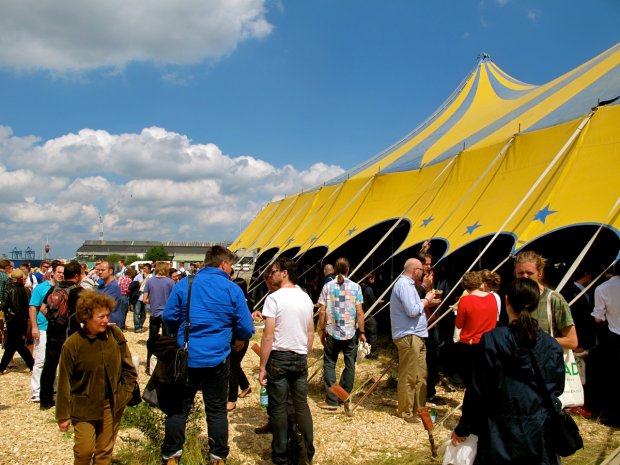 Jody Eddy reports from MAD Symposium in Copenhagen, Denmark, a two-day symposium assembled by chef René Redzepi of the famed restaurant Noma. ("Mad" means food in Danish.)
Related: 13 Photos From The MAD Symposium 2012
The yellow and blue circus tent was bigger this year to accommodate nearly twice as many attendees. There wasn't a market alongside it showcasing Denmark's bounty of produce, grains and artisanal food products like there was last summer. And the torrential rain that transformed the inaugural MAD Symposium into a hay-caked mud bath last year was replaced by an optimistic Nordic sun.
What hadn't changed at Rene Redzepi's second MAD conference on the outskirts of Copenhagen was a pervasive spirit of hope. The hope that through the exchange of thought-provoking ideas between the scientists, farmers, producers, writers, academics and chefs assembled there, the seeds of change would take root and flourish into tangible solutions for fixing our broken food system.
The first day of MAD began with a bang…literally. Massive balloons were tossed around inside the tent by the audience who shuffled in following a breakfast of espresso, rhubarb with yogurt, local cheeses and whole grain bread. Each balloon met its demise with a loud explosion that seemed fitting for kick starting a day punctuated by thunderous rounds of applause, big ideas, and an unrelenting call to action.
The theme of this year's symposium was appetite; a topic addressed on day one by a compelling range of speakers including Enrique Olvera, Hugh Fearnley-Whittingstall, Massimo Bottura, Dan Barber and David Chang, who filled in at the last minute with a discussion on MSG for Marc Veyrat who couldn't make it due to a family emergency.
Scientist Tor Norretranders struck a positive first note with a call to "reach out to the world with our appetites." He implored the audience to stop apologizing for its existence in the world. He said that we have cultivated an appetite for things we can control but that now, in this time of crisis, we need to trust that the earth in all its wildness will be kind to us as long as we care for and nurture our relationship with it.
Enrique Olvera of Pujol in Mexico City explained that eating out is fundamentally an exchange of trust and that if we use our memories as a creative tool to propel us into the future, we will strike the ideal balance of love, tradition and appetite fundamental to constructing a sound food system for the future.
British forager, chef and author of The River Cottage Cookbooks Hugh Fearnley-Whittingstall's appetite has been consumed for the past several months by Fish Fight, his campaign to change the European fishing quota system that results in a horrifyingly high volume of fish discards that threaten to destroy our already over-taxed oceans. His dynamic campaign now has nearly 900,000 supporters and was a powerful example of what can result when someone's appetite for change is fueled by tireless hard work and unrelenting passion.
Massimo Bottura of Osteria Francescana in Modena, Italy poetically explained that food is not just about the quality of ingredients but the quality of the idea. Lest he end on too saccharine a note, he concluded his presentation with a short film on tortellini that began innocently enough with three Italian grandmothers discussing their tortellini secrets over a game of cards. It ended with the murder and transformation of two of the women at the table into tortellini stuffing. The final scene featured Massimo illustrating his appetite for the macabre by eating the surviving woman's lurid creation and saying "Grazie, Mama," through a sated grin.
Next up was the researcher Andrea Pieroni's discussion of science's essential role in our food system. He encouraged gatherings like MAD where we said that the conversations that transpired build resilience to the problems we face in this time of crisis. Patrik Johansson, the self declared "Butter Viking" who supplies Noma with the tangy sample the audience received during his presentation had an infectious appetite for family, producing butter with integrity, and his unconventional life in a red and white Swedish cottage without plumbing. He received a round of applause with his comment, "We are hippies with a Michelin edge."
Dan Barber's discussion of the perils of wheat monoculture throughout the world concluded with an optimistic story. He described his first bite of bread from a loaf comprised of a nearly extinct heirloom wheat strain from Spain. He said, "We may have lost the taste of wheat but there it was in my mouth and I realized wheat doesn't have to be relegated to being a flavor of the past. It can be the flavor of the future."
Perhaps no speaker from day one described his connection to appetite more viscerally and poignantly that Noma's sea urchin harvester Roderick Sloan. He chronicled his exhausting, bitter cold profession as one of frozen lips and a body riddled with sea urchin spikes. He said that virtually at the moment when he decided to hang up his dry suit for good to go back to school in pursuit of a warmer, more sensible profession, he received a serendipitous phone call from a chef he had never heard of before named Rene Redzepi. What ensued were numerous phone calls from the chef imploring Sloan to take to the sea once more. Having no long distance success, Sloan received a knock on his distant Scottish door one day. It was Redzepi.
The chef dove with Sloan for the icy sea's briny delicacies and eventually convinced "The Lone Wolf" to don his goggles and snorkel once more. With Redzepi on stage, Sloan looked at him and said: "I need to thank you, chef. You gave me back my appetite." It was a powerful moment in a day flush with them.
As inspiring as the symposium was to the nearly five hundred people sitting in that circus tent on day one, one wonders if the rest of the world has an interest in what transpires at MAD. And then Redzepi delivered the news that the symposium's hash tag "#MAD2" was the second most followed on Twitter that day. If social media is any indication, the world clearly has an appetite for MAD.