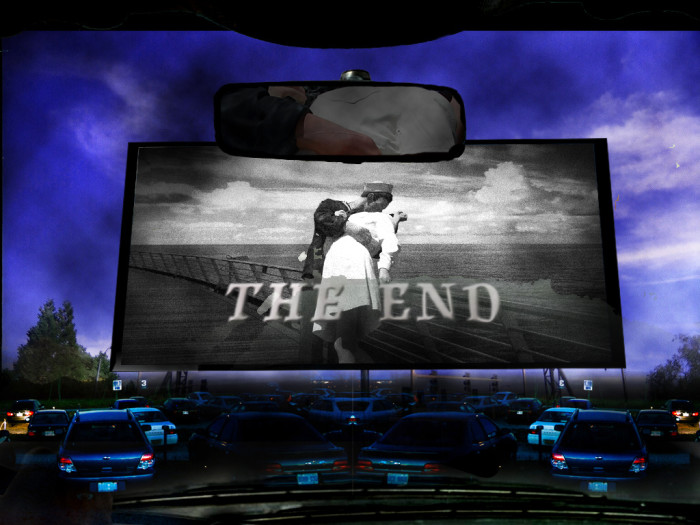 Ah, the Fifties. It was a gentler time. A more respectful time. A time where movie-going was innocent and almost nobody had herpes. McCarthy was hunting reds, Mantle was cranking homers, and your parents or grandparents were making out at the drive-in movie theater. Drive-ins were a distinct part of Americana until people stopped caring about seeing movies in cars and, instead, headed to the local multiplex for some Reese's Pieces and aliens/vampires/Scientologists. Now there aren't many drive-ins left, but a new iteration has popped up: the Outdoor Movie.
In cities across America, people are heading to parks, amphitheaters, and cemeteries (yep) to catch some flicks in the open air. What an awesome date idea. It combines two incredible classic dates into one night of fun. You get the always-awesome Picnic Date (which I constantly mention) plus the old standby Movie Date for a tag-team SuperDate and to top it all off, you get to be outside! Dates are always better outside! I don't know why! This is so exciting!!!
I know what you're saying. Outdoor Movies will never compete with Drive-Ins because there's exponentially less opportunity for sexy time and all the other benefits of watching Gremlins from your Gremlin. I hear you dude, but listen to these counterpoints before you start crying.
Your car will still be there after the movie. If you have a rare affliction where you can only experience peak sexual satisfaction while watching Leonard Part 6, then get yourself an iPad and prop it up on the dashboard. WE LIVE IN THE FUTURE NOW.
It's nearly impossible to have a picnic in a car. Sure, you can rig something up but it always ends up with Goobers in the dashboard. At an outdoor movie, you can enjoy the space around you and go to town on a hoagie without worrying about dropping lettuce on your clutch.
You spend a lot of time in your car. Don't force yourself to sit in that seat for any longer than you have to. Just think about how many times you fart on the way to work.
That guy that you snuck inside by hiding in your trunk? He's an ax murderer. By skipping the drive-in, you're still alive. You're welcome.
If you're single, outdoor movies are great for meeting ladies who also like to see outdoor movies. You just have to be brave when you see Brave and go up and talk to them.
Take a date out to the movies this summer and put the emphasis on out. Scrounge up your best picnic, bring a nice bottle of wine (if your venue allows it), and take advantage of the fact that our air is still clean enough for us to sit around and watch moving images on an outdoor screen. Give it up for America the Beautiful and Not Yet Completely Polluted.
Here are five great places to catch outdoor movies with excellent food options this summer:
Los Angeles
LA actually has two great food + outdoor movie options. Both Eat/See/Hear and Street Food Cinema offer local bands, great movies, and a rotating schedule of food trucks (including OGs like Kogi, Nom Nom, and Coolhaus – not to mention a slew of Korean-Mexican Kogi imitators), so pick your poison and hit up either Exposition Park for Street Food Cinema or any of the Eat/See/Hear locations (the venue changes every week, but the fun starts at 5:30 every Saturday). This Saturday, catch Zoolander in Brentwood or Transformers in Exposition Park. Check Eat See Hear and Street Food Cinema for more details.
Chicago
After a long winter in puffy jackets, Chicagoans love being outside in the summer. The Chicago Park District is well aware of this fact and offers movies almost every night of the week (except Sunday). Check the schedule online to find your nearest screening, get your sandwiches to go at the best Italian deli in the city: Bari Foods (1120 W Grand Ave # 1, Chicago, IL 60642), and go see movies like Captain America, Dolphin Tale, and Transformers: Dark of the Moon. All the info you need is at The Chicago Park District.
New York City
Like Chicago, NYC has a ton of outdoor movie options in parks all over the city. Bryant Park hosts classics, Pier 1 in Riverside Park South focuses on French flicks, and random parks in every borough show an assortment of modern hits and favorites from the past. If you're in New York, you have a plethora of date options, so don't give me any excuses. For food, go nuts wherever you want. Personally, I'd grab a selection from Murray's Cheese Shop and Faicco's Italian Specialties, but that's just me. Info on the movies is here. Or if you're into rooftop films, check out these options.
Seattle
The season doesn't start until July 12th (Ferris Bueller's Day Off!!!), but Seattle's 2012 PEMCO Movies at Magnuson Park ups the ante with movies, food trucks, costume contests, and CIRCUS ACTS. That's right. You get both on-screen entertainment AND in-person entertainment. Plus, you can bring your dog along on your date. What could be better? Info is here.
Boston
Go classic in Boston at the Boston Harbor Hotel at Rowes Wharf. Instead of new Hollywood Blockbusters, they're showing silver screen treasures like The Magnificent Seven, The Princess Bride, and On the Waterfront right on the waterfront (hey…). Since the seating takes place on the terrace of the Rowes Wharf Sea Grille, it's easy to grab dinner with your movie. Just bring your credit card because it's not cheap. Info is here.
---
More Heart Attack on Food Republic: