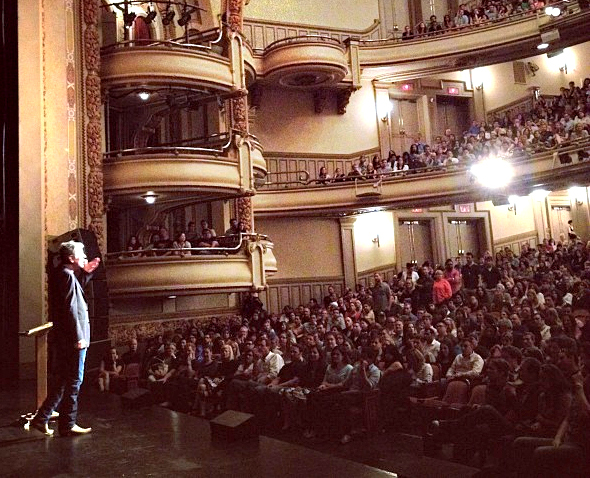 When I spoke with Anthony Bourdain in March about his big Brooklyn debut, which went down last night at the packed Brooklyn Academy of Music's Howard Gilman Opera House, he promised minimalism. "There's no opening act. No giant blender. No T-shirt cannon. No props. I'll have a screen, a clicker and me."
And true to his word (TB's word is bond!), he walked out just before 8 p.m. — clicker in hand, standing at a lectern reading notes scribbled on a yellow legal pad. It was like a lecture from Professor Bourdain on how to be a badass celebrity (screw the chef part) without even trying. Here are some of the highlights I committed to memory after my phone died after tweeting photos of barbecue all day.
1. After a 20-minute delay, with a crowd warmed up on bottled water (no booze allowed in the house!) and a TB-approved soundtrack (Stooges, Stones), the lights dimmed to a WWE-styled fake entrance from Eric Ripert, dressed in dark sunglasses and black shirt.
2. Once on stage Bourdain opened with a lengthy "case against Paula Deen" that revealed: her recipes are garbage, she's evil for selling the recipes to the public when she knowingly was diagnosed with Type 2 diabetes, she sells mattresses (WTF?), he's pissed at his friends Mario Batali and Michael Symon for letting this happen.
3. An audience member later asked if he thought Paula Deen is a stoner. He's unconvinced.
4. In a section devoted to "behind the scenes at No Reservations" he recognized the importance of finding a quality fixer — the on-the-ground contact in a foreign country who paves the path to the so-called good stuff or video gold. Fixers can oftentimes make or break the show. He told a story detailing how his handlers in Egypt didn't want him film a street vendor serving ful, a modest dish of stewed chickpeas. But after a crew member faked a violent case of diarrhea, they were able to quickly film the shot.
5. He then played this ATV accident clip and explained how the show's executive producer, one of his best friends in the world, was most concerned about the microphone being OK.
6. In a closing section he explained/offered examples about how to do drugs on TV on a Scripps Networks-owned travel show. Insert clips of Bourdain drinking bubbling teas and eating slices of "herbal" pizza.
He then spent 45 minutes answering audience questions, which is sort of the money shot in the Bourdain on Broadway paradigm. Some key learnings:
7. He once had to endure a three-week course of meds after eating a warthog's asshole.
8. He's bummed about the foie gras ban and more bummed with Wolfgang Puck, who supported the ban while still serving a menu in Asian that features "foie gras all over the fucking place."
9. He prefers eating animal balls over animal dick.
10. For his new show on CNN, set to launch in 2013, he does not plan to "host barbecue face-offs in the Situation Room" but instead to film shows ("mini movies") in exotic places like Libya and the Congo because he is "obsessed with Apocalypse Now and Heart Of Darkness."
11. He likes airplane turbulence because it "breaks up the extreme boredom of flying 200 times a year."
12. His favorite curries are the hottest, so he prefers Kerala fish head curry from Southern India and black curries from Sri Lanka.
13. Food IS NOT the new rock 'n' roll. "If they could play guitar like Stevie Ray, why the fuck would you be in a kitchen."
14. When he cooks at home, he's not "making little precious pyramids" but preparing hunks of meat on the grill and fresh pastas.
15. Fatherhood has changed him, and he admits to being an extreme hypocrite. "I didn't give a shit about organic or cruelty free until I had to feed my daughter."
16. He's torn on the idea of the foodie dad. Half of his brain tells him to distrust the person bragging about their two year old eating sushi already. But the other half of his brain is proud of his daughter who eats raw oysters and "Sebastian (of The Little Mermaid fame) atop a seafood tower while on vacation in Paris."
---
More food TV coverage on Food Republic: