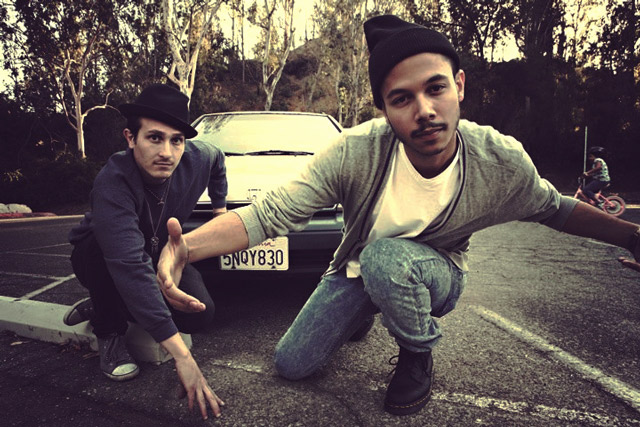 I'm surprisingly used to hearing things like "the bass was so filthy it made me want to smash my face into the ground" and "that girl's Skrillhawk is giving me a weird boner." That's because I love electronic — electropop, electro-synth, synthpop, laptronic, dubstep, chillwave, folktronica, Nintendocore and a bunch of other made-up sounding but totally legit genres of music. And I've noticed a majority of the music blogs I listen to are named after food.
Is food the new rock? Are they inextricably linked? Does Japadog follow this crowd around like a well-trained French bulldog? Yes, yes and yes. Take a peek at my 5 favorite music blogs of right now and drop your tastiest in the comments below — we all need new stuff.
1. Pnut Butter & Jams
Founded in 2010 by a pair of college besties (prepare to hear that intro a lot), Drew Berger and Chris Weld, PB&J is your one-stop shop for daily singles, concert recaps and festival promotion. These guys don't just tap out a few complimentary lines featuring the words "hairy" and "infectious" and plug in the Soundcloud HTML — prepare for lengthy reviews of each track, spot-on related recommendations and in-depth artist interviews. Don't forget to buy a neon yellow PB&J tank top in the gift shop on your way out for the rave bunny in your life. These guys could definitely make a name for themselves…once they graduate.
2. Pasta Primavera
This Baltimore-based blog makes me think of a plate of gemelli with squash, peas, asparagus, basil and a comprehensive concert calendar for and guide to the venues of the Charm City area and surrounding regions. Along with short 'n sweet reviews, reliable links to good places and a classy little blog roll, this site's quite the dish. See? Food and rock. Inextricable. Support PP's creator, Laurent Hrybyk, a super-talented illustrator/designer and curator of scrumptious indie tunes by buying his prints, canvases and device cases.
3. Fat Berri's
We'll trade a few misspellings and weird commas for this award-winning blog, featuring amazing concert photos (not just hipsters' airborne hands washed out by fuschia lights), remixes and bootlegs galore as well as "Fat Berri's Presents" shows with local bands. Mr. B's got a mobile app for the music aficionado on the go, a must-have if you're going to listen to their Sunday Chill Session playlists. Best of all, they're Danish! That's how you know you're in for a floor-thumpingly awesome time with plenty of ø's.
4. What's For Dinna
When I experience What To Eat For Lunch fatigue, I head over to What's For Dinna, an "alternative music club" based in Montreal that never fails to perk me up. WFD is packed with previews, reviews, videos, downloads, exclusive mixtapes of shit you've definitely never heard before and great interviews with French and Canadian artists — some of the best music currently floating around. I noticed our dudes from Flosstradamus were featured recently. That's awesome. The interface is super user-friendly, and you can buy a T-shirt there, too, obviously.
5. Combo Rice
A worthy newcomer to the EDM blog scene, Combo Rice was started up in the last few months by native New York Indian/Jewish team of Zaheen Khan and Jeff Loren — Brown and White Rice, respectively. Named for the ultimate drunken late-night halal cart feast of combo rice (that would be chicken and lamb over rice with all the fixins), these guys very simply put out exemplary singles for your listening pleasure peppered with nothing but the highest praise.
Like your rice chilled? There's a Chilled Rice section for that. Like your rice a little dancier? Order up a side of Dancing Rice. No pretense, no weird phrasing like "you need a little skreep with your womp," and you can go to their parties if you like. It is, after all, food for your ears.
---
More great electronic tunes on Food Republic: