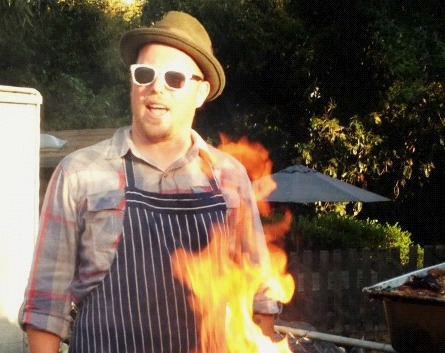 Sometimes the well-traveled just need to lay down roots. Such is the case for Jason Neroni, a highly talented and ambitious chef I've followed — and gotten to know — over the past five years.
After running the kitchen during 71 Clinton's Fresh Foods' final lap in New York (2004-06) and opening a before-its-time Italian restaurant in South Brooklyn, he settled at 10 Downing where he received very good reviews and was awarded a Star Chefs Rising Star, a designation that is often followed by James Beard honors.
The line on Neroni was always similar: Crazy skills. Knows his pastas. Loves his pork. Book now, while he's around. And, in fact, he followed this script when shipping out to San Diego, then Portland, before settling in LA at Osteria La Buca. The reviews there were very good. But, you can guess…
"I'm finally getting to open my place," he says excitedly after I rang him up late last week after reading about his latest project on a blog. Superba Snack Bar is a concept he plans to open in Venice in late-June. It can be described as a California pastaria — fresh pasta, no entrees, house-made salumi and a bounty of local vegetables. Neroni works with a farmer in Riverside, receiving daily shipments from the restaurant's plot. Think Blue Hill, where he worked there under Dan Barber. Obviously.
Tell me more about this California-meets-Italy concept.
It's, loosely, a modern take on the pastaria. I'm not saying it's like [New York's] Osteria Morini. It's a little more California influenced. When you do a pasta restaurant it gets back to the handcraft of things — it's really soulful and meditative and a personal expression of you. We're trying not to do pasta shapes that are regular. We're doing pasta regalo, which is like a coxcomb macaroni. We're doing a chitarra, which are guitar strings. We're using alternative types of flours like rye and buckwheat. As far as the California part is concerned, we're only trying to source from Ventura, which is fifty miles north, or our own farm in Riverside.
What is your farmer bringing you?
We're having eggs delivered everyday and these eggs are absolutely the best eggs I've had my entire life. The yolks are like bright orange and they stand up almost like a bubble. I always keep a dozen at my house at all times
How do you use the eggs in the restaurant? Carbonara?
Obviously carbonara. We cook eggs at 61 degree in a circulator. We're also cooking duck eggs in there. And we're using them for our brunch as well.
And there must be porchetta sandwich, no doubt.
It's happening at lunchtime. We're on Rose Avenue in Venice, which is one of the hottest streets in the world it seems. We're a block away from Google. There will be a very large sandwich program, which coincides with our launch of Superba Food and Bread which will happen at the end of the year. I'm calling it a mash between Blue Ribbon and Jardiniere in San Francisco.
Let's talk about New York. Do you miss working there?
I do. When I left 10 Downing, which was almost three years ago, we went to San Diego and it was fantastic and I think it was some of the best food I did in my life. But there was a longing to go back. I had an opportunity to go back and we did go back about two years ago. I had some backers and we were going to move forward and I invested all this money and shit just fell apart.
What happened?
It was close. It's the restaurant business. People are like, "oh we'll give you money." But you don't have anything until there's a check written. It was a little immature on my part to move forward. I miss New York immensely. I was just there a month and a half ago and I ate at Tertulia and it was awe-inspiring. It was good to be back at Donut Plant and having a drink at the Bowery Hotel lobby. It's amazing to be gone for three years and look back and feel like the entire city has changed. I used to live in Bushwick and it seems like it's the epicenter of what's happening. And you guys have the Nordic invasion now. Everywhere. Everywhere. Everywhere.
But you're in LA for good now, no?
I'm very excited. It's the first time somebody has given me the opportunity to do exactly what I want to do. I like the designers and picked every piece of the kitchen equipment. The menu is there and I picked my manager. He's from Alinea and he's awesome. It's really serendipitous everything has fallen into place.
And you're doing drywall today?
Drywall today.
Superba Snack Bar is scheduled to open in late June at 533 Rose Ave. Venice, CA 90291