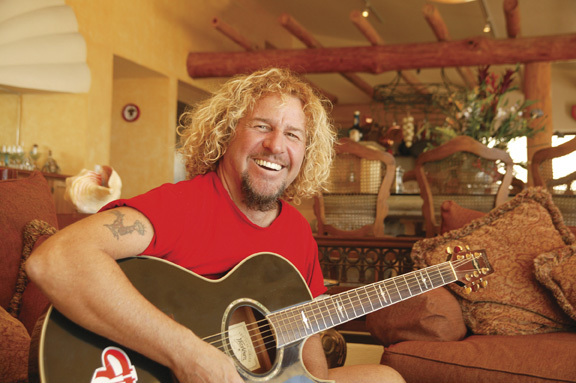 Sure, Sammy Hagar has fronted Van Halen on and off for over 20 years and is a member of the Rock and Roll Hall of Fame. He's also currently touring with Chickenfoot, a super-group he started with Joe Satriani and Chad Smith of the Red Hot Chili Peppers. But when I called him recently, all he wanted to talk about was cooking with chilies. "We have these fire cracker chilies that will kill you," he says from his hotel room in Boston while transporting me to his backyard in Maui, where he built a massive wood-burning oven.
Hagar, a young 64, is no stranger to the food world — he has been running restaurants for over 22 years and owns an extremely popular tequila company, Cabo Wabo. He's also boys with the rock 'n roll chefs of similar age and hard-charging lifestyle — Batali, Emeril and Guy Fieri are all part of Sammy's clique. But, as I found out during our chat, there's only one cook in his kitchen. Well, he has three. That tequila company has done pretty well.
Sammy, think back to an epic barbecue you attended. Maybe rock stars were invited?
One night the Scorpions and I were on a bill together and Guy [Fieri] brought his whole gang of guys down and he grilled some ribs and sausages, every kind of sausage, for all of us. That was memorable because I didn't know him well at the time, though now we're good buddies. We're brothers from another mother. We look alike, act alike and roll the same. So the guys from the Scorpions are Germans, so the type of sausages they have there are different from here and they were blown away. They were like (in German accent): "This is gooooood." We must have eaten 50 pounds of sausages that night.
What's your grilling specialty when you're home having people over?
At my house in Maui I have a Tuscan wood burning oven outside. And I don't just do pizzas in that thing! I love an extremely hot fire. I do what I like to call the $500 pizza. It costs so much to get that thing to 900 degrees. But I like taking a chicken, flattening it out, and marinating it with tropical things like pineapple or lime and olive oil and maybe some fresh thyme and orange juice. Score the meat, leave the bones in of course, and add some chili powder. I've got a big iron grill that I stick in there and I throw that chicken in there and it's like 15 minutes and that thing is scorched and juicy. That's my favorite way to cook.
Do you ever mess with gas?
I'm a wood guy. Don't even talk to me about gas.
So you're not a gas man…
Oh hell no, you've got to be desperate for gas. That's the only time I grill with gas. When I'm desperate. Remember that show with Bobby Flay, grilling and chilling or whatever. He never used gas. [Read our grilling interview with Bobby Flay]
Are you guys grilling on your current tour?
Not really. When I'm on tour, I go out and eat stuff. The caterers never cut it for me, unless I'm starving. Maybe if I'm like, "Shit we're going on in two hours, give me a grilled chicken breast." But I eat good on the road brother, let me tell you.
How do you maintain that youthful physique?
I won't eat bad food. Like, there's good junk food. There are great hot dogs. We were just in Chicago and you gotta do Chicago dogs. But I like to sit down for a meal. I've got to have the wine or a cocktail before. You gotta do it right.
What do you mean by right?
When you discover good food and wine, that is one of the greatest pleasures life has to offer. It's like guys who like to go fishing and catch the big marlin. For me, sitting down with some wood-roasted lamb, some good rosemary potatoes and a great salad. Food doesn't get better than that.
When you have people over to your houses in Maui or California, what do you cook?
My buddy James Hetfield from Metallica is a meat guy. He's married to a lady from Argentina. I was reading this book, Seven Fires from that guy, the griller from Argentina. The French chef that moved there.
Francis Mallmann.
I read his book before I invited the Hetfields over because I was going to do an Argentinian thing and it says the average guest will eat four to five pounds of meat per person. I'm going, whoa! So when I have them over, I just get big chunks of meat. I try and get them the Argentinian tip and I have a nice prime rib as well.
Chefs also come to my house. Emeril comes over and I cook for him. Chefs are always cooking, and most of the time they just want to sit down and enjoy food. When Emeril comes to Mexico, I fire the grill and I get carnitas and Mexican produce and we chop it up and make tacos.
So Emeril won't cook at all?
He'll whip up some shrimp in a pan. Man, I love cooking with him.
What do you like to drink when you're grilling?
When I'm grilling, I'm not a beer guy. I usually make a great margarita or have a mojito or Campari and soda. Something that is an easy sipper and tastes good. I'm not trying to get slammed.
You make some great tequila. How do you shake a margarita with it?
I have two ways to make a margarita. One is using simple syrup with one part lime, two parts tequila. Or I like equal parts: equal simple syrup, equal lime and equal tequila with maybe some orange liqueur to sweeten it up a little more. Shaken on the rocks or with straight up with ice so you don't get plowed. If you want a bit stronger, double the tequila.
Do you always mix drinks with your own tequila, or do you sample other products?
Quite honestly, 99.9% of the time I use my own products: Beach Bar Rum and Cabo Wabo. And it's not because I'm being funny, it's because I think it's the best there is. Otherwise I wouldn't make it. 22 years ago, nobody had heard of Patrón or Don Julio. So when I started Cabo Wabo, I found that premium tequila. I never tasted anything like this.
I want to hear a little more of grilling. Have you had any grilling injuries?
Oh hell yes. Are you kidding me? My main one is I always lose some fur. If you look at my right arm, compared to my left arm on any given summer, I got no hair on my right hand. I love a really hot grill. That's the secret to grilling. You can turn it down after you sear it hot. But, truthfully, I'd rather cook in the oven and get [the meat] tender with steam, and then kill it at the finish. Whenever something is that hot, I have a tendency to put my hand where the meat is going to be before I put it down. You go like one, two, and if you hit three it's not hot enough.
Do you mess with veggie burgers?
No! I have a few vegetarian friends. My wife is a classic meat-eater and she's always trying to go vegetarian. Every time I turn around and say I'm going to grill tonight, I'll get home and she'll have laid out veggie burgers. It never fails. You grill like two of them and, and the end, there's one with one bite taken out of it. I'm not down on them, they just aren't good.