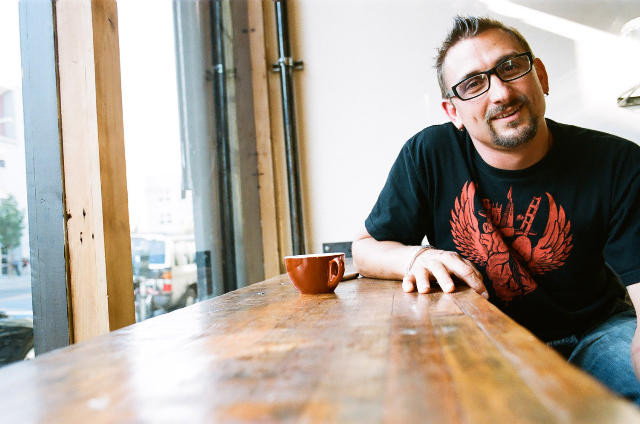 As we found out in our interview last week, San Francisco chef and offal exhibitionist Chris Cosentino has a pretty diverse resume — on top of running San Francisco restaurant Incanto, he's hosted several TV shows and pretty much keeps up one of the best chef Twitter accounts around. But as we also discovered, he also had a career as a 24-hour endurance bike racer. Not for pussies!
So you were a professional endurance bike racer…
I'm retired, and I'm toast. I could still race bikes if I wanted to, but I would have to quit working at a restaurant and focus.
What does endurance racing entail?
When I started racing professionally, over 10 years ago, I turned pro in what is called ultra endurance. It's a minimum of 24 [straight] hours, on a closed track of around 12 miles. The goal is to do that loop as many times in a 24-hour time period. If you stop, that's your choice. The most mileage I've ever done is 228 miles in 24 hours.
What was your bike like?
I raced on a single speed mountain back, so I was up against a lot of people on geared bikes. My first three years of racing was all against guys with gears, and then towards the end they started having single speed. My wife was my pit crew and she'd give me a water bottle and some food.
What do you eat during a 24-hour endurance race?
At that time, I was sponsored by Clif Bar and they were great to me. But I always mixed it up. I'd eat peanut butter and bacon sandwiches and other high levels of protein. Bananas for cramping. And after you start eating like a horse, you can't stop. Your body depletes so hard — it is pulling from every ounce of what you have. When I raced, I weighed 156 pounds and I'm six foot tall. But I could barely fit my legs in a pair of regular jeans.
What was your most intense race?
Montezuma's Revenge in Keystone Summit, Colorado. I was the first single speeder to ever finish the 24-hour time period. I did seven loops and equaled the gain, and descent, of the elevation of Mt. Everest. I crossed the Continental Divide seven times. At one point I climbed [the course] with a bike strapped to my back in the middle of the night. That's part of the race. The course is unmarked and you have to find your own way and you have to be able to negotiate it all.
Did you almost lose your shit climbing with that bike?
It was probably the biggest Zen moment I had. You're in a field and there are no more trees—you're above the tree line.
Man…
I'm climbing it with a pencil headlamp, you change into hiking shoes and put on an eternal frame pack and are charging up the mountain. The bike was about 20 pounds and, as you're climbing up this mountain, all you can see are lights from other racers. So it's a race to beat someone's light. The trick is to shut off your light and climb to the top. That's how I chose to race to the top. Then the sunlight comes up. There are mountain goats. Nobody will ever take that experience away. Never again will that opportunity happen.
What do you feel like after the race?
After I did Montezuma's Revenge I was not a normal person for two months. I was destroyed. I did another event in Colorado called Leadville 100. I raced it on a single speed and I did it in 10 hours and 35 minutes. I completed a total of 20 solo 24 hours races in my career, which is probably more than I needed to do.
Why did you retire?
It was a combination of everything. I took a bad fall in Montezuma that first year — I hit the deck about 45 miles per hour on a descent and dislocated my shoulder and then had to ride about seven miles to get it back in place. And then I continued. I didn't want to give up a career in the kitchen. At the time I had stopped working in the kitchen and lived in a car in Colorado to prepare for high elevation.
Do you ride to work?
I do ride to work as much as I can. It depends on the day. But if I have to run errands, I'll ride a scooter.
---
More sports crossovers on Food Republic: