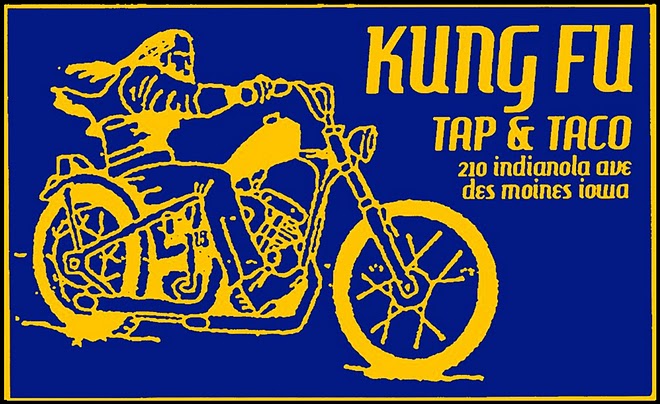 You can catch the debut episode of Dan Dunn's Happy Hour on SiriusXM's Stars Too (Channel 104) tonight, May 17, live from 7-8 p.m. EST. Dan's guest will be Time columnist Joel Stein. To call in with questions for Dan and Joel, dial 888-996-2946. This article originally ran on theimbiber.net.
I was at a party in Venice Beach and a guy showed up wearing a t-shirt from a pub in Portsmouth, England called The Sociable Plover. When I asked about it, he explained that it's the only bar in the world named after an endangered species from the Lapwing family of birds. I almost became envious for a moment, until I remembered that I am in possession of one of the world's great drinking-establishment clothing collections.
Midway through our conversation, I casually dipped my head to greet a friend — and to make sure he got a good look at the cap I was wearing from Kung Fu Tap & Taco. How do you like me now, Mr. Thinking Man's Drinking Man? KFT&T is a biker bar in Des Moines, by the way, where only two beers are served on tap: Hamm's and the one they'll beat the crap out of you for drinking.
Like any hobby, there are rules to collecting bar gear. Problem is, most serious imbibers have trouble remembering any of them. Fortunately, I'm a professional, and when I'm out boozing I always carry a notebook for writing down stuff like this. Here, then, are the guidelines I've devised for amassing a bar-wear collection that falls on the bad-ass side of cheesy:
1. Anything with the word "dick" on it is funny
The jewel of my collection is a T-shirt from a roadhouse in central Alaska called Skinny Dick's Halfway Inn, which has — without a doubt — the single best taproom name in America. And it's no cheap marketing ploy: There really was a Richard "Skinny Dick" Hiland, a notorious hell-raiser who passed away a few years ago at the ripe old age of 80. His popular beer and burger joint is located at the midway point of the highway that runs between Nenana and Fairbanks. Why do the Skinny Dick's t-shirts they sell in the gift shop feature an image of two bears humping? It's a cheap marketing ploy.
2. Avoid cheap, innuendo-laden marketing ploys (unless they involve the word "dick")
My kid brother is an aspiring collector who owns no fewer than three T-shirts from a place in Ocean City, Maryland called The Bearded Clam Bar. He thinks it's hilarious. He's 24.
3. Know your history
Bar gear can be an excellent conversation starter, and you're sure to impress with a colorful story about the origin of whatever it is you're wearing. So if you don't know the colorful story behind it, be sure to make one up. For instance, people who know what they're doing in Ocean City, Maryland, get a visor from the waterfront nightclub Seacrets. They're perfect. I own two. Now, I have no idea what the actual history of the place is, nor do I care enough to find out. So I just tell people the truth. My truth, which is that Seacrets was started in the early 1980s by two friends named Barry and Chuck.
Barry owned a tanning salon chain, while Chuck was an assistant manager at Chess King who also played in a fairly popular synth-pop cover band. Chuck's girlfriend at the time, Krystal (who would later become Barry's third wife after Chuck OD-ed), was the one who came up with the name. She thought it sounded exotic, like one of those all-inclusive getaways she and Barry liked to go to in the Caribbean. Hence the visors. There's also a nightclub in Ocean City called Scandals. Alas, I don't have any clothing from Scandals, but if you're ever there, that crap writes itself.
4. Be secure in your manhood
I own a black cotton tee from a place called The Back Door. It reads, "Come in the Back Door!" in bold pink lettering. By far the most entertaining thing about this shirt is the faces people make when I wear it down in Orange County.
5. No mail order, no exceptions
Okay, so you don't actually have to have been to the bar featured on your shirt, but for it to count — and this is a hard and fast rule — it must have been purchased for you on-site by a friend or family member. eBay and other online purchases are bullshit. You get your Seacrets visor the hard way or you don't get it at all.
6. Dare to dream
Just because a place like, say, McDrunk Fuck's Fake Tit Emporium and Organic Car Wash doesn't actually exist is no reason to abandon hope that it might someday. Get out your scanner, a stack of magazines and your Photoshop skills, then head to CafePress or Zazzle and make the dream happen. The more non-imaginary apparel you create for your imaginary joint, the more real it becomes. It's like magic!
7. Charity is a virtue of the heart
Buying bar wear for yourself can make you self-conscious, and it's often easier to wear something you didn't buy. So remember your pals next time you're in a bar with a funny name. Which reminds me, if any of you happen upon The Drift On Inn Roadhouse in Shoreline, Washington I'd be much obliged if you'd pick me up something from the gift shop. Hell, I'll be your best friend.
---
Follow Dan on Twitter and Facebook, and hear him on The Imbiber Show podcast.
---
Read the previous installment of The Imbiber on Food Republic.