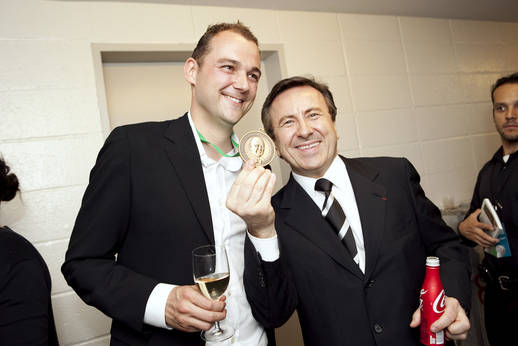 The annual James Beard Foundation Awards is often called the Oscars of the food world. Though, in reality, it's more like the combined Oscars, Golden Globes, Grammys, Teen Choice Awards, ASME's, VMAs and NBA All-Star game of the food world. It's the only game in town and everybody cares about it, particularly the nominated chefs, restaurateurs, sommeliers, restaurant designers, mixologists, cookbook authors and media folk who fly to New York every spring with the hopes of winning some hardware.
The Beards are also a very good excuse to throw a bunch of parties that bookend tonight's ceremony at Avery Fischer Hall at Lincoln Center. You can catch the live stream here beginning at 6pm EST. The Food Republic editors will also be on the scene with Twitter updates (@FoodRepublic). Here's a complete list of the finalists.
As for the pre-events, the big one is always Sunday's Chefs Night Out. It starts at 10 p.m. and goes until basically right now (Monday afternoon). In covering the Awards for the past four years — here I am with Emeril behind a barricade, shit gets cray — I've heard the "still drunk from Chef's Night Out" line more than once. Yikes.
Last night's event was held at Chelsea Market, where Campari flowed in the form of several cocktails (the negroni included) and chefs and other celebs from all over the country converged. Roll call: Sean Brock, Thomas Keller, Seamus Mullen, John Besh, James Murphy AND Marc Murphy, Jim Meehan, Michael Laiskonis, Andrew Zimmern and a bunch of really hot girls dressed in red.
And before we forget, we'd like to give a healthy back slap and congrats to our partners in crime in the food writing world. Below are all the winners announced at Friday's Media and Journalism Awards. So many books to buy now! Check out Eater for links to all the stories…
Cookbook of the Year
Modernist Cuisine
by Nathan Myhrvold with Chris Young and Maxime Bilet
(The Cooking Lab)
Cookbook Hall of Fame
Laurie Colwin
Home Cooking and More Home Cooking
American Cooking
A New Turn in the South: Southern Flavors Reinvented for Your Kitchen
by Hugh Acheson
(Clarkson Potter)
Baking and Dessert
Jeni's Splendid Ice Creams at Home
by Jeni Britton Bauer
(Artisan)
Beverage
Bitters: A Spirited History of a Classic Cure-All, with Cocktails, Recipes, & Formulas
by Brad Thomas Parsons
(Ten Speed Press)
Cooking from a Professional Point of View
Modernist Cuisine
by Nathan Myhrvold with Chris Young and Maxime Bilet
(The Cooking Lab)
General Cooking
Ruhlman's Twenty
by Michael Ruhlman
(Chronicle Books)
Focus on Health
Super Natural Every Day: Well-Loved Recipes from My Natural Foods Kitchen
by Heidi Swanson
(Ten Speed Press)
International
The Food of Morocco
by Paula Wolfert
(Ecco)
Photography
Notes from a Kitchen: A Journey Inside Culinary Obsession
Artist/Photographer: Jeff Scott
(Tatroux)
Reference and Scholarship
Turning the Tables: Restaurants and the Rise of the American Middle Class, 1880–1920
by Andrew P. Haley
(The University of North Carolina Press)
Single Subject
All About Roasting
by Molly Stevens
(W.W. Norton & Company)
Writing and Literature
Blood, Bones & Butter: The Inadvertent Education of a Reluctant Chef
by Gabrielle Hamilton
(Random House)
2012 James Beard Foundation Journalism Awards
Publications of the Year
Amanda Hesser
Food52
Darra Goldstein
Gastronomica
Cooking, Recipes, or Instruction
Anna Thomas
EatingWell
"The Soup for Life"
Environment, Food Politics, and Policy
Ben Paynter
Fast Company
"The Sweet Science"
Food Coverage in a Food-Focused Publication
Saveur
James Oseland
Food Coverage in a General-Interest Publication
Lesley Bargar Suter
Los Angeles
"Chinese Food in L.A.," "It's Time for Breakfast in L.A," "Food Lovers Guide"
Food Culture and Travel
Fuchsia Dunlop
The Financial Times
"Global Menu: Kicking Up a Stink"
Food-Related Columns
Lettie Teague
The Wall Street Journal
On Wine
Lettie Teague: "Drink, Memory: How to Remember that Wine;" "In Praise of the One-Cabernet Lunch;" "May I recommend: Lessons of Great Sommeliers"
Group Food Blog
The Salt: NPR's Food Blog
Maria Godoy
npr.org/blogs/thesalt
Health and Well-Being
Maureen O'Hagan
The Seattle Times
"Feeling the Weight: The Emotional Battle to Control Kids' Diet"
Humor
Brett Martin
GQ
"The Hangover Part III"
Individual Food Blog
Poor Man's Feast
Elissa Altman
Poormansfeast.com
"Craving the Food of Depravity"
Personal Essay
Cal Fussman
Esquire.com
"Drinking at 1,300 Ft: A 9/11 Story About Wine and Wisdom"
Profile
Susan Choi
Food & Wine
"The Spice Wizardry of Lior Lev Sercarz"
Visual Storytelling
Landon Nordeman
Saveur
"Soul of Sicily," "BBQ Nation," "Heart of the Valley"
Wine, Spirits, and Other Beverages
Sarah Karnasiewicz
Imbibe
"Fizzy Business"
Craig Claiborne Distinguished Restaurant Review Award
Alan Richman
GQ
"The Very Tasty Liberation of Paris," "I Heart SF," "Diner for Schmucks"
MFK Fisher Distinguished Writing Award
John T. Edge
Saveur
"BBQ Nation"