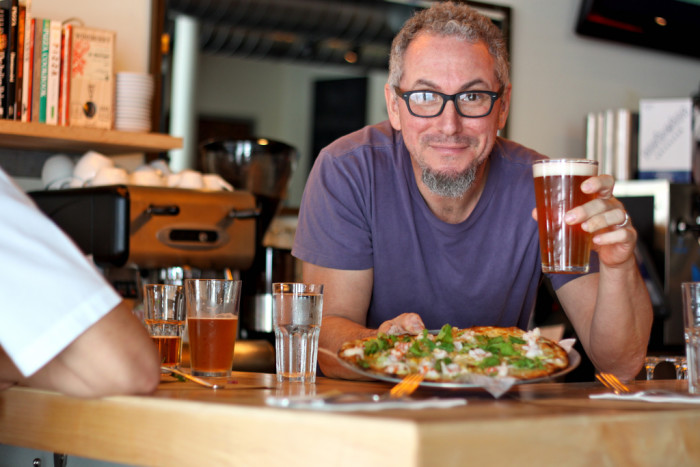 Sometimes, restaurants can be transformative. They can alter your reality, kind of like a good movie can. Think of Le Bernardin or The French Laundry; you go in, you eat and drink, and you emerge clearly altered by the experience, if only temporarily. But I'm talking about another type of transformative, the type that involves a chef taking a chance on a far-flung neighborhood and turning it into a serious destination. Michael's Genuine Food & Drink is such a place.
In 2007, when Michael Schwartz migrated off South Beach about seven miles west to a strip of the mainland known as the Design District and opened his namesake spot, it was in a sleepy neighborhood surrounded by a bit of urban blight and bordering Little Haiti, which looks a lot like the real Haiti.
Now, Michael's Genuine is the centerpiece of a neighborhood that's slated to be a major luxury shopping destination in the next few years, and it's spawned an offshoot, Harry's Pizzeria, just down the street (Michael's also has a branch in the Cayman Islands, and Schwartz is taking over food and beverage at The Raleigh on Miami Beach in a slow rollout).
Schwartz himself, a Philadelphia transplant with a wife and three children, has become a respected figure in the local community, not only for helping turn a tough neighborhood around, but for his work bringing good food to Miami's less fortunate residents and schools through his philanthropic outreach. And nationwide, he is earning a reputation as one of the few chefs who has turned the farm-to-table concept into a synonym for food that is, quite often, transformative. We recently sat and discussed all this and more—including any future moves into other markets—in his Design District business office.
I had the good fortune of working down the street when Michael's Genuine opened, so I've been coming since the beginning. Now that I'm fully based in NYC, my friends and I complain that there's not a Michael's in New York—
And there won't be. For me, I love New York. My wife and I talk about moving back to New York when our kids leave the house. For me to open a restaurant in New York, I wouldn't do it unless I was going to live there. It wouldn't be an occasional visit place for me. That's a recipe for disaster. New Yorkers can do that in other markets. But nobody phones it in for New York. You know the sophistication level and expectations there; if I was going to live there I'd love it. I think something like Michael's Genuine would be successful, but I'd be scared to death to be there occasionally.
Let's go back five years. After a successful run with restaurants on South Beach, you're about to open your first real restaurant named after yourself in a fringe neighborhood with no foot traffic. What's going through your mind at that point.
A lot. It's funny because in so many ways in five years the scene has changed drastically. Not only in Miami but nationally. I knocked on a lot of doors to raise money to open the restaurant and remember walking people through the District. During the day it was a much easier sell, but at night it was like scary.
What about the concept of the menu, which has lots of small bites, sharable stuff all the way up to whole fish and slabs of meat cooked in the wood burning oven? It was a world away from the sushi and steakhouse culture of South Beach.
People were ready and receptive for something that was speaking to them as opposed to the fabulousness and trendiness of South Beach. I felt there were enough people like me catching on to the farm to table movement and the appreciation for local products, recognizing what was available here in South Florida. As transplants from the Northeast, you always think about food in the way you're familiar with. When I moved down here it was hard for me to not use monkfish, or striped bass, or asparagus in the seasons that they weren't in. It took me awhile to figure out there were a lot of products here and a lot of opportunity to cultivate that.
---
Farmers are farmers, and if they were great at marketing they wouldn't be farmers. And chefs are lazy. Lazy in their habits and the way they order and procure food. We wanted to change that and make the product from the farm more accessible to people.
---
Did you have any trepidation about separating the menu the way you did, from small to big plates?
Well, no. What I wanted to do was to encourage people to eat lots of things and share. That's how I like to eat at home and when I go out. I didn't want to force it down people's throats. I didn't want to say it's a family-style menu and this is how you order. So by creating different-sized dishes you could have that option or not. You can go in there and order your own appetizer, entrée and dessert and be comfortable doing that. The menu encourages people to experiment with how they want to eat and share without it being so in your face. I thought it was a menu that covered all the angles without having people think you're dictating. So I think like half the people share and order like I would order. And half the people—some people aren't into that. It's interesting.
You haven't had to change the menu since you opened?
We haven't changed the format. I look back at early menus and see it's very limited in terms of how many dishes were on the menu. The page hasn't gotten any bigger, but the blank spaces have gotten smaller. The menu now is quite big. I think that's a result of things that have become signature dishes that we don't want to take off, but we don't want to limit ourselves with the utilization of local product and [in terms of] creativity. We're always putting more stuff on, and taking less stuff off. The menu is getting bigger.
On top of it is as you're going through and developing the menu, I imagine you're developing relationships with purveyors. You probably single-handedly propped up a lot of them—
I don't know if I take credit for that. What we wanted to do was bridge the gap between user and producer. Farmers are farmers, and if they were great at marketing they wouldn't be farmers. And chefs are lazy. Lazy in their habits and the way they order and procure food. We wanted to change that and at least make the product from the farm more accessible to people. Just by leading by example. By saying, we'll go twice a week to the farm and get stuff as opposed to being frustrated because I can't call the day before and they show up the next day. It started giving farmers some hope and it started selling product. I think we've helped. We feel like we're sure there are more growers now than there were five years ago, and they're doing better and getting their product out there. And now there are even companies that have started distributing just local product. The supply and demand thing definitely came into play.
At one point did you become comfortable enough with Michael's Genuine that you started going out and being more of—I don't think you call yourself an activist, but you are out in the communities…
I think when I was comfortable with not being in the restaurant 17 hours a day. That took awhile. I felt that the culture we created with the restaurant took hold and I have great people who have been there a long time. Now I have a great young talented chef who is running the kitchen there. His name is Bradley Herron. So as I was able to pull out if afforded me time and the opportunity to do other projects and hand over the baton to him and young people like him. I feel like my role has changed and I'm not in the kitchen 16 hours a day but I'm trying to develop other projects and opportunities. That's my role now. And then also the philanthropic stuff and the charity work we do. The things we do with school lunch programs and adopting the school in [inner-city] Overtown and the farmer's market we kicked off.
It's one of the real anomalies of Miami that there is so much wealth bumping up against so much poverty. What's been the reaction when you go into those schools and you introduce these kids to these products?
It's awesome. They take to it. Like anybody or any kid, they want attention. They want to learn and they're curious. They're not stupid. If you talk to them like people and teach them and show them how to grow something, and show them where it comes from and let them taste it and tell them why it's good—it's been a fantastic experience. We adopted a school in Overtown that we work with and planted a garden there and worked with their cafeteria managers to develop recipes for the lunch program. They love it. With the help of the principal and [other] driving forces in that school—and we were a small part of it—they went from a C school to an A school. And the kids are into it.
---
If a fish is super high in mercury then you might want to eat it every once in awhile. How about that? Like common sense. Don't eat eight ounces of tuna every day.
What about farms around here? Is it a different farm culture than the northeast, for instance?
Not really. I don't know. I never spent as much time with farmers anywhere else than I did here and I've been here 18 years. So I don't have anything to compare it to. We just identify people growing stuff we want and we develop relationships with them. It's limited because it's the tropics. It's a weird climate. We're coming out of our growing season when the rest of the country is excited the weather is breaking and stuff is coming up.
No ramps here?
No ramps. For us to bring in ramps it's $20 a pound plus shipping — for a wild onion — is just [stupid]. But missing working with that stuff is the trade-off.
I love having your heirloom tomato and buratta salad in January.
The grass is always greener. People in New York come in January and February and we're in full swing. Aside from peak growing season we have mangoes, lychees, avocadoes and papaya and the bounty of fish. We got fish down.
How conscious are you about sustainability, how do you deal with making sure there's enough fish in the future when you're also trying to run a business?
It's hard to walk that line. We deal with a lot of fishermen that go and spear. And they're intimately familiar with fish populations and the health and well being of the ocean. They'll argue a lot of times with science that comes out of say Monterey [Bay Aquarium], and some of those things that dictate people's perception about fish. It's hard for us—
Because people have sustainable seafood apps—
And we might argue that it is fine and it is healthy. These guys spear them. I mean it's tricky. If we're going to buck the trend and put something on the menu that sustainable seafood might say is on the hit list then we need to educate our staff about why we choose to use it. There are so many things: it could be on the hit list, it could be high in mercury. If you follow all those things, you'll use farm-raised fish, which to me creates a whole mess of problems that they don't address anyway. It's kinda just making educated decisions. If a fish is super high in mercury then you might just want to eat it every once in awhile. How about that? Like common sense and shit. Don't eat tuna eight ounces every day. You might not want to do that. It's like the whole high fat foods. Like skim milk. Maybe just drink less whole milk!
What about the meats? Do you have to bring in a lot of stuff?
We bring in a lot of stuff. Every part of stuff: poultry, meat, produce. Not fish.
You don't fly in any fish?
We fly in very little fish.
You can't get tuna here, can you?
We don't serve it, unless it's local. There's a short local season of black fin tuna. We sorta went away from tuna. For the most part, with the exception of mussels and oysters and occasionally wild salmon, fish is mostly local. Probably of all the food segments that's the one we can be most local with.
What about rock shrimp?
Yeah, Atlantic.
Everyone says they're fairly sustainable.
I don't know, they could be. One day they could be, the next day they could be on the hit list.
What about developing the recipes. One of my favorite dishes is the rock shrimp salad. Are you testing these recipes?
We don't. The menu changes all the time. Some things make it on the menu that need to be tested and putting it on the menu is our way of testing them. Which might not be the best thing. As opposed to a lot of restaurants that change their menu seasonally and ramp up with menu testing and tweaking. And then they roll out a new menu. We change the menu everyday, a good portion of it, so it's a constant work in progress.
What about branching out? You opened in Grand Cayman and more recently opened Harry's Pizzeria. Are you looking to expand or are these just opportunities that came up.
Cayman was an opportunity that came up that we decided was viable. We could do what we do here there. It's a pretty good growing community and a lot of stuff comes from Miami because it is an island. We felt there were enough resources there and that we could make an impact enough that it make sense. We're almost two years old now.
Is it near Eric Ripert's restaurant in Grand Cayman?
He's on 7-Mile Beach at the Ritz. We're in this own community called Camina Bay. It's huge. It includes a town center with a movie theater, shops, apartments, office buildings and they're building a hotel and single family homes. They really built their own community in Cayman. That has worked out well. Harry's was an opportunity to take a space that was vacant and fill a niche in a neighborhood that was starting to thrive. But it's very small and focused. It could maybe be reproduced more so than Michael's Genuine, because of its narrow focus. And the Raleigh came along. I think we're feeling our way through. We don't have a blueprint for our growth. But [it's] projects we like or feel we have something in common with and are exciting to us and that we can manage without trying to spread ourselves to0 thin….
On a more personal note, you were saying once you were able to get out of the kitchen you did more philanthropic activities, but I imagine you also have more time to live your life. Any hidden passions that have come out?
I haven't gotten there yet. For me there's been a lot of travel associated with the book [Michael's Genuine Food: Down-to-Earth Cooking For People Who Love To Eat] and appearances or philanthropic work. But being able to spend more time with my family is important. Even though I'm traveling a lot, when I'm here I can be home a little more, rather than ball and chained to the restaurant. I haven't gotten back to some things that make me happy, like I used to make jewelry, so that's something I would like to start doing again. I've been able to take care of myself a little better, eating better, exercising and being a little more present at home. I missed a bunch of years. My kids are growing fast. And [then there's] spending time with my wife.
Does she like having you around?
I think so, I think it's still good. But it's interesting. My role has changed. I've been in this business for 30 years mostly just cooking my ass off. It's a little bit different now, it's an adjustment.
Michael's Genuine Food + Drink, 130 NE 40th St., Miami, FL, 305.573.5550, michaelsgenuine.com
---
More Michael's Genuine on Food Republic: