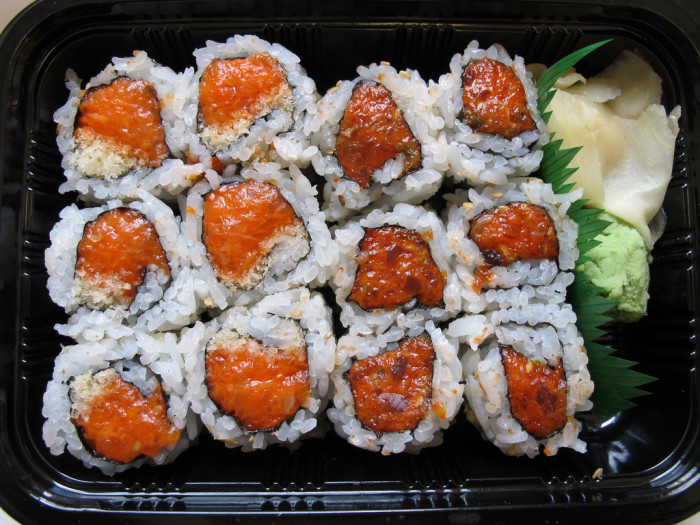 This week "pink slime" talks resurfaced in the form of tuna, two articles in The New York Times sparked food debates, and the USDA announced new grants for farm-to-school programs. Even without more controversial Times op-eds there will be more food debates in the near future, as the Senate and House Agriculture Committees begin rewriting the farm bill.
The New Pink Slime: Tuna Scrape
Just when you thought you'd heard the last of pink slime, tuna scrape came on the scene. Two weeks ago, we reported that sushi, specifically spicy tuna rolls, were behind the latest Salmonella Bareilly outbreak. Since then, the CDC traced the outbreak to "Nakaochi Scrape" (frozen raw yellowfin tuna product) from Moon Marine USA Corporation. By "scrape" they are referring to tuna backmeat that has been scraped off of the bones using a small spoon and then chopped up. But while both tuna scrape and pink slime are the product of leftovers, only pink slime has to be chemically treated in order to be safe for consumption. In an article on tuna scrape, Food Safety News reports, "While both products are separated from bones, the similarities seem to end there." Maybe this really will be the last of the pink slime media frenzy.
USDA Farm-to-School Grants
Things are looking up for school lunch. Pink slime is now optional and on Tuesday, Deputy Secretary of Agriculture Kathleen Merrigan announced a new $3.5 million grant for farm-to-school programs. The grant aims to connect children with the farmers who grow their food while at the same time boosting local economies. The USDA's press release quotes Merrigan saying, "As we struggle with obesity and associated diet related diseases, farm-to-school programs give us one important tool to help our kids make lifelong healthy eating choices." No single grant awarded will be more than $100,000 and schools have until June 15 to apply.
Myth of Sustainable Meat Debate
In an op-ed for the Times this week, James E. McWilliams (author of Just Food: Where Locavores Get It Wrong and How We Can Truly Eat Responsibly) claimed that sustainable meat was non-existent. He argued that small-farms are not economically sound, that they are not more "natural" and that their grass-eating, methane-emitting cows are hardly sustainable. These bold claims prompted a response from farmer Joel Salatin (known to many through Michael Pollan's Omnivore's Dilemma) who is directly mentioned in McWilliams' article. Salatin sets the tone immediately by addressing his response to "the New York Times and everyone interested in truth." He goes on to write, "At Polyface [Salatin's farm], we only purport to be doing the best we can do as we struggle through a deviant, historically abnormal food and farming system. We didn't create what is and we may not solve it perfectly. But we're sure a lot farther toward real solutions than McWilliams can imagine." Read Salatin's point-by-point response to McWilliams' article here.
Food Desert Debate
Later in the week, Gina Kolata followed in McWilliams' footsteps to stir up another food controversy via the Times. Kolata's article, based on two studies, suggested that there was no link between a want of access to fresh food and obesity. The article questioned the very existence of "food deserts," but received criticism for focusing only on access to healthy food rather than access to affordable healthy food. Read more about the debate, including what Michel Nischan and Marion Nestle thought, here on Food Republic.