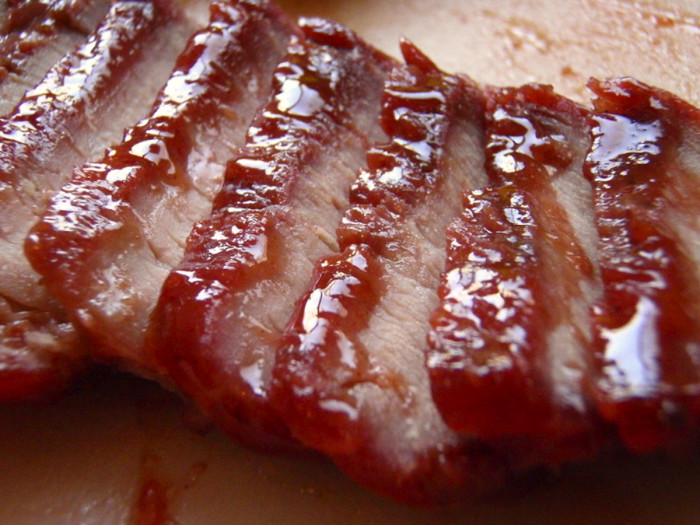 I went back to my earliest memories of "I care about food and can do something about it," remembering the bland, mass-produced cuisine of boarding school and how we got around it. Parents sometimes bailed us out — my friend Russ' mom flew from Tennessee to visit him with a vat of homemade pimento cheese on ice. My parents would stop by Rein's Deli, right off the Hartford Turnpike on the way from New York to Massachusetts, and bring me an overstuffed Reuben with extra spicy mustard and a quart of matzo ball soup. And when Ellie's parents came from Hong Kong to visit, they bought several loins' worth of her favorite char siu pork in Boston. She stashed it in her dorm's freezer, and shared with me.
Sometimes when we'd had what my brother referred to in his health class anti-drug video as "shit-stuffed chicken" one too many times in a week, Ellie and I would skip seated dinner and make food in her room. Yes, in a bedroom that made a Manhattan closet look like a big open field, we braved the gross dorm microwave, broke out her rice cooker, sesame oil, soy sauce and a precious ration of sweet, fatty pork and ate until our taste buds were satisfied. I recently noticed her Gchat status was "meditate > char siu cravings." Her willpower has always amazed me.
My love for char siu remained strong. But when my attempts to recreate the chewy, sticky, utterly porky goodness resulted in the kind of ethnic cooking failure only a white person could pull off (well, maybe not this white person), I came to a realization. Ellie's parents had it right: buy the stuff in bulk, keep it in the freezer and just when you think there's no food in the house, you've got delicious, authentic rice bowl fixins. Dice it and make fried rice or stir-fried noodles. Fry it up instead of bacon and serve it with eggs and toast. Layer it in a baguette with some chili-spiked mayo and pickled vegetables and make a Chinese banh mi. But most of all, share the love. Food karma is a very real thing.