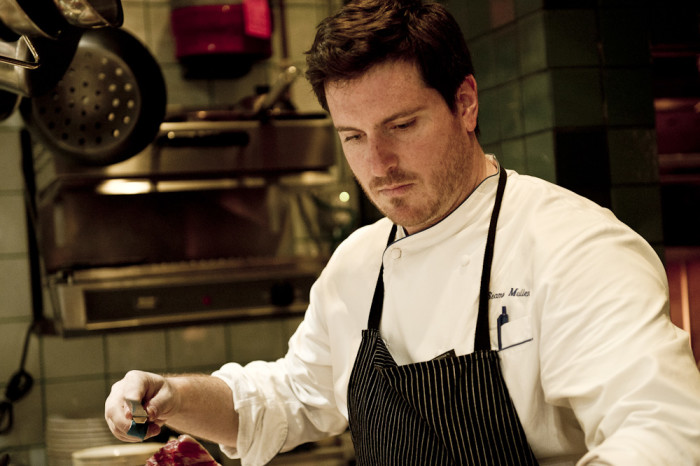 "I'm not even Spanish," says a freckly Vermonter in a flat accent that hints of world travel. "But I speak the language fluently and I understand the culture very well." Seamus Mullen knows a bit about the food, too.
After college in the Midwest, Mullen, 37, showed up literally on the doorstep of Mugaritz outside San Sebastián. It's the kind of place where, after being handed a crisp glass of Txakoli, the server presents diners with a choice of two envelopes reading: 150 min…to submit! or 150 min… to rebel! Quail Armagnac and toasted legume beer is on the tasting menu, and those are just two liquids. Chef Andoni Aduriz (an El Bulli apprentice if there ever was one) took Mullen under his wing for a year, before the young stagiaire went to Barcelona and much later on, New York City.
"It wasn't a chef walking into a restaurant that somebody else designed," says Mullen when recalling the two-year grind that lead to the opening of Tertulia, his insanely popular tapas-styled restaurant in Greenwich Village. It's the kind of place where, between a plate of crispy smoked sunchokes with citrusy yogurt dipping sauce and Ibérico ham croquettes, smoked eggs and grilled lamb breast over faro, it's very easy to order the majority of this menu in one sitting. A few people have noticed—critics, award givers, the publisher of his forthcoming book (out in a couple weeks), the 45 people waiting to be seated in front of me on a recent night. But as Mullen tells me in this extended interview, go for lunch! Shit, stay for dinner.
Let's start with your year. You earned the Time Out New York Chef of the Year and were nominated by the James Beard Foundation in the Best New Restaurant category. Damn.
It's been a good year.
Was this all unexpected?
This restaurant is a labor of love and I was really involved in every aspect of it. The design, the concept. It's my baby. I worked on it by myself for a year before we opened. I found the space and I negotiated the deal and I drafted the business plan and came up with the concept. So to have to deal with all these aspects of running a restaurant, in addition to cooking food and running service, was a huge learning curve. It was also really rewarding and feels really good to get acknowledgement for that. That's part of what makes this place really special. It wasn't just punched out of a model.
You say labor of love. What is the biggest challenge?
Lunch is certainly challenging. I wish more people would come in for lunch. People are always complaining about how busy it is at night and they can't get in. If they just came at lunch, they'd have no problem! And getting the space was a challenge. I found the space, but negotiating a deal with the landlord was touch and go for a long time. That was definitely stressful. There was a time I wasn't sure if it wasn't going to happen. I had already invested six months of my time and all my money into it.
So all your eggs were in this basket.
Exactly. It's nerve-wracking. It's a very challenging thing when you're building your first restaurant. You need the capital to get the space, because nobody is going to rent if you don't have a set amount in a bank account. And you need the space to get the capital. It's a really challenging Catch-22.
A lot of people don't make it through.
A lot of restaurants don't make it through the first four months.
After you left your last restaurant Boqueria in 2010, you were off the grid for awhile. I was wondering where you were. Clearly, this is where you were.
This is what I was doing. I had offers to just walk into another job. I talked to a lot of people and major restaurateurs. And I turned down a number of offers. I just realized I didn't want to work for somebody else and I couldn't go and work for somebody else. I needed to create my own path.
Let's step back a bit. In 1992, you went to college in Kalamazoo, Michigan and worked at the International Café. What was that like?
It was this funky, heavily Middle Eastern and a little French–influenced casual restaurant. I had this great lady I worked with named Kiki. This old French woman. I have no idea how the hell she ended up in Kalamazoo. When I worked for her she was in her late 60s. She was weathered and leathered and had been around the world and back. It was the first time I really saw someone professionally who really just loved cooking. She derived so much joy from cooking and from seeing someone else eat your food. That sense of fulfillment was something I took away from it. She taught me a lot of fundamentals that now I completely take for granted. How to hold a knife properly, or how to cook asparagus and blanch greens. Fundamental things apart of being a cook. She was just doing everything herself. Until I came along, then it was just the two of us.
You had not gone to culinary school?
I never went to culinary school.
How the hell did you end up in Kalamazoo?
I ended up there because, my senior year of high school, I spent in Spain. I went to Spain because I was a terrible student. I was good at the things I was interested in. As for the stuff I wasn't interested in, I was stubborn. I had a really bad GPA. So I went to Spain to keep from flunking out of high school. I had a very good Spanish teacher who encouraged me to go to Spain because I was good at the language and interested in the culture. When I was in Spain I applied for colleges. My guidance counselor found out about Kalamazoo College, which is a non-traditional liberal arts school. A lot of experiential learning programs and a very strong international studies and exchange program. He encouraged me to apply. I had never even been to Michigan before. When I first got there it was a total shock.
After leaving Kalamazoo you headed back to Spain and staged at Mugaritz. How did you get that job?
I pretty much just showed up and I spoke Spanish. I talked my way into it.
When you showed up?
I had e-mailed them and called a few times. They were sort of open to it, but there was no program. So I just showed up and knocked on the door and introduced myself. They had no recollection of who I was. But Andoni [Luis Aduriz] took me under his wing. He was the chef and he was great.
On you first day at Mugaritz, what was the first task that you thrown into?
We were preparing for a wedding, so we were in this big refrigerated room where we prepped everything. There were 15 of us doing prep for the wedding. The first thing I had to do was clean 100 pounds of squid.
How long were you at Mugaritz?
I was there for about a year. I went to Barcelona after that.
Your new book, being released on April 24, is really original. Seamus Mullen's Hero Food is a book about healthy eating that really isn't about healthy eating. It's about healthful eating. Eating that makes you feel good.
It depends on how you define healthy. Eating a balanced diet and being conscientious about where your food comes from is far more important than eating nuts and berries. It's really a book about how important food really needs to be in our lives. If we take a moment to consider food, and not think of it just as fuel, but as something that is an integral part of our well-being, that is important. Food can become something incredibly pleasurable and there's a certain amount of health we derive from joy and pleasure. The idea is that I want people to make this food because it's delicious and, as a secondary effect without knowing it and thinking about it, it just so happens it's really good for us.
I love the organization too. You've got grains, quality fish and stone fruits. And then you just throw in an entire chapter on anchovies. This is cool. Make the case for eating anchovies. Not many people do.
They are these little guys that pack a big punch. They've got so much flavor and they're so good for you. A lot of those great things like anchovies, sardines and mackerel have gotten a bad rap over the years. They can be so delicious if they're well sourced and prepared properly.
Can you make the case for any of the canned products?
Absolutely. There are some great quality canned anchovies and sardines. I use a lot of canned sardines and anchovies. I eat a lot and I always have smoked sardines in my fridge. If you look at my pantry at home, there's always great quality canned tuna, sardines, anchovies, octopus and all sorts of stuff.
Throw out a couple of brands…
You can order them online. For anchovies Don Bocarte is wonderful. Ortiz makes great canned tuna, canned anchovies, canned sardines.
How often do you go back to Spain?
I usually go once or twice a year. Leading up to this restaurant I went five times. I spent a lot of time there. Over the past 21 years I've been there a lot. At least a couple times year.
So I'm a tourist and I've never been there. I've got five days. Where do I go?
Wow, it depends what you're looking for. For something unique and totally unexpected for Spain fly into Northern Spain and rent a car and drive up the North coast of Spain. There are so many places to eat and it's so beautiful. It's so different from the bulls and paella and Sangria that you think of as Southern Spain. The country is not that much bigger than Texas but it's incredibly diverse. You can see so many different things: cultures, climates and ecosystems. In Santiago de Compostela you can see amazing stuff and have some of the best grilled food you've ever had.
Would you ever consider leaving Spanish cuisine? Is there a next move where you work in a different territory?
I don't think so. As long as I've been cooking I've been surrounded by Spanish food. Obviously, I've cooked in restaurants that weren't Spanish. Over the years it's become a big part of who I am and my identity as a cook. When you're a cook and you're coming up with your own style, it's almost like you learn a language and that's what you speak. And to suddenly start speaking a different language, that's not really who you are. To me to start using ginger and yuzu, as much as I love Asian cuisine, that's not who I am. That would feel very forced and awkward.
Not to say that I wouldn't necessarily do something exclusively Spanish at some point. I see people that have never been to a Spanish restaurant before—or never really lived in Spain. They've gone a few tasting trips and bring back a menu and now are like, "Well, now I'm going to open a Spanish restaurant." Well, I think you need a little more investment to be able to do that. I've invested the last 20 years in Spain and my relationship with Spain.
I think a lot of chefs wouldn't be this truthful. There's a lot of hedging in the industry. Lots of keeping all doors open…
Would I do other things? Would I be involved in other things? Yeah, but would I be doing something where I'm the chef of an Indian restaurant? No. But might I be involved in that in some other capacity? Yes, entirely possible.
Have you ever cooked for Rafael Nadal?
No, but I would love to.
What would you, ahem, serve to Nadal?
I'd serve whatever we have at the restaurant. Whatever's fresh and on the blackboard and unusual.
---
More Chef Talks on Food Republic: