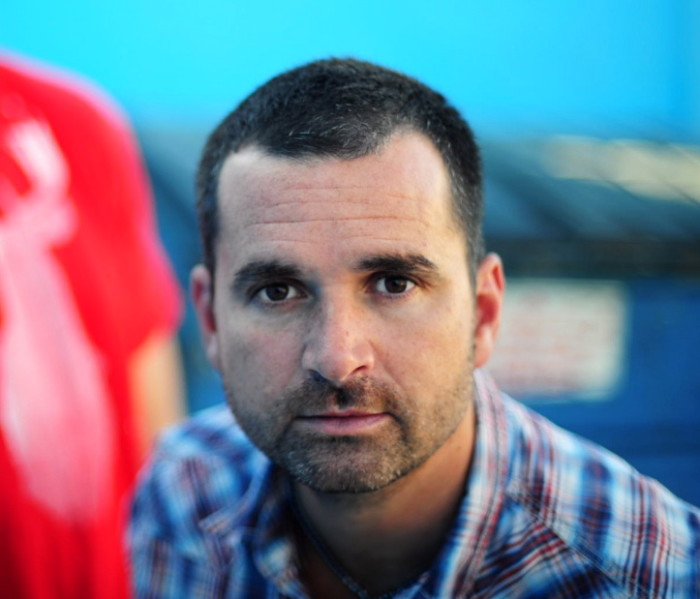 Editor's Note: The 5th Annual Pebble Beach Food & Wine Festival begins on Thursday. To help kick off the prestigious event, we present this excerpt from our Imbiber columnist, and seasoned festival-goer, Dan Dunn's most recent book, Living Loaded: Tales of Sex, Salvation and the Pursuit of the Never-Ending Happy Hour. You can catch our coverage, which begins on Friday.
I should point out that contrary to popular belief, I'm not always completely to blame for my drunken shenanigans. And while I do make my best effort to be a Professional at all times, sometimes my best just isn't good enough. Alcohol is a slippery mistress. One day she brings out the charismatic charmer, the next the irate hothead. All of which is to say that occasionally on booze junkets like the one I'm about the describe I get wasted (my hosts' faults entirely for overserving me, you understand) and wind up behaving in a manner polite society deems inappropriate or — as a former editor of mine at the Tribune Company observed moments before firing me — "completely and utterly assholish."
For instance, when the cultured, respectable folks who organize the Pebble Beach Food & Wine Festival invited me to attend their annual event it probably never occurred to them that things — and by things I mean me — could spin so badly out of control. In their defense, they were not the first to make that mistake.
In my defense (though my attorney suggested I try a different approach if we wound up in court), I was out of my element. Pebble Beach is a long, long way from where I live — not only geographically, but spiritually. Plus I showed up battling a touch of the flu. Turns out NyQuil doesn't pair all that well with fine wine.
In a pre-weekend informational e-mail the Pebble Beach event organizers described the land to which I was about to journey as, "where verdant valleys meet a pristine coastline, where there is often a chilly fog bank that can unexpectedly move in." Then they suggested that a lightweight cashmere sweater wrapped around one's neck is "a perfect accessory for most daytime events."
Which perfectly sums up what I mean about being out of my element: in the places where I normally hang out, the only reason you would have a cashmere sweater wrapped around your neck is if you were either stealing it or being strangled.
But no matter. I graciously accepted their invitation, showed up at the appropriate time and place, showered and shaved — and as presentable as my Irish genes and ripped jeans would allow — and pressed onward, for I am a Professional. And as a Professional, I make a point of carrying two things with me at all times: a notebook and a voice recorder. What happened that weekend is why I carry them. The following transcript reflects my best attempt at a true, real time account:
Wednesday, 12:30 p.m.
Driving in on Highway 68 near Spreckels in Monterey County, my iPod shuffles from Winger's "Seventeen" to Mozart's "Symphony No. 40," which is the road trip soundtrack equivalent of a groin pull. Also, Spreckels? What the hell is that? I'd say it's a pet's name at best. But a farming community where hard-working folks live, pay taxes and drive pickup trucks? These people should be allowed to live somewhere that doesn't sound like a skin condition.
Wednesday, 1:07 p.m.
After a five-hour drive north up the Grapevine, I checkinto the Monterey Hyatt under the name Arthur Bach. If you have to ask who that is, and why I use that pseudonym, take a drink. If you don't have to ask, take two. I certainly did, as I promptly kicked the weekend off with two snifters of single-malt Scotch. It just feels right in this highfalutin setting. (I actually remember this part!)
Wednesday, 2:00 p.m.
The wonderful people from Pebble Beach Resorts have comped me a round of golf at the magnificent Links at Spanish Bay. As I stand on the tee box at the first hole and gaze out towards the white-capped Pacific Ocean, I can't help but reflect upon how pissed God must still be at me for that time I made out with my eighth grade girlfriend in the confessional at St. Albert's. I mean, really, how else do you explain 65 mph winds blowing in my face no matter which direction I turn? I reach into my golf bag, dig out one of the airplane mini-bottles of booze I keep stashed inside (in this case, rum) and gulp it down in an attempt to compensate.
Wednesday, 2:01 p.m.
I just hit a perfect drive. The ball went 17 yards. Gonna be a long day.
Wednesday, 3:18 p.m.
The wind just loosened several of my teeth. Seven holes? I'm going to go ahead and call that 18. I bet Phil Mickelson never shot a 45 at Spanish Bay.
Wednesday, 7:45 p.m.
I'm having dinner with my buddy Larry Olmsted, who wrote a wonderful book titled Getting Into Guinness. After pounding a rather stiff drink (my memory of what exactly, is bit fuzzy), I tell him I've got a feeling I may shatter some sort of world record myself this weekend. (There is actual, honest-to-god thunder at this point on the recording).
Wednesday, 10:45 p.m.
Why am I hugging Larry Olmsted?
Thursday, 8:22 a.m.
We're about 10 minutes away from the shotgun start of the celebrity chef/winemaker golf tourney, and I'm already on my third drink. Unless you count the Cristal. And the Stella. Does beer even count? I think I've found the problem with my methodology here. The problem is counting. In anycase, the way I see it, if you play golf sober you are officially part of the problem.
Thursday, 8:32 a.m.
We're starting on Hole 13. And I'm rapidly approaching drink #13. This is not a good sign.
Thursday, 9:14 a.m.
One of my randomly assigned playing partners, a nice if somewhat skittish man from San Francisco who I'll call Marlon, pulls me aside and says, "Hey, man, remember—Pebble Beach is hallowed ground." Not sure if this is meant to inspire, or discourage, me from dropping trou on the 16th tee box. I drink a vodka-lemonade instead.
Thursday, 9:30 a.m.
Five holes in and I'm starting to hit my stride. Unfortunately for the rest of the team, my stride looks a lot like Mel Gibson during a roadside sobriety test.
Thursday, 10:26 a.m.
Just bumped into famed chef Thomas Keller. I told him I was a professional scribe for an esteemed publication and that I'll be visiting New York City soon and wouldn't mind dropping by his acclaimed restaurant Per Se to see if it lives up to the hype. On the house, of course, I added with a wry grin. Keller sort of smiled too, but was clearly uncertain as to whether I was kidding or just a raging asshole. Not at all sure myself at this point, actually.
Thursday, 12:00 p.m.
I may need to change my pants. I just thwacked a golf ball to within two feet of the pin on the par-3 seventh here. If there's a more beautiful hole in golf, I'd like to make love to it.
Thursday, 12:01 p.m.
Marlon just slapped me on the ass and shouted, "You can be my wingman anytime!" Not that there's anything wrong with that, mind you. Some of my best friends quote Tom Cruise movies.
Thursday, 2:00 p.m.
Too many drinks to the wind, and we're at an awards ceremony at Club XIX, which overlooks the stunning 18th green. How's we do? Well, we didn't come in first, but we didn't disgrace ourselves either. Regardless, I am choosing to pretend I've won. So this is what it feels like to be Jack Nicklaus. Hordes of attendees are now falling over one another to get at…. okay, at Thomas Keller who's looking cool as a cucumber in his wraparound shades. The guy's like Bono with a skillet. I'm convinced it's only a matter of time before dry cleaners, like chefs, get their due on reality TV and become international superstars. Hopefully, booze writers are right behind those Martinizing bastards in line.
Thursday, 4:30 p.m.
Back at my hotel room. Officially lost count of how much alcohol I've consumed. I wonder if Jack Nicklaus ever gets bed spins?
Thursday, 7:35 p.m.
The opening night gala at the Inn at Spanish Bay is a saturnalia of gustatory delights. Among the many well-known chefs strutting their stuff are Tom Colicchio, Michelle Bernstein, Alex Stratta, Roy Yamaguchi, and Nancy Silverton, which is to say, the cream of America's culinary crop. The wines on hand also represent the best of what our great nation has to offer: Big Basin Rattlesnake Rock syrah, a medium-bodied gem from the Santa Cruz Mountains; Symmetry, a delightfully spicy fruit bomb from Rodney Strong. And Oliver's Blend from Skipstone, the boutique Alexander Valley winery. Its symphony of plums, berries and currant is so profoundly delicious, it damn near moved me to tears. Cab-merlot blends with intense mid-palates get me every time.
Thursday, 8:43 p.m.
The highlight of my evening just happened. I met Morgan Leigh Norman, daughter of golfer/wine mogul Greg Norman and gorgeous enough to render me speechless. As you've gathered by now, it takes a lot to render me speechless.
Thursday, 11:22 p.m.
Back in the hotel room, everything's become awfully fuzzy. And squishy. No problem. I'm a Professional. And Professionals make notes before they pass out. I hereby note that for my money Pierre Seillan of Verité in Sonoma County is making the finest wines in the U.S. right now, but we all know how I'm a sucker for that Bordeaux-style business. Oh and I also note what good fun it was running into Ted Allen of Queer Eye for the Straight Guy fame. I think he told me he's got a new show on the Food Network. Good fun. Must set TiVo.
Why am I suddenly using phrases like, "good fun?" At this point my speech becomes a bit garbled. Must have been a problem with the voice recorder. What's that? The Au Bon Climat paired well with the risotto? Or was that pudding? No, it was pillows. Pillows filled with fromage blanc and herbs made by Chris Kostow of Meadowood in Napa. Pillows. Fromage. Viognier. Oh yeah, the Skipstone Viognier was nice too. Ooh, Top Gun is on cable. I'm on watch me the shit out of some Top Gun. I should use "saturnalia" somewhere in here—that's a good foodie word. And "gustatory." People say "gustatory" all the time here. Dammit, where's Morgan Leigh Norman's business card?
Friday
My voice recorder has not a single entry from Friday, though I do have this written in my notebook: "Never forget the tire iron." If you know what that means, please get in touch.
Saturday, 10:17 a.m.
Fuck fuck fuck fuck fuck. I lost my wallet. This fucking sucks.
Saturday, 12:30 p.m.
Some guy just passed me at the Lexus Grand Tasting and said, "Nice work last night. Did you get her number?" Then he winks. I don't recall ever meeting this joker in my life. And whose number? Was it Morgan Leigh Norman? For the love of all that's good and holy let it be her, and let the answer be yes. Must check Blackberry.
Saturday, 12:31 p.m.
The only Norman saved in my phone is Norman Mailer. And that's a dude from my kickboxing class, not the brilliant dead demigod. That guy never picks up anyway.
Saturday, 1:04 p.m.
I have a new favorite chef! David Pasternack of the seafood joint Esca in Manhattan, winner of the 2004 James Beard Foundation for Best New York Chef, but what's more appealing than his cooking is his attitude. No bullshit, just pure New York vitality. And, a sense of humor to boot! I tell him I'm a professional scribe for an esteemed publication and that I'll be visiting New York City soon and that I wouldn't mind dropping by his acclaimed restaurant to see if it lives up to the hype. "On the house, of course," with a wry grin (I use this line a lot, as you may have gathered). He comes back with "Hell yeah, brotha'!" It's good to be back in my element.
Saturday, 4:26 p.m.
A woman from the front desk just called up to the room. Turns out my wallet was right where I left it: in the room of someone named Kris. "They left it at the front desk for you," she says. Out comes the Blackberry again. There it is—a Kris who wasn't there before. No last name though. 310 area code. I hope she's hot.
Saturday, 4:28 p.m.
I have not reached the desk yet, but a thought has occurred to me. "Kris" could very easily be "Chris." As in Christopher. As in a dude. Was I that drunk on Friday? In all likelihood. Not that there's anything wrong with that, mind you. Some of my best friends are occasionally drunkenly gay. Now I'm trying to recall the front desk woman's exact words. Did she say "she" left it? Probably, right?
Saturday, 4:29 p.m.
The front desk woman says the wallet was there when she came on duty and she has no idea of the gender of the person in question. But there's a note inside. "You dropped this, hot stuff. Great time last night. Had to head back to L.A. See you there, neighbor!" The handwriting is neat, but not too neat. And what does she (I hope) mean, "neighbor?" Is that a figure of speech, like when somebody calls you "cowboy" even though you're from Philly or "homey" even though you're white?
(Editor's note: The remaining entries from Saturday have been omitted by request of Crown Books legal department.)
My memory picks up again Sunday morning, what with the long drive ahead of me. Checkout time. What an amazing weekend. At least, I think. Oh look, it's that guy from the Grand Tasting. The one who asked me about the phone number. Greg? Gary? Yes, Gary! He's more distinguished than I remember, at least judging from the cashmere sweater wrapped around his neck.
"Hey Gary. What's up, man? Hey this is kind of a weird question, but I was just wondering who it was you were talking about when you asked if I got her phone number."
He squints at me quizzically through the dark circles under his eyes.
"I'm really sorry, but I don't recall meeting you," he croaks. "It was a loooong weekend, you know."
"Indeed it was," I say, smiling and feeling whole again as Gary wraps an arm around his trophy wife and walks gingerly towards a courtesy Lexus, presumably to take him to the airport.
Me? I jump in my 4-Runner and gun it back towards L.A.
---
Follow Dan on Twitter and Facebook, and hear him on The Imbiber Show podcast.