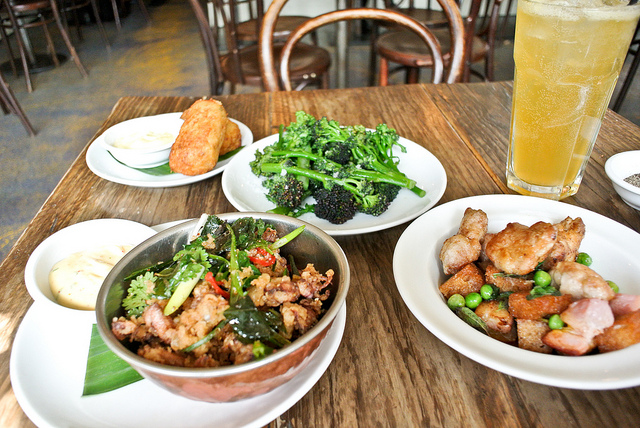 Caravan is a coffee roastery, restaurant and cocktail bar in the busting Exmouth Market in London's Clerkewell neighborhood. Their mending, hair-of-the-dog brunch sorta of knocked my socks off—and not because of an engergizing cocktail made with ginger-infused Sipsmith gin. But that didn't really hurt my cause.
The deal here is global small plates—such a blah food-writerly term I realize, but indeed the case. I ordered four such dishes, each truly hitting different parts of the globe. A bowl of salty Sichuan pepper shrimp was cooled with wonderful chili mayonnaise. Spanish-styled croquettes—giant and a perfect golden brown—were filled with a creamy smoked mackerel and leek puree, sided with bright lemon dipping sauce. Sautéed purple broccoli sourced form the nearby market, and cooked perfectly with a shit-ton of butter and pepper, would have made Dan Barber happy.
And the knockout dish of the early afternoon was pulled from the playbook of nose-to-tail pioneer Fergus Henderson, who runs his nearby restaurant St. John. A plate of gamey lamb sweatbreads was done simply with peas, thick chunks of smoked bacon and fried bread. Props to chef Miles Kirby, formerly of The Providores and born in New Zealand. Your ever-changing menu—I read about peanut butter and blue cheese wontons with great interest—makes me wish I didn't live in a city so tired of globe-trotting menus. Maybe your caravan will pitch tents in New York City down the road?
Caravan
11-13 Exmouth Market
London, EC1R 4QD, United Kingdom
020 7833 8115