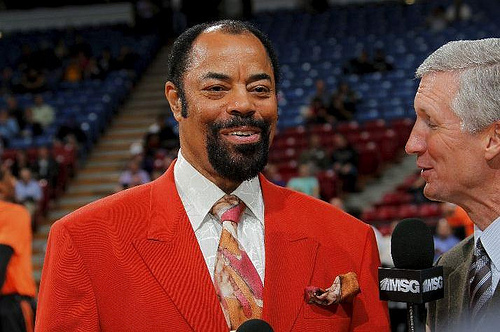 Walt "Clyde" Frazier is many things. An NBA champion. A Hall Of Famer. A style icon. And alongside Mike Breen, one half of the Knicks broadcasting team for the MSG network. The man who coined a million catchphrases—we hope he trademarked "swishing and dishing"—is adding one more title to his already impressive resume: restaurateur.
Clyde, who is the all-time Knicks leader in assists, is partnering with Michael Weinstein (of ARK Restaurant Corp.) to launch Clyde Frazier's Wine and Dine, opening next month in midtown Manhattan. We sat down with the current broadcaster to talk about the restaurant business, what he thinks the Knicks will be doing at the end of April, and what he does when he spills mustard on one of his classy suits.
Why do you think New York needs this restaurant?
It's me. You come here and see it's Clyde; nobody can duplicate this place. It's my style, my creativity. We are trying to make it why people would come back is this food. We're not saying it's a sports bar, but it is a place where one can watch sports. Usually in sports bars, the food is not good. We're trying to focus on good food.
How did you meet chef David Waltruck [formerly of Chanterelle]?
I met him from Michael [Weinstein].
What are your favorites on the menu?
My favorites are the grilled salmon (blackened Scottish salad with vanilla bourbon butter), and the vegetable salad (salad of hearth-roasted vegetables with goat cheese vinaigrette), but other than that I left it to Michael, because this is what he does and this is his forte. Mostly the design is what I gave my imput in.
You also have a charity aspect with the restaurant?
I want to have fun but have an impact on society. With kids, we'll try and educate them about the importance of diet and exercise because of the obesity problem with our youth. [The restaurant] will be a good venue for me to do that.
Do you have any pre-game eating rituals as a commentator?
I'd rather work on an empty stomach rather than being too full. I have a certain time in the day I eat, usually two or three. There's a sushi bar [at Madison Square Garden] and I'll get some eel rolls and maybe a cucumber roll about an hour before the game. And then I drink water during the game.
How was your diet as a player?
When I was a player I pigged out. Pancakes, all of that. But there comes a time when it starts sticking. For me it started sticking when I was 27. That's when I started getting really serious with my diet, being more consistent and not splurging. When I was younger I could gain 10 or 15 pounds, and in two weeks I could start training and run it off.
How's your diet now?
I'm getting better with my diet all the time. I used to love pies, cakes and ice cream. Now I eat dates, bananas, yogurt, honey. Sometimes I get the urge to eat French fries, but I try to do it in moderation. I don't eat all of them, maybe half of them. I'm always thinking about my diet.
So it's been a bit of a rollercoaster for the Knicks. What are you hearing from the fans?
After last night (and a loss to the Bulls), [the fans] are killing them: "They're done, they're not making the playoffs, they're selfish." The talk shows are really negative. Diehard Knicks fans still believe in them, I still believe in them. Albeit, I think they're at the fork in the road. I think they can regroup but they've got to do it collectively as a team. Defense has to improve, and they have to work on their other weaknesses like turnovers and poor shot selection. I've been around these guys a long time; they have character and pride so I think they can turn it around. Note: Less than 24 hours after this interview, Knicks coach Mike D'Antoni resigned.
Your style is pretty iconic. What goes in to it?
I just create my own style. I used to, when I was playing, look at the fashion books. Now I just go. My style is determined by the fabric. Once I see a fabric then I decide if it's a peak lapel, three-button, or double-breasted. So all of these suits evolved that way. When I was in college I wore penny loafers and button-down collared shirts. And then I come to New York and my teammates had monogrammed cuffed shirts and tailored suits.
It's a big transition, Southern Illinois to New York.
It was overwhelming, but I always liked the city and [its] energy. When I came here I was actually quiet and shy, I was more of an introvert. I'd just sit and watch people so that's how I got my style. I'd see my teammates and I'd see where they got their suits. What set me apart was the hat. I bought this hat two weeks before the movie Bonnie and Clyde came out and then everybody was like "Hey look at Clyde." All my endorsements have been related to Clyde.
In the unfortunate event you get mustard on your shirt, what do you do?
Don't touch it. Just take it to the cleaners, and they can get it off.
Any predictions on the Finals?
In the East it looks like Miami or Chicago. I don't know which one I'd go with, maybe Miami. In the West I like Oklahoma City, a very young team but an erratic team. The Lakers are no longer a threat. San Antonio is a long shot.
And the Knicks?
I do think they'll get in the playoffs. You never know, once a New York team is in the playoffs the crowd can be a tremendous galvanizer
Like the Giants.
That's what the Knicks should be thinking. Remember the Giants. That should be their motto. Everything in life is about confidence. Believing and achieving. If you don't believe you can't achieve, and right now that's where the Knicks are. But that's nothing a victory won't help.