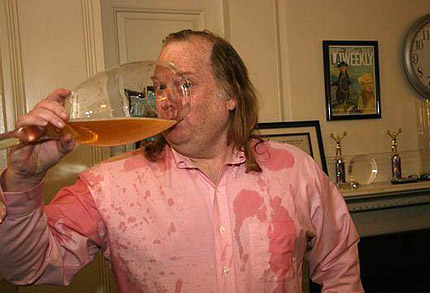 When news broke today that prolific LA Weekly restaurant critic and ethnic food Magellan Jonathan Gold was returning to the Los Angeles Times (maybe as their new critic), we wanted to pay respect to the award-winning reporter. This whole food writing thing wouldn't be where it is today without the work Gold has put in over the years. Here, four writers call out their favorite Gold memories and stories.
When I decided I wanted to write about food, I started researching award-winning food writers. Since I was in college in in Los Angeles, the most logical choice to me was Jonathan Gold, who had just received a Pulitzer Prize. I met with my arts reporting professor, a writer for the LA Times and friend of Gold's, and asked if there was any way she could get me to a table with him. A month of "following up" later, I met Gold at Jitlada, the Angelino's quintessential Thai food mecca.
For the next hour and a half, he ordered dishes both fragrant and foul. I sampled fish kidneys, bile-cured beef and exceptionally pungent fermented crab. I couldn't tell if he was trying to test me, scare me off from the profession entirely or was simply doing his job. I ate everything, even the cat food (or whatever that fish mush was). And as a reward for eating guts/favor to his friend, Gold wrote me a grad school recommendation, for which I will always be grateful. – Jess Kapadia (Assistant Editor, Food Republic)
Favorite stories: Best Stinky Food: Jitlada | Udon: The Second Best Japanese Movie Ever Made | Food Fight! Noma vs. Alinea
---
Food writers win Pulitzers? Well, one did. His name is Jonathan Gold and, with apologies to Anthony Bourdain and John Edge, the key figure in bringing ethnic eating in America to the mainstream. This is a man who lives for strip malls and back-alley food carts, sifting through the Oaxacan delis and Xinjiang noodle shops that line he beloved Los Angeles (he spent two years in NYC in the early 2000s doing much of the same, but LA is his home). His reviews and essential guides (2011 restaurants, 99 Things To Eat Before You Die) have made my annual trips to Los Angeles 5-meal-a-day affairs. – Matt Rodbard (Contributing Editor, Food Republic)
Favorite stories: Jonathan Gold Reviews the Olive Garden | Transcendent, Transitory Tapas | El Parian Will Get Your Goat
---
There is no bigger figure in the LA culinary scene than Jonathan Gold. He's the only person in town that I absolutely trust as a food writer. Gold is honest, smart, funny and willing to eat all the weird shit that I won't. My adoration stems from the fact that his writing is never pretentious. In fact, you could say it's populist (if fetishizing food could ever be populist). He doesn't just eat at the Bouchons of the world – in fact, he seems to relish discovering the city's best Armenian basturma or the small family-run Mexican joint serving an unforgettable cemita poblana.
As food lovers everywhere dig deeper to find the sublimely obscure over the celebrated, Jonathan Gold is the best guide we can ask for. He's a critic without grandeur whose voice speaks to everyone. The Haughty Critic is dead. Long live the Populist Critic who actually says something you want to hear. –Jason Kessler (Heart Attack columnist, Food Republic)
Favorite stories: Jonathan Gold's Angeli Caffe Eulogy | Jinya: Ramen Freaks and Noodle Geeks | Jonathan Gold Reviews Westfield Culver City Food Court
---
I've never really known what to make of Jonathan Gold. It's a funny coincidence for me that I followed the same career trajectory (sort of) as America's most famous food writer. Back in the '80s, he was a music editor at LA Weekly, overseeing coverage of the burgeoning rap and metal scenes there; in the '90s, I was music editor at Portland, Oregon's Willamette Week, overseeing coverage of the thriving grunge and indie scenes. One day in 1996, I got a call from a writer for Spin magazine named Jonathan Gold.
Being a New Yorker who'd transplanted to Portland, I had two good reasons to dislike LA and to rarely go there, so I was unfamiliar with Gold's food writing. But he was calling from Spin, and he was writing a big story on my city's breakout band, Everclear, and he'd phoned me because I'd written a big story on Everclear that had caused some controversy. In a Willamette Week cover story, I had established that frontman Art Alexakis was, essentially, a jerk. Gold asked some questions, had me put him in touch with some of my sources — who I'd convinced to speak to Gold, since he seemed reliable if not simpatico — and a month or two later, his cover piece on Everclear appeared in Spin. It carried the (rather wordy) headline and sub-headline; "Art and Commerce — For someone who has straightened out his life and lived to write a hit album about it, Everclear's Art Alexakis sure is loathed in his hometown. Is it well-deserved animosity, or just the hollow carpings of jealous scenesters?"
The answer, according to Gold's article, was the latter; he basically made me and all the contacts I'd introduced him to into hipster caricatures who were too obsessed with jangly guitars and microbrew beer to notice that we had a genius living amongst us. One of the musicians that Gold turned into a scapegoat in the piece eventually wrote a pretty good song that was loosely based on the escapade, "Mr. Magazine Man." I eventually met Gold at a rock show in Portland a year or so later and confronted him, and he was apologetic, basically blaming the editors at Spin for playing up the pro-Everclear/anti-scenester slant.
It's geez, what, like 16 years later now, and I certainly harbor no ill will for Mr. Gold. In fact, I usually enjoy reading details of his continuous quest for chili dog satori and the Zen of the falafel sandwich amidst the urban and ethnic sprawl of the City of Angels. But in this case, I think I'll skip recommending any of his articles and just revel in the cosmic coincidence that my path has led me to rehash this tale in writing. Maybe sour grapes, too, can age into fine wine. — Richard Martin (Editorial Director, Food Republic)