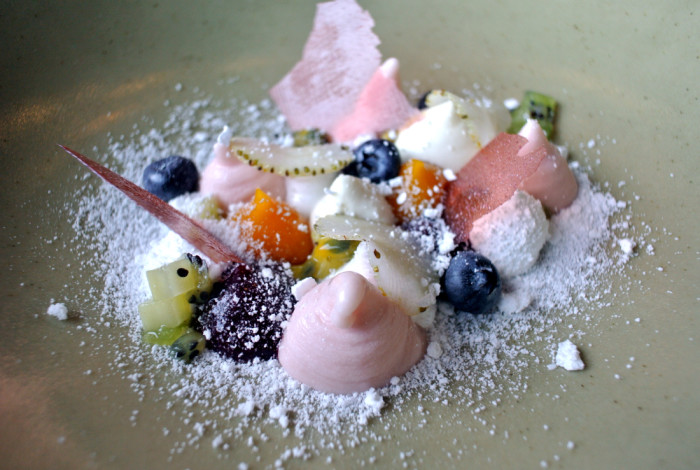 As I write this from Sydney early on Thursday morning, all of Australia is preparing for today's national holiday: Australia Day. What is Australia Day? There are two answers. First, there's the Wikipedia answer. Something about fleets arriving in Sydney Harbor. British sovereignty over New Holland. It's all very Master and Commander.
And then there is the answer I received when talking to the locals. A shop girl at Strand Arcade laid it out pretty simply: "In the morning you go to the pubs to have a couple or go to the beach, then you go home for lunch and then head out to a friend's house for a barbie." Barbie! They totally use that term all the time. I asked her about all the Master and Commander shit and she looked puzzled. Bottom line: It's a national holiday in the middle of summer and a really close cousin to Forth of July. And people are celebrating with patriotic food and drink.
Over the past two weeks I've asked many chefs, restaurateurs, Tourism Australia representatives and cab drivers—many cab drivers—to attempt to describe the "Australian National Dish." It's all been very fuzzy. The chefs never want to answer—for fear of coming across trite. Answers have ranged from Tasmanian ocean trout, abalone and oysters to meat pies, lamb and Pavlova (a meringue dessert named after a famous Russian balarina).
And indeed Pavlova was interpreted in many ways throughout the trip. At Vue du Monde in Melbourne, the dish is deconstructed with dehydrated strawberries, kiwi, blueberries and meringue. At the ambitious Gastro Park in Sydney, the dish (called Nitro Pavlova) is done with frozen guava, pineapple and coconut. I asked Cameron Bird, frontman of Aussie art-pop collective Architecture in Helsinki, about Pavlova as the national dish. He laughed off the question while we shared drinks in Melbourne. "Every time I do that I just feel lame," he said. "It's such a young country and an amalgamation of many cultures."
As I bid this country farewell, I look forward to sharing more of my epic eating and drinking adventures in Melbourne, Tasmania and Sydney—on top of my of my trip to a Yarra Valley Dairy, dinner at Huxtable, chat with legend Andrew McConnell, adventure with tacos in the Southern Hemisphere and battle with a baby squid.
As for the last day in Australia, I'm going big: Yum cha at East Ocean, Bondi Beach, dinner at Seiobo, drinks at Gardels, airport, home, vegan diet for a week.