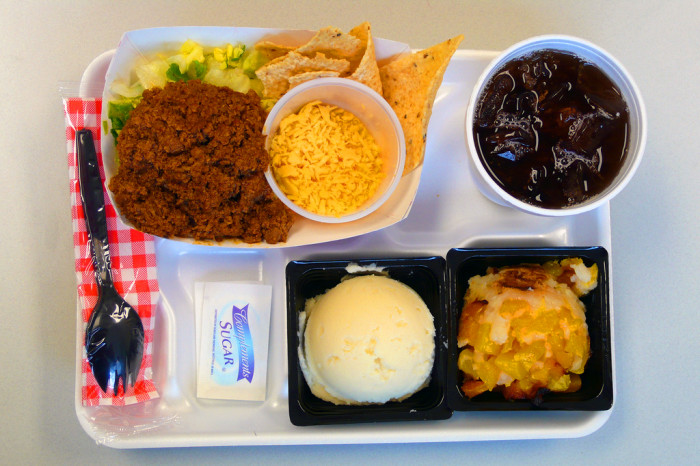 Wake up. WAKE UP!
As food-obsessed eaters everywhere enjoy organic kale fritters and wheat grass cleanses, one out of three American children and adolescents are overweight or obese. The numbers are shocking; childhood obesity has more than tripled in the past 30 years. I vividly recall when my 3-year-old daughter saw a balloon-sized girl — she was literally as wide as she was tall — in the library, and my kid screamed, laughing, "look at the fat girl!" She thought it was funny. And, indeed, the poor girl looked like a site gag. But it wasn't funny. It's time for the adults to take the matter in hand.
And so, thank goodness, tomorrow, First Lady Michelle Obama will be announcing the USDA's new school nutrition standards for the youth of America. This is a follow-up to the Healthy, Hunger-Free Kids Act signed into law by President Obama in December of 2010.
Essentially, the law made free lunches more accessible to children, raised the federal funding of the program by 6 cents per meal, and created a new list of nutrition standards. (There are other nice adds such as encouraging communities to establish local farm-to-school networks.)
Obama will be making the announcement at Parklawn Elementary School in Alexandria, Virginia, where Rachael Ray will be joining her and the cafeteria staff to cook a healthy school lunch. (Paula Deen wasn't available. We keeeed.)
Speaking of lunch, here's what my kid is eating at school tomorrow in NYC:
BURRITO BAR
Chicken or Bean Burrito Served with Spanish Rice and Assorted Fixings & Confetti Corn Salad
Not bad, right? The burrito bar took the place of Build Your Own Burger Wednesdays for all the right reasons. I am regularly impressed by the meals my kid eats and I know that a lot of the credit goes to a very involved PTA and a relatively enlightened New York City Board of Ed food program. There's always a salad bar — or what my daughter calls the "vegetable cart" — and she eats from it regularly.
But, of course, not all schools have such progressive food programs. That's why everyone's getting so freaking fat. We need a strong government to curtail the situation. About 32 million children receive free or reduced-price meals through the National School Lunch Program, which is responsible for up to half of children's daily calorie intake, according to the White House.
And that's where big government comes in. The Tea Baggers be damned on this one: We need a government to guide American children to eat better. Unfortunately, that recent Healthy, Hunger-Free Kids Act comes watered down by a Congress hot and bothered about the government telling our kids what to eat.
"The majority…want us to believe we can grow government with no cost or consequences, but the American people know that's just not true," said Minnesota Republican John Kline, denouncing the act. Republicans managed to delay limits on sodium and a requirement to boost whole grains. French fries, which are served at some schools daily, were also further protected. And, most famously, the nutritional value of two measly tablespoons of tomato sauce on a slice of pizza were deemed adequate, nutritionally, to be the value of a vegetable. Pshaw. (I can just imagine the potato and school pizza lobbyists slithering in the halls, pulling their strings.)
Have we reached a tipping point, when government can help guide Americans to a more healthy (and, ultimately — Republicans, you'll like this one! — more profitable) future? When I consider what happened with the cigarette industry, I have some measure of hope. Michelle Obama and the USDA will no doubt provide a strong step forward in setting up new guidelines — the first in decades — to allow our kids to eat more nutritional meals. I look forward to seeing what they come up with.
But I doubt it will go far enough. For that, we need a groundswell of support. The time has come to Occupy our School Cafeterias.