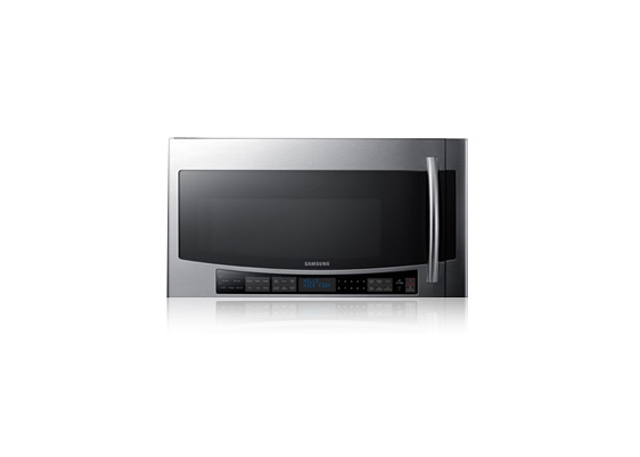 The Consumer Electronics Show is the largest trade show in the world, drawing more than 150,000 people to the Las Vegas Convention Center for a week to show off the latest in technology. It's a staggering show, filled with thousands of booths, vendors, displays, performances, press conferences, releases, Rascal-riding obese showgoers, and thousands and thousands of people walking around to take it all in. While last week's CES saw a multitude of ultrabooks, higher-definition TVs, energy-saving smart grids and connected gadgets, there were quite a few kitchen appliances floating around the rat's maze of the convention center, too. Here are five that caught our eye.
The Smarter Microwave
With a 2.1 cubic feet capacity, an easy-to-clean stain– and scratch-preventing ceramic enamel interior, and a new wave distribution system that cooks food more evenly, the Samsung SMH2117 Over-The-Range Microwave looks to up the culinary ante for reheating and rapid cooking. The stainless steel unit also boasts an intuitive touch screen and a steam– and scent-sucking turbo vent. But its most impressive feature? Its new sensor, which detects the moisture of the meals and automatically calculates cooking or reheat time. Finally, no more over-zapping that leftover PF Chang's Orange Chicken.
The Cooktop without Boundaries
Standard stoves can be so snooty, relegating pots and pans to specific spots, never letting them get any heat or conductivity if they inch off the circular burner. Stove segregation ends with the Thermador Freedom. Hidden beneath the sleek cooktop are 48 induction heating elements equipped with sensors so you can place up to four pieces of cookware anywhere on the surface and it will adjust heat based on their positioning.
The Massive, Beer-Cooling Fridge
LG showed off their new Ultra-Capacity French Door Refrigerator. Sure, the mammoth ice box can swallow 31 cubic feet of foodstuffs and stocks an interior sensor that monitors temperature, humidity and air circulation for optimal conditions at all times. But the standout spec on the stainless steel fridge is its Blast Chiller drawer, a small drawer that draws air from the freezer, swirls the bottle or cans inside to cool them quickly. Meaning? You can have a room temperature beer beading with sweat in about five minutes, or a bottle of Chardonnay in eight.
The Kitchen-Centric Tablet
The Qooq has been around for a little while now. It's a bright red tablet with four silver feet attached to it for propping. While it can access the internet, stream music and all that expected stuff, the Qooq (pronounced "cook") is meant for the kitchen: the touch screen tablet comes packed with more than 3,500 exclusive interactive recipes (with detailed techniques, etc.), 1,200 of which are instructional videos. The new tablet they showed off has a faster processor, and will be available in the US, meaning it will offer more than mere French recipes.
The Food Printer
Essential Dynamics debuted the item that seems like a dream still fresh in the mind of Willy Wonka: the Imagine 3D printer. The quick and dirty? It can print food. After you add ingredients and design your fare, the enormous black printer can produce everything from chocolate cupcakes to customized meals. It's stocked with syringes which inject the components and allow it to create 3D food (it can create silicone, too). It's honestly all too complicated to go into detail for here, but just think: now you can print Salisbury steak along with that spreadsheet.