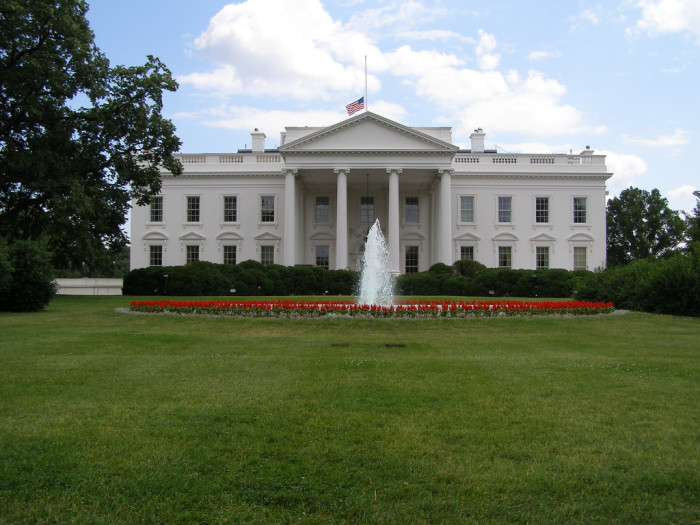 The labyrinthine world of food politics in Washington, DC can be overwhelming if not downright exasperating. Nothing is simple about feeding America while juggling the interests of the food industry, organic and industrial farmers, as well as the average consumer. But understanding the process behind where your food comes from is vital since it allows you to have a say in what's going on.
If you feel strongly that animals shouldn't be kept in CAFO's and that food deserts should be eradicated then you can affect change through your purchasing habits and by contacting your local representative. But first, it's imperative to know who the players are and what's at stake.
Below are four noteworthy people/issues you should know about right now.
1. Secretary of Agriculture Tom Vilsack
How would you like to be in charge of issues ranging from the nation's food safety to the welfare of small farmers? This daunting task, and many others, falls on the Secretary of Agriculture, Tom Vilsack.
President Obama appointed Vilsack secretary of the USDA in 2009. Vilsack, who lives in DC and Iowa with his wife Christie (currently running for Congress), is a lawyer and the former governor of Iowa. As Secretary of Agriculture, Vilsack is charged with revitalizing rural America, protecting and conserving natural resources, and providing safe and nutritious food for all Americans.
Since taking the reins, Vilsack has fought to increase the visibility of the USDA. He recently told POLITICO, "This department is not appreciated. We are engaged in virtually every issue and always can provide some support and some meaningful solution to a problem that is vexing folks." Vilsack is working hard to bring issues of nutrition, sustainability and small farmers to the forefront of the national dialogue. Despite slow progress and the challenges of improving a very staid agriculture policy, Vilsack has won the support of top food politics players like Marion Nestle.
2. The Let's Move! Campaign
First Lady Michelle Obama's campaign, Let's Move! (launched in February 2010), aims to eradicate childhood obesity within a generation by putting healthier food in schools, educating children and parents about nutrition, and encouraging kids to be more physically active. Two years ago, the First Lady created the innovative Healthy Food Financing Initiative (HFFI) to address problems of food access. This inter-agency project involves the Treasury, Health and Human Services, and the USDA, and it provides loans, grants and other financial incentives for supermarkets to be built in food deserts.
Recently, however, Let's Move! came under fire from several influential food politics writers — among them Appetite For Profit's Michele Simon and Nestle — for its seemingly drastic shift in focus from nutrition to physical activity. While being active is obviously important, critics noted that it undercut the necessity of encouraging kids to concentrate on making nutritional food choices, and implied that the First Lady had given up on trying to make kids eat their vegetables. Senior policy advisor Sam Kass wrote a rebuttal to Nestle, who had taken the program to task on her website, insisting that the "eat better" message is still core to the Let's Move! initiative and that increased physical activity was merely one of the five pillars that make up the Let's Move! agenda. The debate has died down for now, but it will be interesting to watch the wording of any Let's Move! press releases and the focus of its campaigns in the near future.
3. The Farm Bill
Don't be fooled by the simple title — the Farm Bill is a complex piece of legislature that affects everyone, whether you live in the city, the suburbs or the heartland. Funding for conservation, food stamps and biofuels are all determined by the Farm Bill, along with crop subsidy and crop insurance policies. These subsidies have a big impact on the price of your food no matter where you live, so if you like to eat, it behooves you to know what's going on with this bill.
This month, lawmakers will once more start discussions about the Farm Bill, which is renewed approximately every five years. After the Super Committee failed to incorporate the "Secret Farm Bill" into the widespread budget cuts, it was clear that this hulking piece of legislation would have to be re-negotiated the traditional way — on the House and Senate floor.
When it still looked like the Super Committee might come to an agreement, a draft of the revised Farm Bill was leaked that called for $23 billion in cuts across 10 titles. Additionally, Congresswoman Chellie Pingree and Senator Sherrod Brown submitted their Local Food, Farms, and Jobs Act, which advocated for more support for farmers markets and organic farmers and was championed by many of their fellow Congress members. But now debates about the Farm Bill will have to start from scratch and it's anyone's guess as to whether or not the proposed $23 billion in cuts will become the starting point for Farm Bill budget negotiations. And did we mention that all of this could be happening in an election year?
4. The FDA and Livestock Antibiotics
More likely than not, you've heard the horror stories about livestock antibiotics — cramped pens of animals are loaded up with antibiotics leading to the rampant proliferation of drug-resistant superbugs. If you've ever heard of the bacteria MRSA (a potentially fatal staph bacteria that can spread through human contact), then you know that this is a potentially perilous situation. Currently in the U.S., 80% of all antibiotics are fed to livestock. Think this sounds like a poor idea? It is.
In 1997, the FDA looked into banning the use of antibiotic use on farm animals, but this year the department withdrew its promise to curb the use of penicillin and tetracyclines in animal feed in favor of industry self-regulation. The FDA did make a small concession, however, and restricted the use of cephalosporin antibiotics, but fell short of banning them outright. Cephalosporins are routinely used to treat human diseases like pneumonia and strep throat. In a recent article on the subject, Mark Bittman called this a "token" move by the FDA, citing the fact that cephalosporins made up less than 1% of the antibiotics given to animals in 2010. It seems unlikely that the FDA will impose a strict ban on livestock antibiotics anytime soon.
---
How to help: Vote with your fork by buying local, organic food.