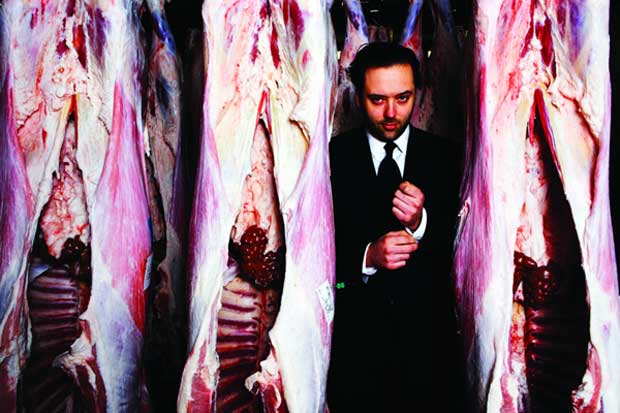 Melanie Dunea apologizes for being late. There was a situation with goose fat that she had to tend to at her Tribeca kitchen and photo studio. We're meeting at Asian food court Food Gallery 32 in New York's Koreatown, a cluster of stalls selling authentic dishes like Taiwanese fried chicken legs and miso ramen soup with cuts of fatty pork bobbing in broth.
The place is pretty much amazing, Asian food fetish or not, and I'd suggested the spot with Dunea's background in mind. Sharing a bag of baby carrots at Cosi was not going to cut it for a woman who's circled the globe thrice while working as a portrait photographer, shooting for clients like Vanity Fair, Time and Moët & Chandon. It was through this work — and a passion for food and cast of characters preparing food for a living around the world — that the My Last Supper project began in 2006.
You can think of it as if Danny Clinch and Ruth Reichl booked a Gulfstream and set out to photograph and interview the 50 most important chefs in the world. The concept is fundamentally simple — five questions are asked of the subject, all relating to a chef's last meal on earth. What would you eat? Drink? Who would be there? Music? Each chef is photographed with clear editorial vision and mostly on location — in kitchens, fields, barns, on the ocean. Pig parts are often present.
The concept is also logistically a nightmare — and Dunea is doing it on her own and doesn't fly private. But by the grace of god and a really solid Rolodex — as well as a good drinking buddy named Anthony Bourdain — her 2007 book was released featuring industry heavies like Mario Batali, Jamie Oliver and Jacques Pepin. Prune chef Gabrielle Hamilton appears nursing a newborn, shocking and candid in black and white. Daniel Boulud is shown holding a wine glass while photographed outside…Versailles. As for Bourdain, who wrote the  book's intro and continues to work with Dunea on book projects, he got down to his nasty bits.
"Charlie Trotter is an avid trampolinist," Dunea says matter of fact while we split a box of kimbap. She had proposed the Chicago legend jump around in his mother's backyard, a shoot that was cancelled due to weather but will hopefully appear in a forthcoming book. "I'm not shooting chefs for their restaurants. I'm not shooting them to promote a brand. I'm shooting them for them." We're on the subject of The Next Course, a follow-up portrait project with very similar aims — talk to chefs about their last meal and photograph them in a natural setting.
The book does expand slightly away from chefs. Case in point, a remarkable photo of Rachael Ray — dressed in a flowing white dress and silver Manolos. "In our interview we spoke so extensively about the afterlife, I thought, oh my gosh, I have to get an angel," she says about working with the queen of EVOO.
Another cool moment in the book is Dunea's work with legendary British chef Marco Pierre White. She captured him on a smoke break, away from the original location. "I saw this beautiful light coming in and told him to put on the coat." White's wearing all homemade clothing and a head wrap. There's a layer of dust on the floor, with the black and white image taking on a tintype feel. Q: What would you drink for your last meal? A: A pint.
With any photo book, the images overwhelm and the text is secondary. And, truth be told, this is the case here. But the short interviews are worth reading and dive into the chefs' taste for the high and low. "There's a lot of high like foie gras and luxury ingredients," she says of her subject's final meals, with caviar appearing in nearly half of the surveys. But some of the guys go the classic death row junk food route with orange Fanta, Krispy Krème donuts and Bud Light, the latter from Momofuku owner David Chang.    
As we wrap up our lunch, I touch on something that's been sitting in the back of my head. As vibrant and full of life as the photos are — Michael White waving from a speedboat with shit-eating grin, John Besh hanging out on the end of his dock with a retriever at his foot— this topic is pretty dark. We're talking about death here. Like, death. The end. "I don't mean it to be a morbid topic, more like the ultimate," Dunea clarifies. "Like, okay motherfucker, if this is it, tell me what ultimate you want."
A with that I finished my own final meal at the top floor of Food Gallery 32. A bowl of pork ramen with fried chicken on the side. But I'll follow Dunea's lead and not call this the the end. This is the ultimate.
You can check out My Last Supper online, Dunea's very cool website featuring videos and her wonderful photography.