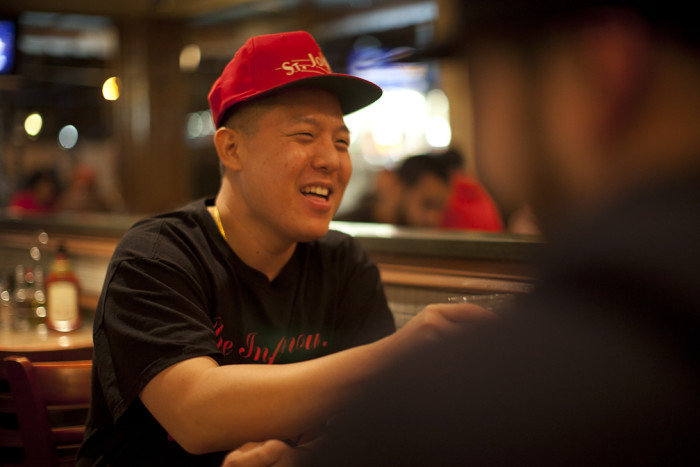 "Real talk, we're gonna do numbers." Real talk from chef/restaurateur/designer/lawyer/shot caller/Sifton best friender/proud Chinese-American and soon-to-be TV star Eddie Huang? It's the only way it comes from the New York City good guy. "I know that when this airs, it's instantly the third best food show on television behind No Reservations, The Layover and Bizarre Foods."
He's written in this afternoon after I asked for a couple lines about his new show, Cheap Bites, debuting on the Cooking Channel on New Year's Day at 8pm. On the surface, it seems like two parties at odds—a crazy intelligent downtown NYC shit talker with a finger on the pulse and two blunts in the back pocket teaming up with the…Cooking Channel. A high-channel network that is anything but. Thankfully, as Huang writes, the union isn't as tidy as a Rachael Ray shepherd's pie recipe. It's a little more complicated than that. Which probably makes for better TV. It certainly gives us all reason to tune in.
OK, tell me everything about the show that I don't already know from the 15-second teaser trailer?
It's a one-hour special. We went to Montauk, Memphis, Mississippi and Portland. John Jay, the Global Creative Director of Wieden + Kennedy, is featured, as is John T. Edge from the Southern Foodways Alliance. I see food as part of a larger style section. If I get more input, I'd love to pick all the spots and do the show with the understanding that food is one component of greater American culture. Food is best understood with context. Like films, there are so many tools available to chefs/restauranteurs in creating the dining experience. Yet, TV hasn't caught up yet.
Shows don't pay attention to design, music, style, politics. Except Tone [Bourdain]. He gets it. I don't know why, but Food Network shows are oblivious to the rest of the world. WHY DOES GUY FIERI HAVE 10 SHIRTS WITH FLAMES AND WINGS B? I'd love to get ordinary people like my mans The Kid Mero on the show to hear about food from his perspective. My dream episode would be eating with Kim Jong Il's son. That dude looks like me if Josh Ozersky was my personal trainer.
So what's a cheap bite to you?
Initially, I wanted to do a show called Fresh Off the Boat, which focused on first or second generation immigrant food. It was a big concept, though, and people are stupid so it got funneled into Cheap Bites since every thing I wanted to eat fell in that category anyway. If it were my choice, I wouldn't go to Crocodile Lounge, but I only have so much power.
I hope that if we go to series and the show progresses, there will be commentary on why ethnic food is sold at these prices and how we can get it out of that bracket. Or if you are selling it at that price point, find a location to do volume and send your kids to college?
That's my personal story. From my grandfather to my dad to me, we always felt it was unfair that Chinese food was so good, but no one wanted or expected to pay more than chump change for it. I've never seen my value to the industry solely as a "chef"—it's as a commentator that grew up in restaurants owned by first-generation immigrants and I have things to say about the experience. If I can help to transform the image of ethnic food in this country, I will have done my job. Ain't shit changed since day one homie. We opened Baohaus, did the show, and we're writing the book for the same reason. LETS GO YALL! MY BOAT PEOPLES NEED THAT PAPER!
How will your show surprise Cooking Channel viewers used to watching Hungry Girl make Breakfast Pizza Mexicali?
Bourdain and Zimmern are the gods. That's the only shit I watch. But behind them, who is there? Anne Burrell? Please, that bitch cray and the fish filet's gone bad. I don't care if it's Hungry Girl, Anne Burrell, Alex Guarnaschelli. Whether it's this year or next year I'm comin' up like Kanye and we puttin' up plaques.
I heard from multiple people that Guarnaschelli and Burrell were calling the Cooking Channel complaining about my show because of the Iron Chef Recaps. Yo, do a recap of my show! I bet Burrell doesn't know how to use a semi-colon. This is just a special with limited promo, but once we figure out the series and I get to pull in some of my homies to do the damn music ourselves, we ON A MOTHER FUCKIN SPACESHIP. I don't even have a press person, a publicist, or an assistant. Wait till we get some capable white people on this squad, we gonna be organized and shit b. I'ma have a 401K, health insurance, TiVo, Netflix with 2 DVDs, a bed frame, Coconut Ciroc, you know… all that good shit that you need before super fly Cantonese shawties on Mott Street take you seriously.
What did you learn about yourself when reviewing all the footage of you eating around the country?
I'm a walking advertisement for NY Brands on the show and I love it. All these designers are people I've met and I fux with their work so I'm unabashedly going to support Downtown NY Business. Living in the LES, East Broadway, East Village and Ft. Greene there are so many dope, young, independent creatives that are doing something honest. I just want people to know about it. I'm a short, chubby, Chinaman that isn't any designer's "ideal man"—but here we are, fux with it! BUY NY Y'ALL!
Lastly, you're a Knicks fan. What's your season prediction? Wednesday's game was ROUGH….
We need to fire D'Antoni and get a defensive coach like Fred Simmons from the Foot Fist Way. I mean, Eddy Curry would be putting up Double-Doubles for the Knicks right now if there was a coach that counted how many Sbarro slices he was eating like Fred Simmons does.