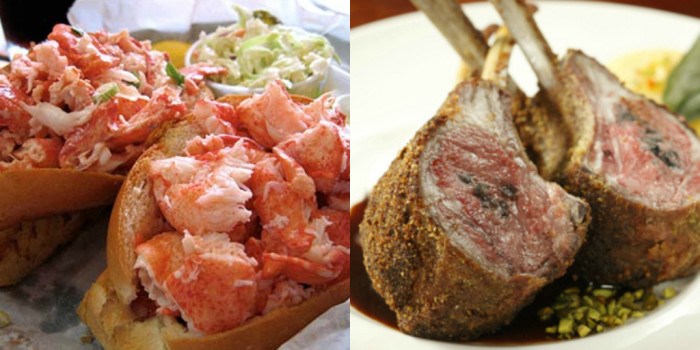 Tailgate Toe-To-Toe picks a weekly NFL game and analyzes the matchup—on the field and in the parking lot.
The B-52's aren't from the New England area, yet managed to put together an anthem for a lobster roll. More specifically, a rocking lobster roll. Of course, clam chowder gets all the buzz surrounding the six-state Northeastern region — but the soup got demolished in its first appearance in T x 4. And if a lobster and a clam ever came to blows, how is that mollusk going to defend itself from a barrage of jabs and uppercuts from those intimidating claws? If you can't afford the full two-pounder you're craving, lobster rolls (claw and tail meat tossed with mayo then served on a hot dog bun) will do just fine.
The P-10 Patriot Nuts have been tailgating for over 35 years. However, their outreach seems to stretch through regional clubs down the east coast — all the way to South Florida. Can't make it to a game? No problem. There are "Member Pubs" from Canada to Texas, all willing to welcome Belichick groupies with open arms and flowing taps. With charter rules like, "We will never let any fool ever tell us they would take Manning over Brady," these fans mean business — with a bit of tongue in cheek. Still, those tongues in cheeks are never short on flavor as lobsters and filet mignon are almost an expected regular at these parking lot parties.
Most of what I know of Colorado came from many viewings of Aspen Extreme in my formative years. Not once in the entire film do they feature lamb. However, Colorado lamb is something of a bragging point on menus — the best of the west so to speak. These stimulant-, hormone- and antibiotic-free cuts of lamb are exported from Rocky Mountain farmland, like Maverick Ranch, to every metropolitan food hub in the nation. It's hard to say exactly what gives Cartman's home turf an advantage on raising the best tasting product around, but tailgaters and fine diners alike are happy with the results.
Tim Tebow is a Disney screenwriter's wet dream. He's Any Given Sunday meets Angels in the Outfield, starring an up-and-comer with chiseled good looks – I'm thinking Chris Pine. He also eats tacos! The QB's Keep the Faith – TT organization, "meant to galvanize support for Tebow's controversial high-profile public approach to sports and religion," recently teamed up with retired Republican Congressman Tom Tancredo to throw a uniquely morality-soaked tailgate. It's unclear exactly what was served — they probably sacrificed a goat for the pre-game meal — but it's safe to say that it needn't be kosher.
I have to throw all logic out the window for this game. The Pats are 10-3. Thei personnel is superior to that of their opponent. Tom Brady can throw for 400 yards and 4 TDs every week. He's got two studs in Wes Welker and Rob Gronkowski to depend on. The Defense is good enough against the run, letting up 107.3 rushing yards per game, to give the offense a fighting chance. Their coach is a mastermind and manages to keep his team in the Championship hunt every year. Still…
The Denver Broncos are 7-1 with Tebow as a starter, five of those wins came in the form of 4th quarter comebacks. We can talk about Willis McGahee showing flashes of the player we all thought he would be prior to the 2003 Fiesta Bowl injury. We can talk about Von Miller being a candidate for Defensive Player of the Year as a rookie. We can talk about John Fox getting all the credit for calling the season quits back in Week 7 only to have it backfire. What's the point? It's all about Tim Tebow. It defies all logic! This season, the man has a 65.1 rating through the first 3 quarters. Winning time? That rating jumps to 107.9! Every bit of football knowledge in my body is telling me to pick New England. But fuck it. GAME PICK: Broncos 17, Patriots, 14
It's close. Two delicious animals – but I'm a red blooded American who needs red meat. FOOD PICK: Colorado Lamb 35, Lobster Rolls 24