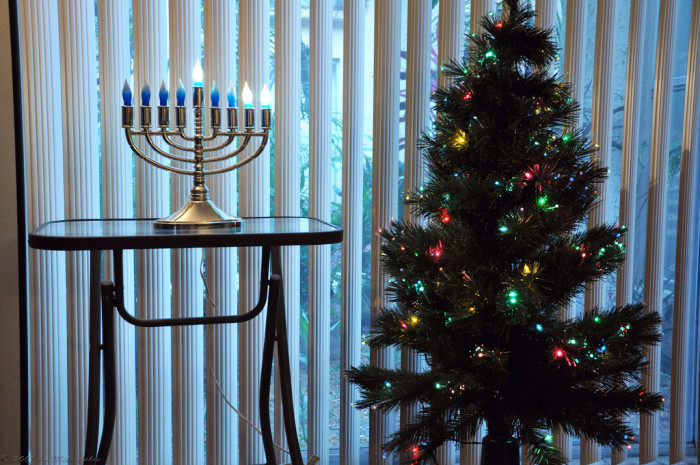 I grew up loving Hanukkah. What's not to love? You get eight days of presents, pan-fried potato pancakes (latkes), and even a festive justification for gambling with the Jewish version of roulette (the much-loved game of dreidel). My girlfriend, on the other hand, doesn't care much about the Festival of Lights despite coming from the same cultural background. In fact, her family celebrates the seasons with a Christmas tree, which is about as far away from Hanukkah as you can get. While we don't celebrate the holidays in the same way, we still like to celebrate them together, which brings up the all-important question: what are you supposed to do when you and your significant other celebrate traditions differently? Answer: You mash them all together into one big super holiday!
There has been a trend over the past 10 years to combine the December holidays. Hit teen drama/soft-core porno The OC struck first by inserting the term "Christmukkah" into the zeitgeist as a combination of Christmas and Hanukkah. Then Virgin Mobile got in the game a few years back with their even more inclusive Christmahanukwanzaakah commercials. Now people are hanging menorahs in their Christmas trees and using Kwanzaa stamps to send their Hanukkah packages. In a multicultural society like ours, it only makes sense to get in the spirit of the season by welcoming all spirits of the season.
If you're not very religious – and I am not – I don't think there's any harm in celebrating all the festivities of December with your loved one as opposed to focusing on one specific culture's holiday. I may never welcome a Christmas tree into my house (what would Judah Maccabee say?!?), but I'm all about baking Christmas cookies. My girlfriend doesn't place any value on lighting Hanukkah candles, but we can both agree that giving and getting presents is pretty great. While some people get into the whole "Jesus's Birthday" element of Christmas, I think more people are just excited to have a day off of work and a chance to spend time with their loved ones. To me, that's what the December holidays are all about. It's an opportunity to celebrate the joys of being together.
So how does this whole December Super Holiday Mash-Up play out? Buffet-style, of course. Eggnog, latkes, Christmas cookies, candy canes, chocolate coins (Hanukkah gelt) and Sandra Lee's less-than-appealing Kwanzaa Cake all live together in perfect holiday harmony on the longest table you own. Throw on an ugly Christmas sweater, grab some candles of various colors, and get ready to feast on the bounty of December. Make it competitive with some cutthroat games of dreidel. If you're not stuffed like a Christmas goose by the end of your celebration, then you didn't celebrate correctly. Remember, there's nothing to lose with the Holiday Big-Tent Approach.
No matter what how you choose to celebrate, I hope you do it with delicious food, fantastic drinks and all of your loved ones close by. Thanksgiving may be almost a month away, but I think December is an even better time to be thankful for all the good things that have happened over the past year. Happy Holidays.
---
Read the previous installment of Heart Attack on Food Republic.