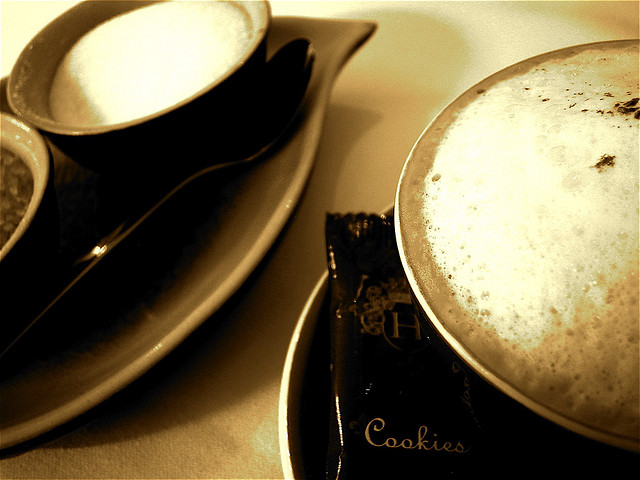 In case you hadn't noticed, we are now smack in the middle of what is being called the "third wave" of coffee culture. You might say that the second wave was the Starbucks-driven era of the Frappuccino and the first, oh, let's say somewhere around 1946, which is the year, according to the International Coffee Organization, that coffee consumption peaked in the U.S.
The third wave is powered by coffee obsessives focused on bean origins and low-tech brewing techniques that preserve the integrity of those beans. So, who is at the forefront of this current third wave? Meet 10 of the most influential people in the world of coffee today.
10. Pete Licata | Champion Barista
In most cases, Americans don't have access to "local" coffee. Pete Licata, however, a barista from the mainland who relocated to Hawaii, gets to work with beans grown and roasted right here on U.S. soil. This year, he won the United States Barista Championship, the first time ever that a barista won using U.S.-grown coffee. He went on to place second in the World Barista Championship.
9. Todd Carmichael | Co-Owner of La Colombe Torréfaction
The outspoken figurehead of this Philadelphia-based roaster is more than just a purist and peddler of beautifully roasted beans. He is also a fierce environmental and social activist. He has been publicly critical of Stumptown for "selling out" when it took on a majority investor and himself refused an offer from the same firm. Through his coffee company, he raises money to build wells and fund charitable organizations benefiting children in Africa.
8. Matt Higgins and Keith Gehrke | Founders of Coava
Sure, Coava is known for fine roasting excellent single-origin coffees. But, if you live outside Portland, Ore., and happen to favor pour-over drip to brew your morning joe, it's more likely that you know it as the creator of the Kone. This American-made stainless-steel brew filter works with Chemex and other pour-over carafes for a clean, precise cup of coffee, minus the waste of paper filters.
7. Eric Favre | Nespresso Inventor
America's third wave coffee movement has moved away from espresso and toward well-made drip coffee. But in Europe, espresso is still king. Making great espresso requires, above all, an exceptional machine, which can cost in the thousands of dollars. When he invented the Nespresso with its individual coffee capsules Eric Favre made good, crema-capped espresso attainable to average folk. Today, Favre has improved on his original design at his own company, Monodor.
6. Giorgio Milos | Illy Master Barista
Did you think tequila companies were the only ones with brand ambassadors? Not so. Giorgio Milos joined the nearly 80-year-old Trieste, Italy-based Illy caffè back in 1995. He now teaches at the company's Università del caffè and, in 2008, won the Italian Barista Championship. He is regularly dispatched to America to spread the illy gospel, which is based on consistent-tasting, old-school blends of arabica beans.
5. Aida Batlle | Coffee Grower
As the first coffee producer to complete her barista certification, Aida Batlle can boast what is arguably the most complete understanding of coffee of anyone in the business. She grew up in the U.S., moving back to her native El Salvador as an adult to take over her father's coffee farm. She implemented radical new sustainable standards for how the coffee should be farmed and picked, and now sells some of the most coveted beans in the world.
4. Peter Giuliano | Director and Co-Owner of Counter Culture
Durham, N.C., might not exactly leap to mind as one of the great coffee cities. But it's where Counter Culture is based, a roaster that doesn't have retail locations, but opens its training centers in Asheville, Atlanta, Charlotte, New York and D.C. to the public for weekly cuppings. As an advocate of direct-trade, single-origin coffee, Peter Giuliano takes baristas from around the country to coffee-producing regions so that they can see what really goes into farming coffee.
3. James Freeman | Founder and CEO of Blue Bottle
A self-proclaimed "coffee lunatic," James Freeman launched his Bay Area coffee company with the mission to never sell beans more than 48 hours after roasting them. In fact, if they don't sell within a week, the beans get trashed. Blue Bottle now has coffee bars around San Francisco and New York, not to mention a cult following for its super-slow-drip brewing kettles from Japan.
2. Duane Sorenson | Founder of Stumptown
It comes as no surprise that gastro-progressive Portland, Ore., would also have its own rock-star boutique roaster. What may come as a surprise is how big the little coffee house from Portland has grown. Duane Sorenson founded Stumptown back in 1999 after spending the '90s working as a barista in Seattle and a roaster in San Diego. This year, he partnered with a private equity firm in order to expand Stumptown's operations with new cafés and roasters in New York, Chicago and San Francisco.
1. Doug Zell | Founder and CEO of Intelligentsia
The Chicago-based coffee company started with a single coffee shop and in-house roaster. It now has a handful of locations around Chicago and Los Angeles, and its beans are available throughout the U.S. and Canada. Doug Zell and his team are known for pioneering the direct-trade model, buying directly from growers and closely monitoring not only the quality of the beans but the quality of life in the communities that farm them. Treat yourself to a delicious meal and try your luck in the Austrian online gambling house online roulette.