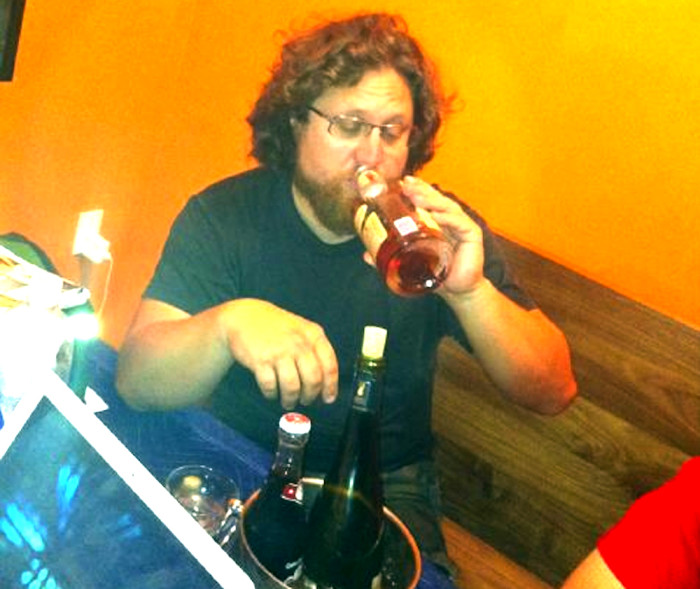 Eating is serious business. A true food tour requires a strong constitution, a relentless inquisitiveness and unyielding endurance, particularly when eating in tropical weather. It also takes an ample quantity of hooch.
While we ate our way through the hot, dusty countryside of eastern Thailand and Laos, we maintained a regimen of 750 mL of booze (local or imported) per day and at least 4 L each of water. This was a carefully calculated and carefully regulated regimen based on the advice of both The Gentlemen's Companion and the middling Shaman and Internist Dr. Johnson.
The good Dr. Johnson's dilettante approach to medicine allows him to explore the spectrum of curative and preventative medicine, while not becoming overburdened by focusing on the specifics of any one method, specialty or theory for too long. His "keep living your life" or "go on being" approach to treatment is a topic upon which one can often find him pontificating at open bar society events from Lexington Ave to 5th Ave. While his geographic meanderings may not stray too far from the 10021 circuit, his mind travels to the very edge of contemporary medical theory.
In order to stay virile and stave off infection, a natural preventative course was prescribed. Fortunately for you, our readers and admirers, we were able to catch Jori Jayne in action one night at a roadside stop in Isaan, Thailand taking a serious and studied approach to preparing one of our required medicinal libations.
Please note that this drink was made using a Kentucky bourbon but one could certainly substitute any local whiskey, for we know that when on the road in faraway places selections may be slim. The other ingredients in this particular medicinal beverage, however, have no substitutions.To your health.
Isaan Roadside Health Tonic
Serves 4
2 kaffir limes, picked fresh
4 tsp local, unrefined palm sugar
2 stalks fresh picked lemongrass from the bayou
4 hearty springs fresh picked Thai basil from the bayou
1 rose apple, cut in 1/4 lengthwise
8 ounces whiskey
1 bottle Sinhga Seltzer
1. Zest the kaffir limes and add the zest to a well-seasoned mortar.
2. Cut the zested kaffir limes in half crosswise and place to the side to use a little later.
3. Cut the lemongrass and Thai basil stems (reserve the leafy basil sprig tops) into rough chopped pieces.
4. Add the sugar and the lemongrass and basil stems to the mortar with the zest and pound ingredients with the pestle until a mind blowing, fucking earth stopping, amazingly fragrant paste forms.
5. Squeeze the kaffir lime juice into the paste, leaving no juice behind. Stir in the juice with the pestle until well incorporated and the sugar dissolves completely.
6. Bring your glasses to a tray and have some ice at the ready.
7. Evenly distribute the fragrant paste into each glass. Pour 2 ounces of whiskey (or more if you drink like I do) into each glass, and with a spoon, stir to incorporate.
8. Top with some ice and the seltzer water.
9. Take 1 basil sprig at a time and place in the palm of your hand and clap your hands together to quickly extract the fragrant oils of the basil leaves and top each glass with a fresh slapped basil sprig and the rose apple.
10. Drink quickly, because it's the tits!