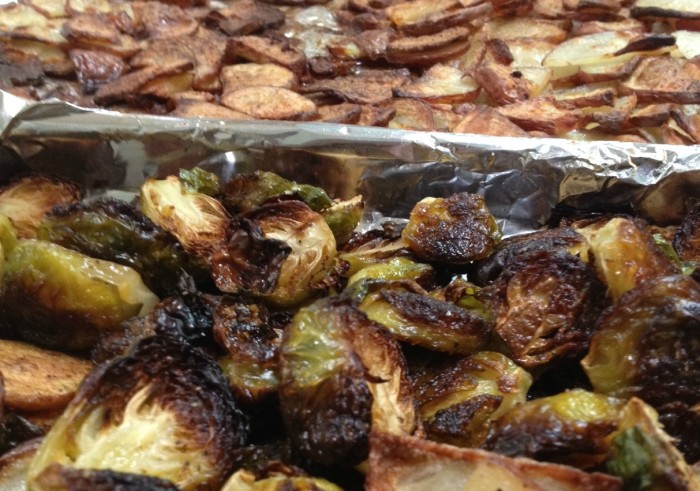 We asked writers, restaurant industry folk and members of the Food Republic family to write in about their Thanksgiving eating adventures.
I gave thanks from afar this year, visiting with friends who live on a Costa Rican beach. It's a touristy kind of place, and so there were local restaurants serving turkey and mashed potatoes, meat markets that featured frozen laundry basket-sized birds if you wanted to cook one yourself. But we ate more Tico-style — we had rice and silky beans, we marinated meat in sour oranges, and we had the most amazing local bananas, papayas and pineapples. Man, the pineapples! And I gave thanks for the incredible abundance of our earth. Francis Lam, Gilt Taste Features Editor
---
Thanksgiving is a time for families, which is why my fiancée and I decided to take the core of our new family away from the frantic festivities at home and to start our own tradition in Paris. That meant no turkey, no cranberry sauce, and best of all, no drama (well, except the occasional screams from our 9-week-old girl).
While Ralph Lauren's swanky Restaurant Le Ralph and a few others with U.S. ties offered up turkey dinners to wayward Americans, we went French all the way, booking a late lunch at L'Assiette near our borrowed apartment in the 14th Arrondissement (pretty far south of central Paris). At L'Assiette, this wasn't Thanksgiving, but merely Thursday, and a well-heeled lunchtime crowd was tucking into good-looking quenelles and cassoulets by the time we came through the door and were greeted by chef/owner Chef David Rathgeber. He emerged from the kitchen to wish us "un happee Thanksgeeving." (My fiancée worked with him a few years back.)
Lunch, er, our Thanksgiving dinner, was truly spectacular. I started with a shrimp tartare ("crevettes bleues Obsiblue façon tartare") that featured flavorful seafood contrasting with the crunch and snap of celery root. Then, while my fiancée went for the classic duck in a rich sauce, I tried a roasted maigre (a bass-like fish) served in a risotto that featured a nod to Thanksgiving (probably unintentional) with pumpkin and herbs. For dessert, a riz au lait — simple rice pudding that hit the spot. Any regrets about passing on our big holiday for just another day of fine dining in Paris? Non, pas de tout. Richard Martin, Food Republic Editorial Director
---
It's the morning after. Ten people sitting around the kitchen counter, eating leftovers: turkey, stuffing, cranberry sauces, pie (cherry crostata, pumpkin cheesecake, apple crumb, pecan). Also: two kinds of coffee cakes and the traditional Chinese dumplings. I can't seem to make enough coffee. The ham has just come out too. I have a feeling we'll eat all day. Ruth Reichl, Gilt Taste Editorial Advisor
---
I woke up with a very sore wrist. Rewind 16 hours and I'm standing in my parents' West Michigan kitchen in the same space I've helped them prepare Thanksgiving dinner for the past 20 years. The turkey, 26 pounds of free-range glory, is in the oven and the vibe is amazingly calm. Rick and Cheryl have got this Thanksgiving thing down to a science, even with a guest list topping 25 and expectations as high as an Andrew Carmellini restaurant opening. As accomplished amateur cooks, worshipping at the alter of Bourdain and Brody, this is their time to shine.
The menu this year tipped slightly vegetarian, with holiday standards like sweet potato pie—obvs topped with mini marshmallows—and homemade stuffing lining up on the buffet line with more ethnic dishes like colcannon and flaky spanakopita lovingly prepared by guests. And of course, Mama Stamberg's cranberry relish, which—apologies to Mama Stamberg—we collectively refer to as the "pink shit" as we dress our Friday afternoon sandwiches with the spicy spread.
And about my wrist. This year I followed Chantal Martineau's advice and fixed a punch for the party. Yes, Thanksgiving is a food party in our household, with Manhattans and Robert Sinskey's finest flowing like gravy. I went with the Fish House Punch, published in the New York Times last week and adapted from "The Punch Bowl" by Dan Searing. It was a hit—the perfect balance of tart and sweet. And after squeezing juice from 32 limes and 12 lemons—with this instead of this—my metatcarpals are barking a bit. Nothing a little pink shit can't fix. Matt Rodbard, Food Republic Editor
---
My parents are on 10th St in Manhattan, a beautiful neighborhood to be in on Thanksgiving. It was just family, only about ten of us. This year, my sister-in-law's parents brought these amazing blintzes and pirogues from a Russian place in Massachusetts. That was our pre-dinner snack and was by far the most exotic twist of the day. My parents do a great job with a straightforward Thanksgiving meal and I don't mess with it. People want their holiday meals to be the same as always.
My only real contribution was the two quarts of reduced chicken stock from the restaurant, which made for some killer gravy. My family makes a pretty extreme version of the sweet potato casserole. This year we went a bit nuts with the marshmallows and it kind of exploded in the oven. Wine is also my main responsibility. I want to go low alcohol so we don't pass out at hour two. I brought some Cru Beaujolais and some reds from Anjou. The hit of the day, though, was an American wine I brought from the restaurant: a 12% alcohol Cab Franc and Gamay blend from Bebame in El Dorado, CA. It's an excellent American counterpart to those Loire reds that we were drinking.
I also brought along all the holiday desserts that we've been selling at Buttermilk Channel. I was very pleased with them. I think our pumpkin pie is just about ideal. After dessert, a beautiful walk through the Village and then it was back to Brooklyn and off to bed. Doug Crowell, Owner Buttermilk Channel
---
We don't have many Thanksgiving traditions in my family other than honey-glazed ham in addition to turkey. The ham is essential, it's my baby. I cook up a mean glaze and brush it on frequently during the cooking process. I am not allowed near the turkey, food writer and test kitchen chef as I may be. But I am allowed to make the gravy, as "young wrists were made for whisking." Chef-mother logic. Also, sometimes I get whacked with a wooden spoon.
Anyway, the one tradition we always uphold is listening to all 18 minutes and 34 seconds minutes of Arlo Guthrie's famed musical ramble "Alice's Restaurant." I asked my Bombay-born, but American-as-the-Guthries, father how long we've been preserving this custom, and was met with an informative "since the dawn of man." Everyone's a comedian.
Alice's Restaurant, if you recall, is not the name of a restaurant, "it's just the name of the song." The themes of this Vietnam War protest: misdemeanors, American blind justice, implements of destruction, "moral waivers," and, of course, huge piles of garbage that make you ineligible for the military draft. The chorus is so catchy you'll be humming it til Christmas. And Thanksgiving dinner is indeed eaten right around the halfway point.
We listen to it on my dad's iPod at 9AM (actually, that's how he wakes up the whole household to inform them that it is at long last Thanksgiving day) and again at noon on NPR. Should I chance to hear it on any other day, I immediately start salivating and craving turkey and cranberries, Pavlov-style.
This year, pepper-spraying cops and nonviolent hipsters abound, Alice's Restaurant finally means more to me than an addictive guitar riff and the promise of ham. Jess Kapadia, Food Republic Editor
---
This Thanksgiving marked the death of tradition. Due to work, for the first time in 33 years I did not spend the holiday with my Ohio parents and siblings. As Jews with little care for synagogue, food was our religion, with Thanksgiving our High Holy Day.
"Stop moping," my wife said. "We'll host Thanksgiving in Brooklyn."
Skeptical, I soon cottoned to the notion. We invited a gaggle of friends (and my wife's parents), and I channeled my sadness into the stove. The organic turkey was rubbed with paprika, pepper and salt, showered in olive oil, and baked to the color of a Palm Bach tan. I made a stuffing shot through with shiitakes and oyster mushrooms, as well as roasted-cauliflower soup haunted by green apple and horseradish. For an appetizer, I roasted garlic and plated it with oven-melted brie and a spicy cilantro-tomatillo salsa—the ingredients are painted on bread, creating a rich, earthy, fiery indulgence.
My friends also proved their prowess: chipotle-spiked sweet potatoes, crab dip freighted with crème fraîche, lemon-dressed kale salad, cranberry salsa and a curiously edible Waldorf salad (mayo, raisins and apples—oh my!). To drink, we drowned the day in crisp Victory Prima Pils, spry saisons from Logsdon Farmhouse Ales and healthy pours of sweetly potent W.L. Weller bourbon, which proved more popular than our pitcher of water.
The death of one tradition begets the birth of another. Joshua M. Bernstein, Food Republic Contributor
---
My most dreaded holiday has come and gone just like last year and every year before that. You see, I never really understood the obsession with eating that inferior bird. It's dry, gamey, and takes way too long to cook. Don't get me wrong, it's not that I don't have plenty of things to be thankful for. My T-day loathing is mostly rooted in the fact that I don't have family in this country.
When most people are jetting off to every corner of the U.S., I have no other option but to sit at home, drowning my miseries in a bottle of Bordeaux. With family scattered on the other side of the world, a long weekend is not enough time for a 5,500 mile trip. Instead, I enjoyed a peaceful night with an unusually quiet phone. A night sans the usual honks, beeps, screams and hollers heard from my tiny Manhattan apartment.
The highlight of my Thanksgiving? After an adequate amount of alcohol I decided to go for a walk during which I felt that I was alone in the entire city. With everyone busy being thankful while gorging on turkey, the usually bustling streets were placid, almost completely still. I felt that New York City belonged to me, if only for a night. Laila Gohar, Food Republic Contributor
---
When you consider yourself a foodie – and, despise the word as you may, reading this probably means you do identify with it – Thanksgiving can be humbling. Among your friends, you might be known as the one who throws the best dinner parties, but among family, knife skills and wine-pairing chops mean nothing. Aunt Shirley does Thanksgiving dinner each year because she has the biggest dining room. End of story.
Since moving to New York eight years ago, I've made Thanksgiving dinner nearly every year. In most cases, it was for friends too poor to fly home for both Thanksgiving and Christmas or simply disinclined to. This year, I went upstate to my partner's uncle's home. His aunt prepared all the sides you see on TV: sweet potato pie with marshmallow topping, canned green bean-and-mushroom soup casserole with fried onions on top, Stove Top-tasting stuffing. I studied the dishes as people like us are wont to do, mentally correcting and re-seasoning. Meanwhile, I'd brought a weighty, slightly tannic Gewürztraminer from Alto Adige that no one touched, opting for the boxed wine instead. When I urged the cook to try it, she added ice and smiled politely. Reality check, I guess. So, I dosed my plate with gravy, shut off the bitchy foodie part of my brain, and ate. And ate. And polished off the bottle I brought myself; it paired beautifully. Chantal Martineau, Food Republic Contributor