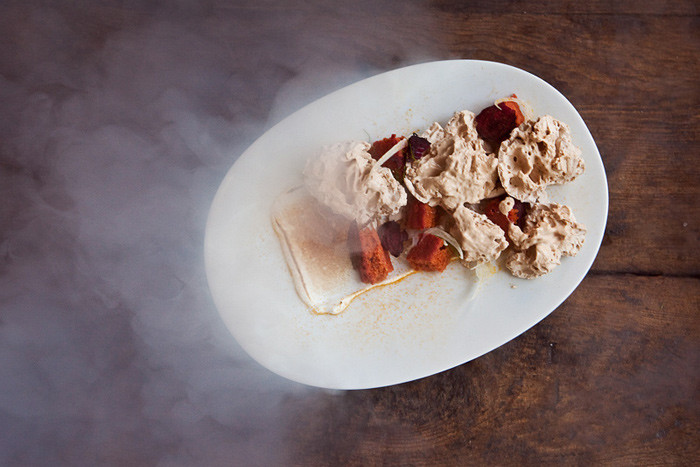 Welcome to the ninth installment of the Food Republic serial, The Worst Idea Ever?, in which chefs Seth Siegel-Gardner and Terrence Gallivan set out to open a restaurant in Houston, Texas as Pilot Light Restaurant Group. Today's topic: Hustling.
How do we keep an income without a restaurant? In our industry, if you are between jobs and trying to make ends meet, the constant activity of cooking anywhere and everywhere is called hustling. One of the definitions of hustle in the dictionary is "to act aggressively, especially in business dealings."
While we have no intention of taking advantage of anyone, figuring out creative ways to continue cooking while keeping our heads financially above water, has been a process of self discovery — admittedly hustling sounds much cooler than it really is, at least to us. I wish we were more like Paul Newman's character in the movie The Hustler, at least then we would be spending our days in pool halls and not overpriced grocery stores.
A few ways we continue to cook are probably the most obvious; shared events with other chefs and more frequently private dinners for people in their homes. This isn't so bad and it is a good way to make an income and meet some potential future customers (usually as a bonus there are some very decent wines that we get to taste at these events).
In addition to doing one-off events and private in home dinners, we've setup a speakeasy restaurant, for lack of a better term. A place where we can work on recipes for our future restaurant, hold small intimate tasting dinners and invite our friends to hangout and talk shit. While this may seem like a pretty sweet setup, and we can affirm that our experience in this temporary space has been incredibly interesting, we are still not quite where want to be.
To be perfectly honest, the longer we are out of the kitchen the harder it gets. As simple as it sounds, we just can't wait to get back to work. Don't get us wrong we aren't complaining or asking for pity. This just seems to be a side of starting a business that you don't hear about very often.
And while Seth and I are willing to do whatever it takes to get our restaurant up and running, this time is a pivotal one. We feel like we are getting closer to our goal, but the instability of our day-to-day is a completely novel experience and not one that I think either one of us wants to repeat. What keeps us going? I like to think that we will look back on all of this (hopefully in the near future) and hate our past selves for complaining, because in a years time we will be so busy we'll wish we were back to hustling.
So although it will probably be a pretty low key Hanukkah and Christmas at the Siegel-Gardner and Gallivan homes this year, we are counting on a very happy new year.