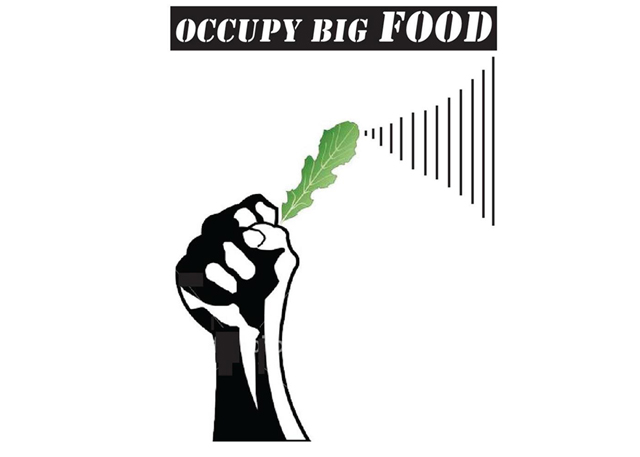 Saturday's chilly, but sunny, weather proved much more conducive to the Occupy Big Food protest. The last was postponed due to crappy weather. A group of about 50 gathered at the big red cube opposite Zuccotti Park carrying signs with messages like "Lettuce beet the system" and "Zucchini Park."
The protest was organized in part by Erika Lade, a student of the Food Systems graduate program at NYU and most of the young people present (myself included) were also part of the Food Studies program. Lade told me in an e-mail that, "We started Occupy Big Food because we thought it was really important to bring the discussion of food to what is happening at Occupy Wall Street. The goals of OWS and OBF are totally aligned — we are against the corporate takeover of our food system."
A fellow NYU student, who would only give her first name Katrina, told me that although she does not do a lot of protesting, the more she learns about the way the food system works, the angrier she gets and the more she wants to be a part of changing it. Meanwhile, another NYU student, Stephen Wade, offered police Lady Apples ("like a crab apple, but sweeter") from Toigo Orchards. The police refused his offer and remained steadfast in their vigilance over the crowd.
I also spoke with a group who were not students, but members of a food service workers union, Unite Local 100. The members who were present are currently food service workers for large capitalist corporations, such as Meryll Lynch and Bank of America. These workers "at the end of the food system" wanted to voice their fight with large food corporations, such as Aramark, for secure jobs and respect. Also in attendance were Gregorio Pedroza — a seasonal line cook at the Marriott Marquee — and Nancy Huehnergart, Executive Director of New York State Healthy Eating and Physical Activity Alliance.
The diverse group marched into Zuccotti Park, which is now devoid of any tents and The Kitchen, but still filled with protestors. Now also framed by barriers with police stationed at the entrances, protesters with signs were asked to remove and handover any sticks attached to them. Chanting, "Whose food? Our food!" the parade of protesters made their way to the steps, where a group of diverse speakers voiced the issues at hand to a very receptive crowd.
Co-organizer, food writer and nutrition expert Kristin Wartman kicked things off by introducing the crowd to the ideas behind Occupy Big Food. She expressed the movement's solidarity with Occupy Wall Street and the belief that food corporations were making Americans sick. She laid out the three main goals of Occupy Big Food: To raise consciousness, pressure large food companies, and organize and unify an alternative food system, by boycotting corporate food and supporting local food.
Celebrated food advocate and NYU professor, Marion Nestle, called for food corporations to be limited and communities to take charge. She also pointed to the eminent New Farm Bill, which she says continues to protect corporations in its latest draft.
President of the Unite Here Local 100 Union, Bill Granfield, voiced the union's cause to the crowd, followed by Ryan Erhart, a PhD candidate in Geography who said that although the New Farm Bill would no longer subsidize millionaire farmers, farms earning $950,000 would still be subsidized. He also pointed to congress' plan to drastically decrease SNAP funding and urged the crowd to take action against this.
The rally ended with a humorous speech given by chef Erika Wides of Let's Get Real, a radio program which attacks unnatural and unhealthy foods. She said that big food corporations feed the public "foodiness," something similar to food, but not real food, à la Colbert's "truthiness." Wides urged action from the ground up, and closed her speech with "Big Food is feeding you back your own shit!" a sentiment that was greeted with laughter and cheers from the crowd.
According to Occupy Big Food's blog, the group is "already planning our second rally which will feature some exciting performers." We will be sure to stay tuned and keep you updated.
---
More on food politics from Food Republic: