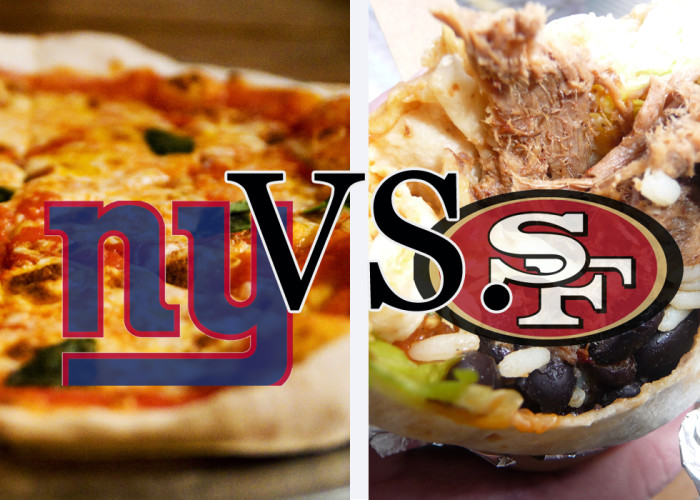 Tailgate Toe-To-Toe picks a weekly NFL game and analyzes the matchup—on the field and in the parking lot.
There's a reason that the Teenage Mutant Ninja Turtles call the New York City sewer system home – the pizza is just that good in the Big Apple. Italy can boast the creation, Chicago can brag about how deep their crust is (frankly, I think they're compensating for something), but 9 out of 10 doctors agree that a slice in Manhattan is the superior variation of dough, sauce and cheese. Although California Pizza Kitchen makes a dynamite barbecue chicken salad – there's only one Original Ray's and about 100 other joints claiming to be the Original Ray's to reap the profits.
It's challenging to stand out as an individual tailgater, but when the Wall Street Journal puts your picture on the front pagethe day after the NFL lockout ends, you're kind of a big deal. When SPNNewYork.com compares you to Jets' icon Fireman Ed, legend of your fanaticism grows. Scott Lorberbaum is easy to spot at New York Giants games – he's the only one wearing a custom-made Madison Hedgecock jersey, a G-Men construction hat, Zubaz pants, a bull collar and any other grid iron accessory he can get his paws on.
Amazingly, it all stays relatively dry as he funnels an endless supply of beer before the game. His tailgate is loud, it's aggressive, and the smell of Lobel's "14 cut" extra thick bacon – a staple at every Lobry Kong tailgate – welcomes Big Blue fans to relish the festivities alongside a guy who'd rather be on the field. Once a year, Fat Scott and his posse bring live lobsters to the Met Life Stadium parking lot and destroy the shellfish as Justin Tuck would destroy the game's opposition.
Ironically, the best Mexican food I've ever tasted was in California – and I've been to Mexico. What distinguishes a Mission burrito – a San Francisco invention – from others is the quantity, quality and variety of rice and additional side dishes included in the wrapped tortilla. The burrito gets its moniker from its humble origins in the city's Mission District. Since gifting the altered, classic dish to the world, almost every Mexican fast-food joint offers a knock-off of the Bay-Area product rather than the burrito in its purest form, which is simply meat and refried beans. Yes, the marketing campaign for Rice-a-Roni has been pedaling lies for decades as the Mission burrito is the true San Francisco 49ers treat.
Unfortunately for the Club 49 Tailgate Crew, the team is curbing pre-game parties at Candestick Park due to a violent outbreak during the pre season. But loyal fans, who stuck out the years of misery following the Montanta/Young/Rice dynasty are enjoying a 7-1 season under new head coach Jim Harbaugh nonetheless. Club 49 is so obsessed with their ever-growing festivities that they even tailgate for the NFL Draft and training camp, earning them the honor of Monster Park 2007 Tailgaters of the Year. With a rotating menu of pre-game favorites like ribs and wings, Club 49 welcomes one and all to the tailgate – but not "moochers." Don't show up with a bag of chips and a 6 pack, but rather a substantial offering such as deviled eggs or potato skins – what is this amateur hour?
The Giants were supposed to be 6-2 at this point of the season – but after last week's déjà vu victory over the Patriots, Eli Manning's squad faces another tough test in their "murderer's row" segment of their schedule. No word on whether or not the offense will get Hakeem Nicks back, and Ahmad Bradshaw's return seems even more unlikely. Still, the team is anchored by a defense that has already lost Terell Thomas and Jonathan Goff, countless reserves in the secondary and at the line, and is frustratingly plagued by a less than 100% Justin Tuck. Eli's MVP-esque season has held the offense together and the emergence of Victor Cruz, Jake Ballard and the never-mentioned OT Will Beatty has given the Big Blue sole possession of 1st place in the NFC East.
Alex Smith has been a game manager, which is just fine since the offensive line has been opening holes for Frank Gore all season long. The team ranks 6th in rushing yards, posting 137.6 a game. Patrick Willis anchors a defense that holds the opposition to just over 70 yards on the ground per game. That's going to make teams reconfigure a game plan and look to a passing attack for a W. The Niners have compiled impressive wins over The Lions, Bucs and Eagles thus far and hold a commanding and unthinkable 5 game lead in the NFC West.
This is a statement game for a team trying to claim their stake as the wide-open-race to be #2 in the NFC. The Giants best chance is to rely on Manning's arm and hope the game gets out of reach fast, forcing Alex Smith to force passes to Vernon Davis and Michael Crabtree early. GAME PICK: Giants 24, 49ers 17
Vince Vaughn once said, "Who gives a shit? It's a great band, it's a bad band, it's like pizza, baby. It's good no matter what. There's music in the air!" But New York pizza happens to be phenomenal. Tight one, but New York takes the T4 Sweep. FOOD PICK: Pizza 28, Mission Burritos 23
---
More tailgating on Food Republic.