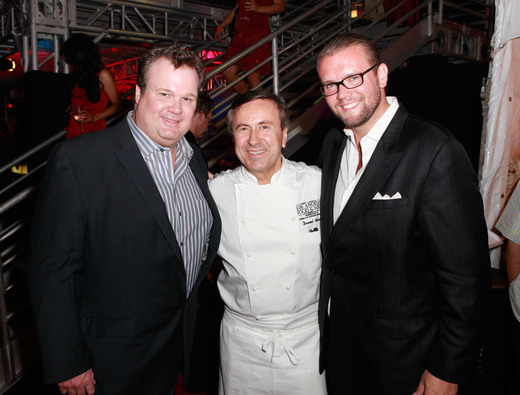 Sometimes these multi-day food events feel like giant eating conventions, complete with passes on lanyards, esoteric seminars (Cult Wines!), and an untold number of hotel hook-ups. If Thursday night was Los Angeles Food & Wine's keynote address (read our report here), then Friday was the day for breakout sessions. With 26 different events on the docket, attendees had some tough decisions to make. Do you go downtown to the WP24 lunch, where Morimoto will be guest chefing, or do you hit Lukshon for Sang Yoon and Chris Cosentino's so-wrong-that-it's-right "Meat in the Middle" pig partnership? Is it okay to start the day with a "Caviar, Bubbles, and Bacon" seminar before heading to a three-hour lunch? The answers lie in your food-loving hearts, but four out of five doctors agree: if you attend as many events as you want to at LAFW, you're going to die of over-porcination.
LUNCH
I opted to start my day the meaty way with lunch at Wolfgang Puck's venerable Beverly Hills steakhouse CUT. Executive Chef Ari Rosenson teamed up with seafood stalwart Paul Bartolotta for a four-course meal that showcased each chef's sensibility beautifully. The event began with an hour-long sparkling wine pre-party, where the never-ending plates of passed apps threatened to take up of all of my stomach's attention. Rosenson's house-made Kobe beef pastrami with gruyère on dark rye was the classiest reuben you've ever seen, and Bartolotta's rabbit loin with artichokes was proof that no matter how cute an animal may be, it can also taste really good.
Lunch itself started with fish and then things got really anti-vegetarian. Bartolotta claimed the first two dishes of the afternoon and Rosenson finished things up with two more. Among the highlights were Bartolotta's perfectly grilled Sicilian amberjack with radicchio and anchovy sauce and the Grilled New York strip half of Rosenson's duo of Kobe beef from Snake River Farms. All four courses were paired with pretty exceptional wines, but my favorite was the 2008 Cannihan Family Exuberance Pinot Noir. Even with the challenge of serving a full dining room four identical courses, the staff at CUT handled things with the grace you'd expect from a restaurant of that caliber.
Dining at CUT during the day was a really fun experience. Wolfgang Puck himself was in the house and the room was so bright and airy that it worked beautifully with the Beverly Hills sunshine. While the celebrity quotient was much lower than Thursday's Red Carpet Premiere, I saw Top Chef Master Floyd Cardoz chowing down in a nearby booth as a civilian and Kathy Griffin was taking pictures with fans and enjoying the meat fest as well. Apparently, she was in attendance last night and I just didn't see her. My apologies, KGriffs.
DINNER
L.A Food & Wine offered something for everyone with three different dinner events on Friday night. Top Chef devotees/bivalve lovers had the option of spending some quality time in the presence of Tom Colicchio at his California Clam Bake, while fans of tiny bubbles and tiny fish eggs had the pleasure of consuming champagne and caviar at the aptly named "I Heart Champagne and Caviar" event. The most exclusive experience of the evening, however, was the "Tribute to a Culinary Master: Daniel Boulud," and that's where I decided to head for the night.
The decadent Montage Hotel in Beverly Hills provided the perfect setting for an evening that paid homage to a true culinary icon. LAFW co-founder Dave Bernahl set the tone with his opening remarks, calling Chef Boulud "an artist, a chef, a mentor, a father, a friend, a philanthropist and an outstanding individual." It should be noted that Boulud is also a butcher, a baker and a candlestick maker.
In honor of the master, friends of Boulud came together to present five courses all paired with wines from some of Boulud's favorite wineries. Rory Hermann of Bouchon Beverly Hills plated the first course: a Dungeness crab salad topped with Santa Barbara sea urchin and dotted with pickled mushrooms, Fuji apple, and young celery leaves. The second course came courtesy of Bartolotta, who served a red mullet garnished with capers, olives, tomatoes and roasted red peppers. Like his Sicilian amberjack served earlier in the day, the mullet proved once again that this man knows how to cook fish. Course Three was created by Boulud burger buddy Sang Yoon, who also helms the famed Father's Office and its unchangeable burger. He offered up a seared tenderloin of Iberico de Bellota pork and called Daniel "another asshole French chef… who turned out to be the opposite of what I thought," to which Boulud responded "you're an asshole, get off the stage!" Ah, the French. So direct. So concise. The final entrée course was a simple venison loin in sauce poivrade from Patina chef Tony Esnault, which was followed by a beautiful dessert of roasted pear with brown butter ice cream and fleur de sel pecans from pastry legend and frequent Boulud collaborator François Payard.
After each course, the chefs and winemakers got up to share their memories of life with Boulud, which all seemingly ended with Daniel dancing on a table with a huge bottle of champagne. When the dinner concluded, a video was shown to the thinning crowd with more reminiscing from some of Boulud's closest friends, who told even more stories about Boulud's table dancing skills, but also described his immense influence on chefs all over the world. Finally, the guest of honor got up to pay tribute to those honoring him and, while he didn't dance for us, he did make a point of saying how important it is for him to "keep inspiring the next generation." We'd have to say that his inspiration will be felt long after he decides to hang up his toque.
AFTER PARTY
Night owls who didn't get enough to eat at the evening events headed back to L.A. Live for a late-night soiree called "Heat," where spicy foods promised to give everyone a healthy dose of heartburn before the main events of the weekend. I'd tell you all about it, but the Boulud dinner ran an hour long and there's something about spicy food past midnight that just sounds dangerous.