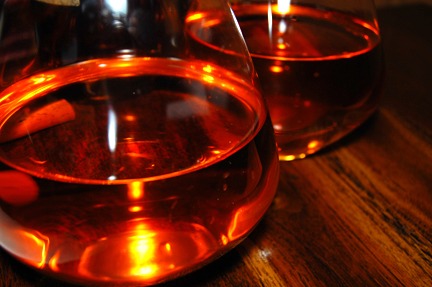 Red or white is typically the first question you'll be asked when you're about to order wine. As the category has improved and shifted from gauche to trendy, rosé even now gets thrown in as an option. But there's a fourth option you may have heard about. Hipster sommeliers around the country are putting orange wines on their lists. Be forewarned: these aren't the easiest bottles to find. And they rarely come cheap.
"Orange wine" is something of a misnomer, which is why it can be difficult to unearth. The term gets tossed around by wine geeks, but if you're looking for such a wine at your local bottle shop, you should be searching the whites section. Orange wine actually refers to white wine that has been aged for a period longer that normal on grape skins, seeds and stems, which are where the tannins live. The result is a wine with a coppery color and a tannic character. Think of it as white wine for red wine lovers.
There are producers of orange wines who ferment and age their juice in open barrels, partly oxidizing the wine. (Don't be afraid: yes, the oxidation of wine can be a bad thing when too much air gets into the liquid and causes it to go off. But it can also be a wonderful thing if done intentionally; just think of sherry.) Other producers go as far as to ferment the wine in clay amphorae that get buried underground — a process that can impart even more burnt-orange color to the wine. These wines may be hip and new to a lot of people, but they hearken back to some pretty ancient winemaking methods.
Orange wines generally come from the Brda region of Slovenia, the Friuli, Lazio and Umbria regions in Italy, and the Loire in France. But you can also find orange wines made in California and New York State. Regardless of where they are, what the producers of these wines have in common is that they tend to be small vintners, who practice a very hands-on, old-fashioned style of winemaking. The predictably hefty price tag on the wines (it's rare to find a bottle for less than $25 in the shop) is usually justified by the painstakingly artisanal process used to make it.
The place that turned me on to orange wines was The Breslin in New York, where it was served to me by one of the aforementioned sommeliers who can only be described as shamelessly cool. She had short, bleached hair, shaved on the sides, and tattoos. When she realized my dining companion and I considered ourselves on the geeky side of things when it came to wine, she dropped some of her tableside protocol (and a couple animated F-bombs) and leaned in close, recommending the 2004 Damijan Kaplja Bianco, describing it as "fucking amazing." Indeed, it was. Cloudy and funky on the nose, it had fruit and flower flavors, and great acidity. Yet, it stood up and saluted, like a red.
It's rare to find more than one or two orange wines on a menu. At The Tasting Kitchen in Los Angeles you can order the Movia Ribolla Gialla 2007, from Slovenia, by the glass. 13 Celsius in Houston has been known to pour orange wines by The Scholium Project, in California. Lately, several restaurants and wine bars have started featuring entire orange sections on their wine lists. Look for nutty, earthy Tenuta Grillo's 2005 Baccabianca by the glass at The Tangled Vine, in Manhattan; and full-bodied, spiced
Cascina Degli Ulivi's Montemarino 2007 at St. Anselm, in Brooklyn – both wines are made with the Piedmontese grape Cortese. St. Anselm also has Channing Daughters' 2008 Ramato Pinot Grigio, from Long Island, in stock.
Now, don't be surprised if your local wine merchant or the sommelier at your favorite wine bar has no clue what you're talking about when faced with a request for orange wine. As I mentioned earlier, these wines aren't easy to find. But they are worth seeking out. Like discovering a new dimension, finding that fourth wine color can be a trip. And you thought pink wine was fun.