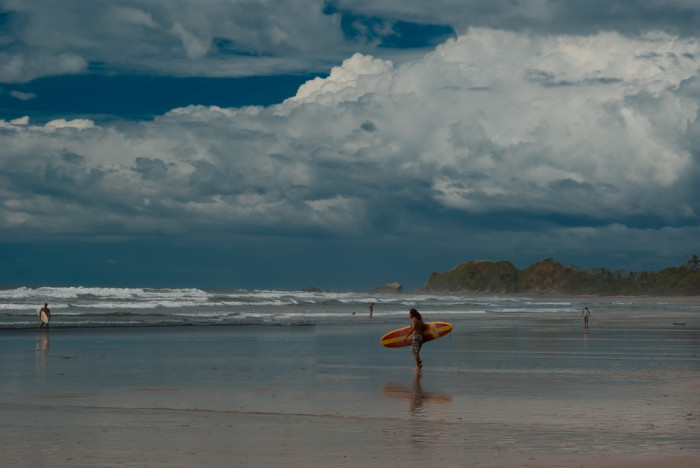 As Marc Week continues, we asked the globe-trotting chef for his five favorite places to visit outside of his home base in New York City.
Rome
I was born in Italy and one of my favorite places is Rome. I lived there for almost three and half years and it's where I grew up as a kid. Rome has a little of the north and the south in there and the food is fantastic. When I was a kid I lived up on the Gianicolo and used to walk down the to the Trastevere. There's all these bars and restaurants and it's just awesome to sit in one of the piazzas and have a little Peroni and go out to eat at one of the restaurants there.
In Rome, you don't go to the fancy restaurants. You go to the trattorias, plain and simple. Everybody's making good food there. You don't have to go high-end in Italy. The carbonara, man, that's what you want. That's all you need and it's not complicated. That's what I love about the ingredients in Italy. They don't fuck with them too much.
New Orleans
My director of operations got married and we took him to New Orleans for his bachelor party. Everybody used to say New Orleans this and New Orleans that, and I was like "what the fuck is the big deal about New Orleans?" We went there for four days and had a blast. We went to Commander's Palace for brunch and David knew the beverage director there and he hooked us up. They showed us the cellar, the whole nine. We went to Jockamo's pissed out of our minds, eating deep-fried po boys and shrimp and grits everywhere, and then getting banged up and walking around the main drag, which is hilarious. I've never been to a city where I've just seen people falling down drunk. Cochon was awesome. I had an amazing bacon and fried rooster sandwich.
France
The nice thing about France is that you can dibble and dabble in high-end restaurants. You can go to a three-star Michelin restaurant and it's like whoa. But I'd rather have the more rustic, authentic thing. There's a place in Paris called Jean Pierre et Phillipe in the 16th [Arrondissement], and the guy who owns it was my old sous chef when I worked in Paris at a one-star Michelin restaurant. I worked there for two years, and he's a fantastic guy and they have a great wine list.
I find that the food is a little hit or miss in Paris. It kind of varies—there are some pretty crappy restaurants there. When you go to the South of France, like Aix en Provence, you get a little bit more authentic places. I love the South of France; my grandparents used to go there every summer.
Costa Rica
I went to Nosara, where we rented a house with some friends. We went surfing the whole time and food is not the main goal. It's really all about the surfing. It was kind of funny, going to the grocery store in the town. It was literally four pieces of wood with a piece of tin on top and a brick wall. And it was fun going there and buying some fresh ingredients that they had, which weren't too many. And then there was like some sausage and bologna in the freezer, and then we'd go back to this house and I was the only chef so I'd just whip something up like potato and bologna salad. It was fun, it was really fun.
Montauk, Long Island
I have a place out in Long Island and I'm about a half hour away from Ditch Plains, where I usually go surfing. I love going out there in the summertime. The kids, they boogie board on the beach there, then we'll go out to dinner at Gosman's, which is an old-school hangout place. I like Montauk. It's very blue collar, not in a negative sense, but in a very relaxed sense. There are some elements coming in now that aren't so…it is starting to change a bit. But it is so far away that I think it should be able to stay the same. I hope.
---
More stories from Marc Week on Food Republic: