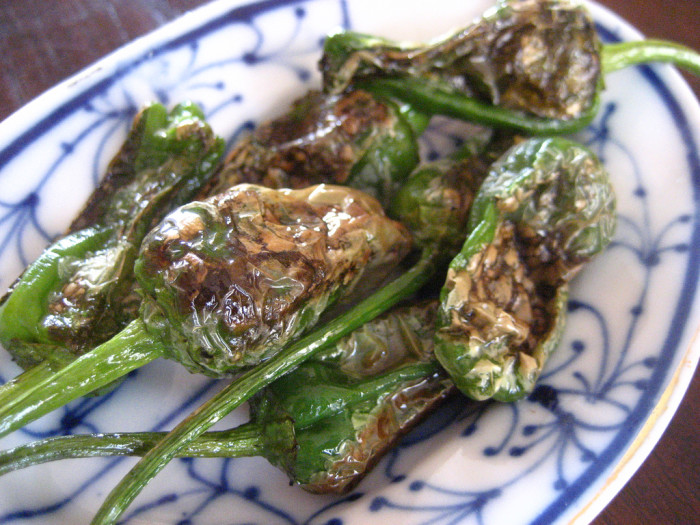 Lush green hills crowned with thick, white clouds make for a backdrop that looks nothing like the rest of Spain. Welcome to Galicia, tucked up in the northwestern part of the country, but feeling somewhere closer to Ireland. Its fisheries are more active than any in Europe, making Galicia one of the country's most prolific food regions. Regional specialties include pulpo gallego (boiled octopus drizzled in olive oil and sprinkled with paprika), percebes (tall, black barnacles harvested at great peril along the Costa da Morte), the cross-bearing flourless Torta de Santiago, and suggestively shaped tetilla cheese. But no food from the region is as well-known and revered as the Pimiento de Padrón.
These small green peppers, brought over from Mexico to the Spanish town of Padrón in the 16th century by traveling Franciscan monks, are usually fried with olive oil and dusted with coarse salt. They have an intensely "green" flavor, but surprisingly, most of them are mild. People order them in tavernas with a beer or glass of albariño; they come piled so high on a plate that there's too many to count.
About 10 or so into the mound, however, you'll bite into something completely different. Something severely spicy. You can call it Spanish roulette, which Seamus Mullen has done at his just-opened restaurant Tertulia in New York City's West Village. It invokes the thrill of eating the peppers, knowing that the next one could be the one to burn off your face. Mullen describes his first experience eating them:
"I was 16 or 17, in Spain. I saw these little green peppers that looked like jalapeños stacked up on a plate, covered in sea salt. People were just munching on them, and I couldn't believe they could eat the whole thing. Then I had one, and was amazed at how un-spicy they were. Until I had one that was really spicy. It's a very aggressive kind of heat. It's not like a burning hot in your mouth; it's a heat that takes your breath away, takes your voice away. I've been eating them for years."
There are all sorts of theories about the 1-in-10 rule when it comes to Padrón spiciness. The accepted theory is that the peppers get increasingly hot as the season progresses. Harvest in June or July and they're mild. Wait till August, September or October, and you're playing with fire. Mullen says that another theory involves where the peppers are grown. If a nearby field is growing, say, jalapeños or some other spicy pepper, cross-pollination could account for the occasionally spicy Pimiento de Padrón.
At Tertulia, he prepares them the traditional way, which is super easy, he says. Just pick up some pimientos de Padrón at your local farmer's market. (Don't look so shocked — a couple farms in New Jersey now grow the peppers, so the Galician specialty is now totally local for those in NYC!). Then, fry them in some well-heated olive oil for about 30 seconds or until they start to blister.
"It's really important that the salt has a good crunch to it, so using a flaky salt like Maldon is great," explains Mullen. "It's the easiest thing in the world."
And a game you'll love to lose.
---
More stories about Spain on Food Republic: