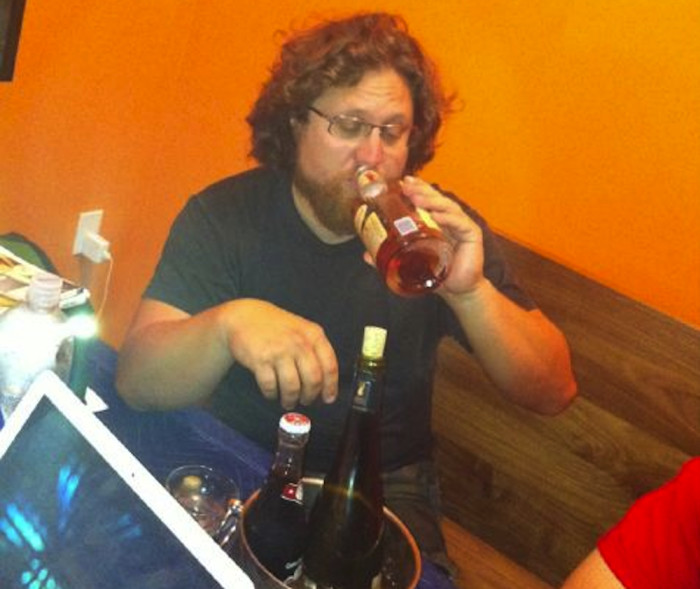 Drinking booze is a good time. Drinking and eating together is even more fun. And the most fun I've ever had pursuing these two activities simultaneously has been at lively, open-air restaurants in northern Thailand. I've been eating and drinking in Thailand regularly since the mid-'90s and, until now, the time I have spent there has been most influential in the way we approach cooking at the Fatty restaurants. I guess it was only a matter of time before the Thai relaxed approach to drinking in restaurants made its way into our establishments.
In most of my favorite places in Thailand, when you order whiskey or rum you don't order by the glass, you order by the bottle. This is a sensible approach, as one glass is simply not enough. And what could be better than having the bar brought to your table? This is how it's done in Thailand: You sit down at a table, order some food and a bottle of Sang Som or Mekhong or whatever, perhaps you also order a beer, and out comes a small side table on which your bottles are placed, along with some soda water, limes and a bucket of ice. More often than not the waiter fills your glass with ice, pours your first glass of booze and then, well, it's your party. Pour al piacere. And that's exactly what it should be.
Dining out should be fun, and it's always more fun when the booze is flowing. As far as I'm concerned, I like being in control of my whiskey. I like to pour small shots, keep it cold, quaff it and pour again and again, often in a rapid succession that outpaces that of my dining partners. This is not easily done when you have to order drink-by-drink from a waiter or bartender.
For years we've discussed the idea of being able to provide our customers with some version of this relaxed style of bottle service. More often than not it's been a space issue, but there's also the stigma. In New York in particular, it's almost synonymous with a crass club mentality, where inflated bottle prices are tantamount to a month's rent. Club bottle service concerns itself not with the combined experience of enjoying food and booze together, filling your belly and washing down some good food with life water. I have never been a fan of this style…albeit I have to applaud the ability of successful promoters, preying on some folks' desperate need to be "in" or "cool," and thereby selling this idea to customers.
We, Jori and I, the Fatty Crew, our customers and most people everywhere just want to eat, drink and have a good time. And we have, at long last, found a place to play with this casual idea of bottle service, in the style we have enjoyed in Thailand. At Fatty 'Cue West Village, we're selling bottles of booze…and we're calling it Thai Style Bottle Service. The cost is the same as if you were to drink a couple of cocktails with your friends and, depending on what you buy, could even be cheaper.
We're offering bottles in the simple, classic manner I described above (soda, citrus & ice) and, of course, there are some offerings where we put our own little spin on it. Adam Schuman, the man at the helm of the Crew's beverage program, has been making a variety of special sodas: strawberry-long peppercorn, smoked pineapple and yuzu, and blood orange-Indian cinnamon, to name a few, which we recommend combining. You can also have standard cocktails mixed for you tableside using your hand-picked (literally, from a cabinet) bottle, then be free to pour that cocktail at a pace to your liking. Shit, we've even got the option to order a bottle of booze, a bottle of pickle juice and a six-pack of beer. Picklebacks at your leisure. It's a party kit! Hang, drink, eat.
Like most New York City restaurants, we're short on space in the dining room (and everywhere else, for that matter), so we only have four or so tables to which we can roll up a small side table. If people dig on it, perhaps we'll find a way to add more. But even if you're sitting at a small table you can order a bottle. And to make it more user-friendly, we've stocked up on 375mL bottles, making it less of an investment both monetarily and on your liver. There's always that fine line between just enough and too much. A line I've crossed once or twice.
And, just like in some spots where I've hung out in Thailand, if you decide you want to order that super-rare, ultra-expensive bottle of, say, Pappy Van Winkle 23-year-old bourbon, we'll commend your bold choice by giving you a shot at playing DJ…for a little while, at least. In this case, all we ask is make sure you party responsibly, and by responsibly I mean no shitty music. To your health!
-Z&J
More Alimentary Canal on Food Republic: