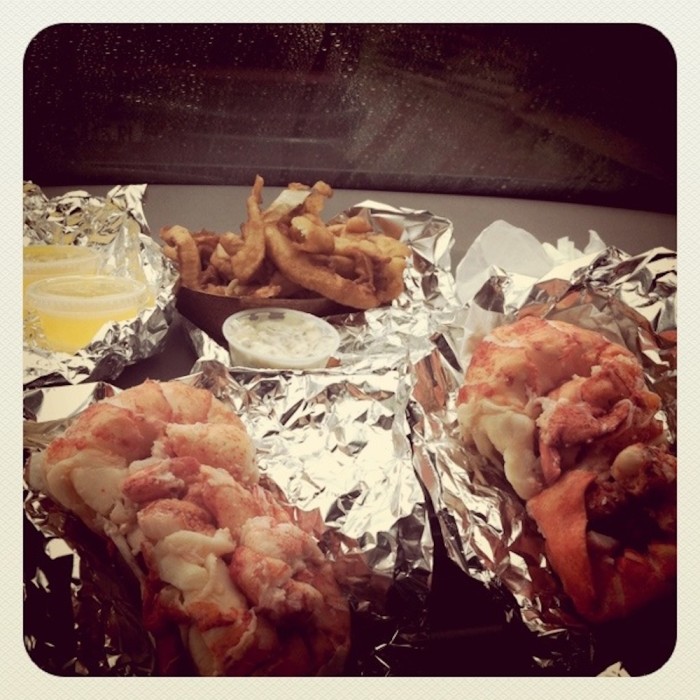 It did not rain during my recent wedding in Portland, Maine. But two days later the skies turned grey and menacing, and rain dumped down in fat, ferocious drops.
"What are we going to do?" I asked my wife. Post-nuptials, we were decompressing at a lake house 20 minutes north of Portland. It was a beautiful, tree-shaded spot, but there was one snafu: Her family was staying there too. On sunny days, we could canoe around the lake. On rainy days, well, we were confined to a small cabin with a rapidly diminishing supply of Stowaway IPA and Allagash White.
"Let's go to Red's Eats," she said, snatching a set of car keys. "I want to eat Maine's biggest lobster roll."
For lobster-roll lovers Red's Eats is Mecca, a crustacean temple worthy of a painstaking pilgrimage — the only kind come summertime on Maine's scenic Route 1. The road slowly winds up the state's rocky coast, through postcard-perfect towns such as Freeport (home to L.L. Bean!) and Wicasset. Haven't heard of it? That's to be expected. There's not much to this bite-size town save for a few stoplights, ancient architecture and Red's Eats.
Stationed a stone's throw from the Donald E. Davey Bridge is a red-and-white-striped roadside stand that's about the size of a Dodge Caravan. Originally founded in nearby Boothbay, Maine, in 1938, Red's relocated to Wicasett in 1954. Since then, the tourist-season destination — it's open from roughly mid-April to mid-October — has attracted tens of thousands of diners eager to tackle Red's signature dish: an entire lobster carcass is stripped of its flesh, which is then shoehorned into a griddled, split-top hot dog bun — a feat as seemingly ungainly as Andre the Giant sliding into a string bikini.
Since it was dumping cats and dogs, my wife and I assumed that Red's legendary line would be shorter than usual. No such luck. There were 50-odd folks queued up to order, families with toddlers and RV-driving grandparents all huddling beneath umbrellas.
I wanted to head back to the lake house. "It's supposed to be Maine's best lobster roll," my wife pleaded. I agreed to wait. In love, sometimes you must compromise.
Customers sludged forward. Forty-five cold, wet minutes passed before we reached the cashier. "Two lobster rolls, please," I ordered, paying the day's market price: $15.75 apiece. Behind the window, I watched as a cook took two griddled buns and filled them with colossal lumps of red-and-white meat, claws, knuckle, joint and even a whole tail — naked, with no mayo tainting the lobster. The rolls were wrapped in foil, then delivered alongside containers of warm drawn butter for dipping. "Take some of these, too," the counter lady said, passing us a handful of wet naps.
Since the outdoor seating was rain-drenched, we rushed our rolls to the car. We turned our dashboard into a dinner table, then unwrapped the foil. "They're so big," my wife exclaimed, as if she were auditioning for the lead role in a porno flick.
She was right. The rolls were gargantuan and ungainly, flesh spilling out willy-nilly. We plucked wayward chunks, dipping them into the luscious butter. The flesh was firm and fresh, as cool as the nearby ocean waters. We luxuriated in the tender tails, then dunked the rolls in the butter, greasy rivulets running down our chins. "That's the best lobster roll I've ever had," my wife said, reaching for a wet nap. Sometimes the best course of action is agreeing with your significant other.
Where's your go-to spot for lobster rolls? Let us know in the comments below.
More on lobster at Food Republic: