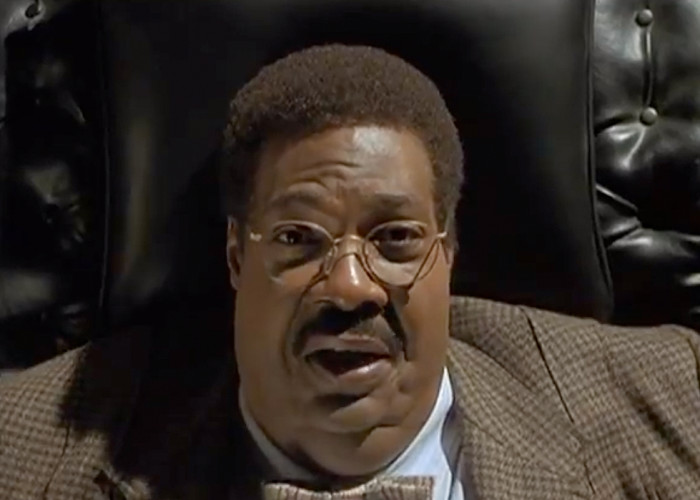 It's rare to find something everyone can agree on. Puppies are cute. Murderers are bad. Fried chicken is delicious. All fair, generally agreeable statements that still couldn't get 100% approval ratings.
Opinions are like iPods. Everyone has one and wants theirs to drown out whatever banal crap is coming out of your headphones.
Granted, musical tastes and moral codes regarding baby bulldogs, gun-toting racists and greasy poultry fall on very opposite ends of the spectrum. But the logistics of disagreement are the same. That is why it's so difficult to make a guest list for my ongoing dinner parties, with a revolving door of friends, familiar to me only by their recognizable faces and catch phrases. Yet, I believe as far as opinions go, tonight's 3 guests are as close to a 100% approval rating as fried chicken.
Dinner is as dinner does, according to my mentally handi-capable invite, Forrest Gump. Dinner is the highlight of Professor Sherman Klump's day, so I'm happy to indulge the brilliant man in my home. Dinner is a chance to put on a nice floral-patterned dress and old-lady perfume for my last guest, Mrs. Doubtfire.
Forrest ran all the way to my house. He arrived very early and I assigned him the menial task of watching a pot of boiling water…to see if it would actually boil while being watched. His razor sharp focus on the task started out funny and transitioned to…sad, really.
By the time Mrs. Doubtfire popped through the front door, Gump was 15 Dr Peppers deep. The lady-guy went straight for the scotch and the quick quips, delivered in a thick Irish brogue, were an instant icebreaker in the previously silent kitchen. Having that soothing voice behind me while I worked was like sitting in on an NPR program, broadcast live from the stovetop.
Sherman Klump also ran to dinner. So obviously, he got there late. And sweaty. And out of breath. And, to put it bluntly, smelling foul, like something died in my air conditioner unit. I had no time for his staggered, baritone apologies. There were hungry mouths to feed, dammit.
FIRST COURSE
When you promise your party some surf 'n' turf, I believe there can be some discussion about which element starts the meal. I take very little stock in the fact that "surf" comes first in the rhyming phrase. What's wrong with a beef tartare followed by a pound and a half lobster? Or maybe a meatball slider and a nice pot of mussels to follow? Having said that, a shrimp appetizer…with anything but Vietnamese spices to avoid flashbacks…inspired by the Alabama native, sets the stage for the rest of the meal.
Unfortunately, I couldn't find me no Bubba-Gump brand shrimp as the key ingredient. Had to do with whatever Whole Foods was pushing. I took Forrest's mouthful of shellfish as a sign of home-cooking success. Mrs. Doubtfire marveled at the shrimp on her plate, acting out a one-person Little Mermaid skit for the table's mandatory enjoyment. Sherman put a pinch of salt over his dish – who does he think he's kidding? In an attempt at encouragement, I let him know the shrimp was low fat and would make him strong like Hercules! Hercules!
SECOND COURSE
The turf contribution was devilishly unhealthy. It's the Buddy Love version of osso buco. Sherman hung his head low, muttered that "ho-hum" response of indulging just this one time. He's the kind of professor that doesn't fail a single student, and his class is flooded with college football players looking for an easy GPA boost. A man his size would surely show sympathy to vapid offensive linemen.
Complicating matters, the nutty professor scientifically analyzed his 2 films, and presented conclusive evidence that osso buco never appeared in either film. I told him his obesity itself was the muse for the dish. He had a clean plate, nonetheless. (Wait, he's aware that he's fictional? I know, right?) Admittedly, Gump was confused. "Coach never let us eat any food on the turf in collegiate football." This struck a chord of concern in the only nanny at the table: "My poor dear, you're just a wee man child, liable to cut yourself on your rounded off ping pong paddle." (Cue Eddie Murphy laugh.)
DESSERT
Even though Mrs. Doubtfire's latex face was securely covering Mork's likeness, dessert should have triggered memories of a new-wave facial she's used at least once. The sweet, or tangy perhaps, exfoliating mask sparked creativity in the last course of the evening. Technically, 4 out of 5 dermatologists will tell you that he previously used a cake — but let's have some pie!
Nobody took a nose dive into the last course. Don't know if that's a good thing or a bad thing. Certainly cuts down on clean up – but you'd be surprised how little control the Professor has over the extra skin on his plump arms, creating quite a mess on their own. Good thing we have a housekeeper at the table. Doubtfire was cool with the recipe's creative license and resisted a breakdown of charts and Power Point presentations as the Professor did. All the analysis and talk of research was lost on the runner that once inspired the phrase, "shit happens."
I strongly encouraged Sherman to call a cab home instead of running back. I'm no doctor, or even a WebMD.com enthusiast, but I would assume running after a meal like the one we all devoured ups the risk of heart attack. He agreed not to run but assured me that a brisk power walk never hurt anyone as he said "toodaloo."
I handed Forrest the half-eaten box of chocolates (had to work that in somehow) to take home with him. Nice fellow, for sure. Southern hospitality and all that.
Old lady Doubtfire chattered away as I ushered her to the door. "Listen, m'am, you're stalling like a college girl at after hours hoping I'll invite her into my bedroom. And you're really a dude under that disguise." He got the point, dropped the Europe-speak, and thanked me for a lovely evening.
Locked the doors, washed some dishes, got a glass of water and caught whatever sparked my interest on TV. That was a dandy imaginary meal.
---
More Dinner for Faux Parties on Food Republic: