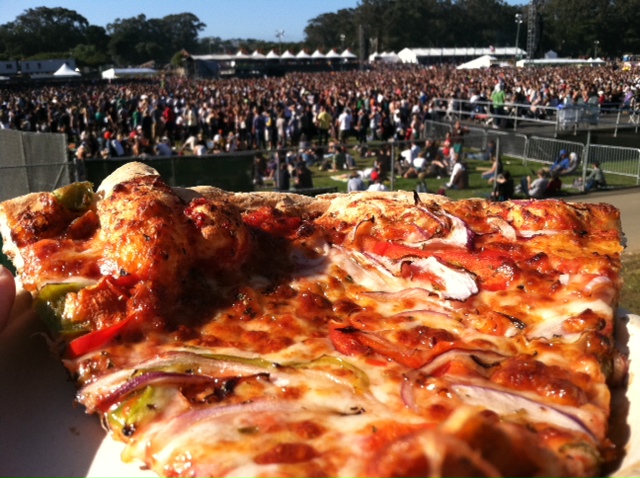 This weekend, at San Francisco's Outside Lands three-day music festival, thousands of your tired, your poorly hydrated,
 and your drunken masses yearning to satiate themselves, could be found lining up at Namu chef Dennis Lee's Korean taco stand.
"The word, 'taco,' triggers something primal for drunk people," Lee said on Saturday. He cracked a smile, recalling the many who were surprised to find that instead of conventional taco fare, they were instead served Korean beef short ribs on a bed of rice and nori, topped with daikon-kimchee salsa and kimchee remoulade. Not exactly the salty, soggy special one has come to expect at a rock festival.
It's a bit of a bait-and-switch nomenclature that Lee calls, a "fuck you" to California's dominant taco culture, not because he's just being a jerk, but because he's "not a fan of hype that doesn't deliver"; he's bringing it, Korean style, as a crusader for a proud tradition of cooking taught to him by his mother and grandmother. "I have this wealth of wisdom to tap into," Lee says. "And I want to bring it to the people."
You could find many such ambassadors of great food and wine at Outside Lands. With an A-list music lineup that included Arcade Fire, The Black Keys, The Shins, The Decemberists and Muse, festival organizers put an unusual priority on "elevating" the quality of food to an equal footing, so that the entire festival experience was transformed.
"I was actually looking forward to eating at this festival," said Clap Your Hands Say Yeah front man Alec Ounsworth, dragging on a cigarette a couple hours before his Friday set. "Which says a lot in itself."
On Saturday, organizers put together a press conference to help promote the food offerings, and, even by appearance, it was difficult to tell who looked more the part of the rock star: the musicians, the vintners or the chefs. OK Go bassist Tim Nordwind said he did not particularly like the foodie label but he admitted that he indeed is one, saying he generally feels "shitty" if he eats pizza before a show. Like Ounsworth, he prefers a salad before performing.
"It's been well documented that eating poorly has an impact," agreed Chris Funk of The Decemberists, who uses a Zagat app to help decide where to eat while on tour. "When band members only eat KFC and Taco Bell, it's going to contribute to burn out."
Whether the 60,000 or so fans who attended the shows were as enlightened as some of the musicians on stage is questionable — it appears the most popular food and drink being ingested were Heineken and pizza (albeit, elevated pizza provided by several venues, including Spicy Pie which makes a slice that has a perfect balance of crunch and chewiness in its crust). It's unlikely anyone would come just for the food; it was more of a pleasant surprise for festival-goers, many of whom simply said they were just happy the grub was a whole lot better than at Coachella.
It was certainly fun eating crispy mac and cheese or rice balls in teriyaki sauce, but even that feel-good fare could get old fast. And there were missteps: what a pity that penang braised tofu with chili coriander peanut sauce (along with pickled vegetables that included blueberries!) was served in a lifeless and cold tortilla.
But when does everything go right at a music festival? Just ask the kids who took too much of what they were taking, passed out in the grass, and needed medical attetion. Or rapper Big Boi, who experienced technical difficulties; he scrapped the show and brought David Chappelle on to entertain the crowd. In food snafus, at least a few of the venues were hit with a power shortage, so they had to adapt: a taqueria serving burritos changed them to bowls, for example.
Where things appeared to be running like clockwork was Wine Lands, a tent-covered gathering of 30 wineries offering their wines that were, across the board, exceptional. Men and women, young and old, took in the high-caliber fare. While funky rockers MGMT stopped to drink Long Meadow Ranch's Cabernet, New York City sommelier Paul Grieco continued to preach the gospel of Riesling.
"Riesling is the greatest white grape on the planet. The story of Reisling is the story of civilization," he said. "It's light and clear. And you can drink bottles of the shit."
Indeed, such salvation could be found in many different cups; like at Philz Coffee, which puts that black stuff that comes in tall, grande or venti to shame. At a festival with so much music/food/drink to choose from, you enter an alternate universe, one where all your needs can be met. And it's easy to lose sight of the real world for a little while, and to forget all of the thought and preparation that had to go into such a massive production.
It's incredible to think that the guys behind Flour + Water, one of the more elite restaurants at the festival, actually had a local farmer grow an entire 11-acre field of arugula solely for this weekend's offering of Porchetta sandwiches.
Flour + Water chef Thomas McNaughton estimated that 65 pigs were butchered to size in a makeshift space created in the back of a truck. One respected Bay Area chef, who declined to attend the festival, figuring it would be little more than a place for kids to smoke pot and listen to bad reggae, wondered why McNaughton would bother with the hassle.
But McNaughton didn't appear to have any regrets. After all, like other chefs and vintners here, he had a particular mission. He's launching a new restaurant, Salumeria, in a few months, and he figured selling literally thousands of sandwiches in a weekend would be the perfect way to get the word out.
All the work had been "intense," he said, but that he was very happy to be at the festival.
"I'd come just for the food," he said. Preach on, brother.
---
More on Outside Lands: