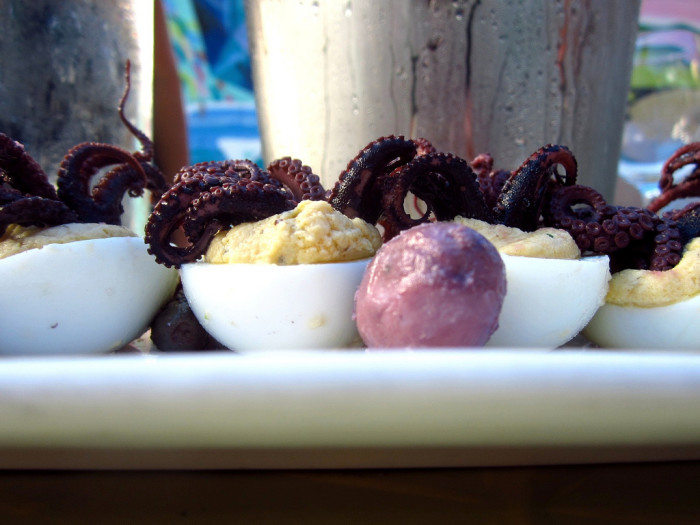 A little over a year ago, friends George McNeese, Luke Jackson and Justin Warner were enjoying a typical day off from their jobs as captains and bartenders at The Modern in New York City. Typical, meaning the fine-dining vets were drinking cheap beer and riffing ideas for a restaurant concept of their own. It's a ritual of sorts that anybody who pours Salon Le Mesnil Blanc de Blancs for a living goes through. A donut stand that doubles as a mezcal bar. Chopped salads and charcuterie. The ideas flow with the cans of Milwaukee's Best.
And some actually scratch the itch. Alex Stupak — a longtime pastry chef at WD-50 — recently opened a middle-end Mexican cantina in the West Village. David Chang started his career with Daniel Boulud before famously down-shifting with a casual ramen bar. But many of the ideas fade quicker than a medicated hangover.
Not so for the trio, who took their grand vision of serving what is essentially high-end (and sometimes simply high) munchies — haute-stoner, if you will — and brought it to life in a former Jamaican patty shop in the under-served Bedford-Stuyvesant neighborhood in Brooklyn.
Do or Dine (that name!) opened in June and is a restaurant that you will be reading about more and more as the crew — that includes a sous-chef who spent time at Per Se — starts really cooking. They are still awaiting a liquor license, which Warner promises will bring drinks that cap at $10 (three classics, three house specialties). "We wouldn't be shocked to see a duck-blood-and-Scotch Bloody Mary," he says adding they won't have problems mixing vodka sodas either. A barbarian happy hour — where beers will run at bodega prices ($1.50 a pop) — will serve $1 food-shooters like oysters, ceviche, tartare and poke.
I recently enjoyed my second DOD visit, this time for a coursed-out birthday party in the steamy backyard. Between popping bottles of Gruet, Vinho Verde and Aguardiente to close (sheeeit), some serious cooking went down. Highlights include:
Deviled eggs topped with poached baby octopus (the head wrapped around a caper berry). Warner explains: "I found the baby octopus at a Chinese market. I had deviled eggs and ume paste. It all looked alien, but tasted bomb. Makes sense though. Hard-boiled egg always good with seafood. (tartar sauce, caviar accoutrements)."
Skewered pork-wasabi meatball dipped in a sauce of coconut water blended with young coconut meat and salt. Hardy and refreshing.
Cold artichoke salad made "escabeche style" — cooked in its own brining liquid.
Cold-smoked corn soup. Ok, follow me here. Warner takes honeydew, chipotle and roasted corn puree and injects the smoke from finely ground wood chips using this bad boy. Every home cook needs one. Crunch and Munch is added, with remarkable results — though, Warner prefers Cracker Jack, which is unavailable in bulk. The snack mix basically works like corn croutons.
Nippon Nachos are dumpling nachos. Pork encased in a wonton wrapper, loaded with Cheddar cheese, sour cream, green onions and tomatoes. This is on some Guy Fieri shit, but not. No, it's not.
District D9NE is the name of a prawn and clam dish — playing off the movie District 9. Those stupid prawns. Stupid delicious at Do or Dine.
The closer was the controversial foie gras donut. It's intense, leaning more savory than sweet. It's really the basic components of a classic foie dish — bread, fruit, foie. The donut itself was still warm, arriving from nearby bakery Dough. The chef then stuffed the guy with Smucker's strawberry preserve and an intense amount of foie. It's not for pussies. Or vegetarians. Or those who had just finished 10 courses and a good amount of Oregon pinot noir. We survived.
If you Google "Justin Warner Wine Rap," you find clips like this. Our meal closed with a freestyle about Chateauneuf du Pape (think "Drop it Like It's Hot"). More on that later.