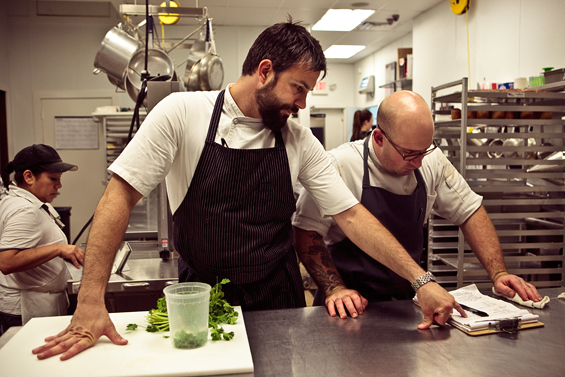 We're cooks and we've had the disease our entire lives. We're addicted to the food, the hours and the knives, and have spent our entire adult lives standing in front of stoves working for some of the greatest chefs in the culinary capitols of the world at restaurants like Aquavit, Fiamma, Aureole, The Modern, Alto, August NYC, Fiamma and C-House. Plus, we've done stages at both ViaJante and the Fat Duck. Six months ago, we decided it was time to get out of everyone else's kitchens and begin working towards opening a restaurant of our own.
Terrence Gallivan and I (Seth Siegel-Gardner) opened Gordon Ramsay NYC together in 2005, and through long hours, hot fires and nervous exhaustion we decided to start contemplating the idea of opening up a restaurant together — hopefully without any of the following happening: our wives divorcing us, us murdering each other or ending up sitting alone in a gutter, drunk and unhappy. On the other hand, we don't mind ending up in a gutter drunk and happy.
Interestingly, it seems that there is no consensus on how not to arrive utterly destitute and destroyed with a restaurant intact. Mentors, colleagues, friends have all told us how to open up a restaurant, and each time we ask we get a different answer. So for the past four years we've listened to horror stories and contractor nightmare scenarios (the foundation exploded, sink holes) as well as riffs on someone else's conceptual fantasies such as, "bail bonds and burgers" or "a flea market combined with an ice cream shop." In February 2011 we finally felt the time was right to put our collaborative aspirations to work and formed Pilot Light Restaurant Group.
What have we learned so far? We think that 99% of cooking is learning, not only about how to creatively incorporate food into a restaurant concept but about how each step we will take in order to get our restaurant off the ground starts us back off at ground zero in the knowledge bank. This column is dedicated to that process and the mistakes, steps in the right direction and setbacks that we anticipate will be a part of our journey towards opening up our own restaurant — a journey that began that in New York City, then moved to Chicago and London, and that will be ending in Houston, Texas.
We implore you to join us, our wives, three dogs, several hundred cookbooks, knives and creatively sourced kitchen equipment as we dig deep into the trenches of opening up a restaurant. Pilot Light RG plans on opening our first restaurant in less than a year. Once open we will change the face of dining in Houston and refocus the way people are eating and drinking, as well as work towards our final goal — keeping ourselves free and clear of the proverbial gutter that's forever looming on the horizon.
Check back every Monday on Food Republic to check on Pilot Light RG's progress.