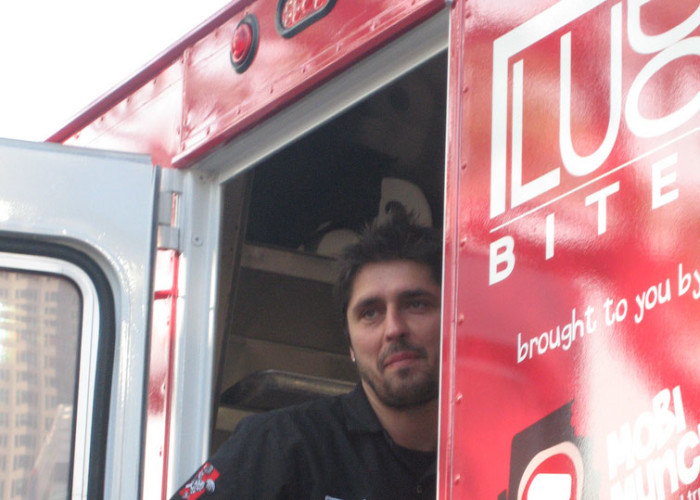 In the first part of our interview with Ludo Lefebvre during his recent swing through New York City, we found out that the Los Angeles pop-up chef and television personality has a thing for North Carolina barbecue (vinegar!) and sees himself falling somewhere between Gordon Ramsey or Jacques Pépin on the Television Chef A-Hole Meter. (The second episode of Ludo Bites America airs tonight on The Sundance Channel.) Our conversation continued at Rum House, a quiet little hotel bar off Times Square. The drinks were strong.
"I literally call Sam Sifton a wimp!" Krissy Lefebvre is recalling a visit the New York Times critic paid the restaurant last summer. Things only got weirder as SS visited the impossible-to-book restaurant on consecutive nights under the guise of being a "big deal" banker with interests in restaurants. (To put the demand in perspective, the Lefebvre's recent 007 dinner reservations were booked, completely, in under 30 seconds.) Krissy was later told that the traffic Open Table received in one hour eclipsed the website's total weekly traffic in the United States, Mexico and London combined.
Ludo also discussed bloggers, more on Sifton's visit and how he's going to hook us up with a reservation. Holding you to it, bro!
Bloggers really helped you when you were first starting. Do you owe them your career?
The bloggers really supported us during version one and two. The bloggers embraced the concept.
Which blogs? Eater?
Not really Eater. Kevin Eats and My Last Bite and Carolyn on Crack and Diana Takes A Bite and Food GPS.
Holy shit, you really remember all the blogs that wrote about you…
This was back in 2007, sort of before bloggers became bloggers. There were all these people who would come in and take all these pictures. I didn't know what these people were doing. I didn't know what bloggers were. But then we saw it on the Internet and it was cool! But now it is more food paparazzi. People trying to be first all the time.
Speaking of blog favorites, are you friends with Roy Choi?
I was with him three days ago. He's so nice. He doesn't take himself seriously, which I think is why I am so successful now. When I was working at a high-end, froux-froux restaurant I was taking myself too seriously. I had an ego — and thank god we have an ego — but sometimes I put that on the side. I cook for the people.
Is that related to the style of your restaurant — nothing too formal or fancy?
You don't need to be in a restaurant to cook for people. You can cook everywhere. I can put a cart over there and cook whatever I want. (Edit: Ludo pointed towards a concrete section of Times Square near the tkts stand that we hope he most certainly will be cooking at)
Where would you like to visit in the United States when you start taping season two?
I would really like to go to New Orleans. We want to go to Maine too, for lobster. I would love to go to Alaska. We can go fishing. We can go under the ice and get some fish. I don't know. You don't need 20 people in the kitchen to do great things.
There are certainly places in New York that have two cooks knocking out the most-killer food right now. I had to give my New York plug…
You should, New York is great. New York is the greatest city in the world.
Let's talk about the upcoming 007 dinner (August 3 – September 10 at Gram & Papa's in Downtown Los Angeles). Is the menu super secretive?
It's in my head. I'm going to bring some dishes that I learned on the road while filming the show. I love the barbecue of North Carolina and I think of lot of people in LA don't know what that is. They think barbecue is with all these glazes and thick sauces. I lived in America for over 15 years and I had never heard of this pig and vinegar thing. When I saw the sauce the first time, I thought it was a vinaigrette! Trust me, a lot of people don't know about that. I also want to do something with the green and red chilies. Love it!
Your latest dinner sold out in under 60 seconds. Do you reserve a table for friends and family?
One table. One four-top. For example, Matt, you call us and ask for a table, I give it to you if it's still available.
Dude, I'm holding you to this. It's in print. Are you expecting Sam Sifton to come back?
No, no, no! Thank god I did not know him when he visited.
What was the Sam Sifton meal like?
Krissy Lefebvre: He asked a lot of questions, and I said to the staff to make sure they checked with me or Ludo if they did not know the answer to a question. The funniest part of the story with him was he had gone through three people to get a table. [Sifton] was supposed to be some high-ranking person at Chase. The person who got it for him told us he was this big-time person who we needed to know if we were ever going to open a restaurant in New York. So he comes in and asks how does it work, and we told them that for a table of four people they should order the whole menu — 12 or 13 dishes. So they get through the savory courses and I bring them the cheese plate and he says he can't do the cheese plate or dessert. And I ask him why and he said he was full. And I tell him he's a wimp. I literally call Sam Sifton a wimp!
You call it as you see it.
Krissy Lefebvre: He was supposed to be this big person.
He should have maybe played the part better.
Krissy Lefebvre: So at the end of the night I told him that — given he used favors upon favors upon favors to get a reservation at the restaurant — that I needed my house refinanced and if he could help us in any way. And then Ludo came over to talk to him. And Ludo asked him to refinance our mortgage. I mean, how stupid do we look! And then they came in the next night, through the same amount of favors and us re-arranging some people's schedules, because we were told his dining companion was some big-time architect that we needed to know as well. I asked [Sifton] when he arrived if we has coming to back to prove that he was a man. It was so funny. I would never had expected Sam Sifton to walk into our restaurant that does not exist.
Ludo Lefebvre: If I knew it was him, I would have asked if he was lost.
Have you watched Ludo Bites America yet? Share your reviews in the comments.