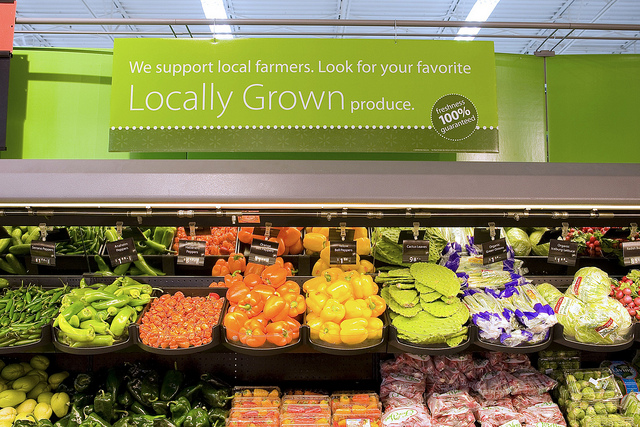 First Lady Michelle Obama announced a partnership today to eradicate American food deserts (low-income, low-access communities) as part of her Let's Move! initiative. The First Lady was joined by corporate chiefs of Wal-Mart, SuperValu and Walgreens, as well as the heads of regional markets, who pledged to open or expand 1,500 stores in areas where residents do not have easy access to healthy and affordable food. Michelle Obama called the program a game changer for the nation's kids and communities.
Food deserts are defined as low-income census tracts where 33% or 500 residents live more than a mile away from a supermarket in urban areas and more than 10 miles away from a supermarket in rural areas. According to the USDA, 23.5 million people, including 6.5 million children, lack access to affordable health food. To find these so-called food deserts, use the USDA's food desert locator.
Obama stressed that talking about nutrition was not enough. Instead, for the Let's Move! campaign to be effective, it must provide parents with "real choices" like easy access to food retailers. She remarked, "today is not just a celebration, it's also a call to action." The First Lady went on to address retailers nationwide. saying, "There's no reason why every food retailer in this country can't find some way to get involved." She also emphasized the job opportunities that the new stores would create in these low-income areas.
Let's Move! was launched by the First Lady last year with the aim to combat childhood obesity. In 2010, Obama declared her goal to eliminate American food deserts over the coming seven years under the Let's Move! initiative. Already, California Fresh Works Funds has promised to donate $200 million to promote easy access to healthy food in California in conjunction with the new program.
The First Lady concluded her speech by reminding the audience, "This is about our kids."